What to Do If You Have an Accident in a Rental Car
Take a few additional steps to deal with car rental coverage and insurance claims.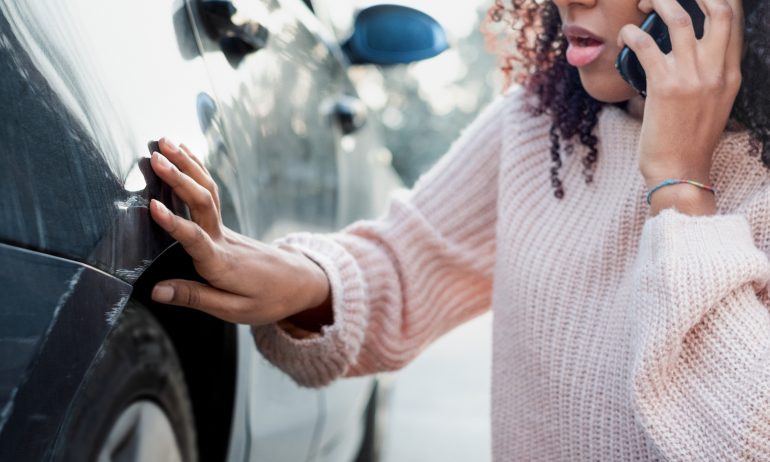 Many or all of the products featured here are from our partners who compensate us. This influences which products we write about and where and how the product appears on a page. However, this does not influence our evaluations. Our opinions are our own. Here is a list of our partners and here's how we make money.
Dealing with a rental car accident is one of the last things you want to do when you're on vacation. Yet between driving a car that's not yours and navigating unfamiliar roads, don't ignore the possibility that a car accident could happen to you.
In a lot of ways, handling an accident in a rental car is similar to what you'd do if you had a collision in your own vehicle. But given the added layers of your car rental agreement, rental car insurance has a few extra complexities that you should be prepared for.
Here's to do if you get into a rental car accident.
6 things to do if your rental car is involved in accident
1. Make sure everyone is OK
While it might sound like common sense, make sure everyone in the vehicle is okay before doing anything else. Check the surrounding scene and any other cars involved.
As with any car accident, safely pull over on the side of the road if possible. If the accident is more serious, call 911 immediately if anyone is hurt. And if there's any danger of explosion, clear the area.
As soon as you've determined that the scene is safe, exchange contact and insurance information with any other parties involved. Information to exchange should include:
Phone number and email address.

Insurance company and policy number.

Driver's license number, vehicle registration and license plate for each vehicle.
If there are any witnesses, obtain their contact information too.
If law enforcement is involved, be prepared to show them your driver's license, vehicle registration card, evidence of financial responsibility and current address as well.
When interacting with other parties involved in the accident, don't tell the other drivers or the police that the accident was your fault (even if you think it was). Be polite, but avoid making statements like "I'm sorry" or "I should have paid more attention," as it can later be used against you, sometimes resulting in no protection from your insurance company. Instead, use phrases like "Are you okay?" to show empathy without admitting fault.
If the other parties are hostile, it might be better to wait for police to arrive before engaging. You don't want to end up in an argument with other drivers and passengers.
Be cautious engaging with other parties. Don't sign any statements regarding fault or promise to pay for the other parties' damages — and if they offer to pay for your damages or deductible, don't sign anything.
Importantly, try not to mention to the other parties that you're driving a rental car, as some people may try to take advantage of the situation and place the blame on you.
3. Take notes and pictures
Take time to collect detailed information about the accident. Write notes (using the notes feature on your phone will do), and take a liberal number of photos.
Information to document should include:
The year, make, model and color of every car involved in the accident.

Any other standout details about the cars involved.

The exact location of the collision including details like street names and which lane the accident occurred in.

How the accident happened.
4. Contact your car rental company
While the steps listed so far largely mirror the same steps you'd take if you were driving your own vehicle, rental car accidents require a bit of additional paperwork.
As soon as possible, call your car rental company and inform them of the accident. There's often a sticker with an emergency number located inside the glove box, or an emergency number listed on your car rental agreement.
Ask the company how to proceed. Typically the car rental company will have you fill out their own version of an incident report, which usually consists of the same information you collected above.
5. Contact your own insurance company about the rental car accident
If you're relying on your existing car insurance policy to serve as your source of primary coverage, inform them of the accident to establish a claim for damage.
Among the questions you'll want to ask your insurance company:
Will they take care of filing an accident report with the local police, or is that your responsibility?

Ask your insurance company whether you have collision and comprehensive coverage in your policy in addition to the liability coverage required by law.

Find out your deductible (a deductible is the portion of loss that you have to pay out of pocket).
For instance, if your deductible is $400, and you incurred $10,000 worth of damage, you have to pay the first $400 in repairs, and your insurance company will cover the rest. Be sure to inform your insurance company of any additional insurance you purchased with the rental.
6. Find out who's responsible for paying what in a claim
Know what your claim covers, what your insurance company might cover and what the car rental company might cover. If you booked your rental car with a credit card that offers rental car coverage, that may also help pay for some damages to the rental car in the event of an accident.
Collision damage: If you have your own insurance policy with collision and comprehensive coverage, that typically extends to your rental car as well. If your regular policy doesn't cover that, you might consider purchasing a collision damage waiver from your rental car company. Otherwise you'll have to pay for the damages.
Damage to others: If you already have liability insurance, that typically extends to rental cars too. If not, you can usually purchase supplemental liability protection from the rental agency, which will pay for damage you do to others' vehicles or property.
Don't rely on your credit card for this one. Even though some credit cards offer rental car coverage, they typically do not cover liability insurance. If you don't already have auto insurance, it's typically a good idea to buy this — otherwise you could be on the hook for the medical and car repair expenses of other parties involved in the accident.
Potential extra days of car rental: If you don't have rental coverage on your policy, you may still owe the rental company for additional days as if you were still renting the car. If the car needs to spend a week being repaired, that could be an additional week you need to pay to "rent" the car. You can usually avoid that expense by purchasing extra insurance or a collision damage waiver from your car rental company.
Understand the difference between primary and secondary coverage
When diving into car rental insurance, you'll commonly see two terms: primary and secondary coverage.
Primary insurance is the type of insurance that kicks in first if you file a claim. Some insurance policies provide complete coverage in any accident as long as you pay the premium, meaning they cover both the cost of the car that you hit (if you were at fault) and the damage to your rental car.
Secondary coverage can pick up fees and charges that your primary insurance policy doesn't cover, such as reimbursing your deductible. Even if you're using secondary coverage, you'll still have to file that initial primary insurance claim, which could result in your insurance rates increasing.
A few credit cards, including the Chase Sapphire Preferred® Card and the Chase Sapphire Reserve®, offer primary coverage — a generous benefit that can easily justify the card's annual fee since it generally means you won't have to file a claim with your own insurance company.
If your card offers primary insurance coverage, typically you'll have to decline the collision damage waiver or similar coverage offered by your rental car company for the primary coverage to be applicable — otherwise the coverage will be secondary.
Many more travel credit cards offer secondary coverage. That can still be a money-saving benefit if you get into an accident, though it's not quite as generous.
Keep in mind that most travel credit card rental coverage doesn't cover special vehicles like RVs or luxury cars, loss or damage already covered by your own auto insurance, long-term rentals or rentals in foreign countries.
If you were not at fault for an accident in a rental car
Whether or not you were at fault, you still must pay your deductible directly to the rental company, as the company is entitled to have the car fixed as soon as possible. Your insurance company is then in charge of going after the responsible party, which may result in you getting reimbursed.
How to prepare now for a potential accident in a rental car
It's not one of the most pleasant things to prepare for as you map out a fun road trip, but establishing a plan for how you'll handle a potential accident in a rental car will be worth it, as opposed to waiting until you're actually on vacation to figure it out.
Ensure you have some sort of insurance. No matter where you get your insurance from, you must have some sort of insurance in order to drive in the U.S. If you're involved in a collision while not covered by insurance, your license will likely be suspended.
One more thing: This guidance generally applies only to traditional passenger rental cars. For rented trucks and trailers — say you're looking for U-Haul insurance — standard rental policies likely won't apply.
Frequently asked questions
Will my car insurance cover damage to a rental car?
Does my credit card have rental car coverage?
Do you need extra insurance when renting a car?
What's the difference between primary and secondary coverage?
---
How to maximize your rewards
Get more smart money moves – straight to your inbox
Sign up and we'll send you Nerdy articles about the money topics that matter most to you along with other ways to help you get more from your money.