Best Credit Cards for Rental Cars
These cards may be able to offer elite status perks or extra car rental coverage in case of an accident.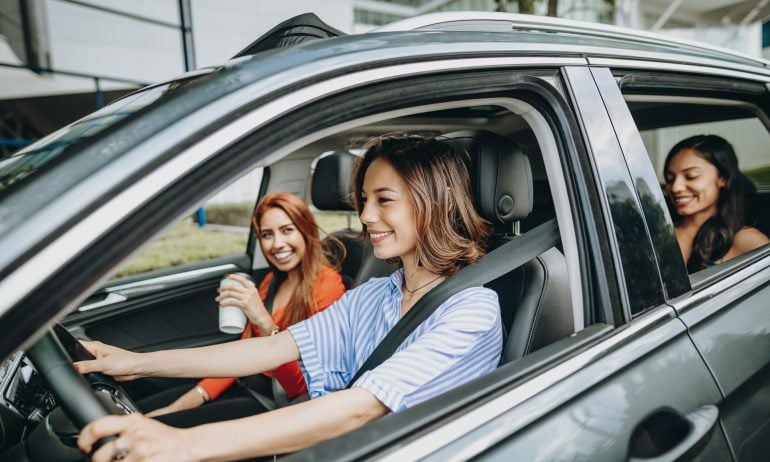 Many or all of the products featured here are from our partners who compensate us. This may influence which products we write about and where and how the product appears on a page. However, this does not influence our evaluations. Our opinions are our own. Here is a list of our partners and here's how we make money.
When you think about rental cars, the rental car counters you see when you exit the airport and the shuttle buses emblazoned with company logos circling the arrivals level might come to mind. In other words, you probably haven't thought about rental cars for at least a few months, since the COVID-19 pandemic brought air travel to a near halt.
But rental cars are still a good option for traveling, even if you have no plans to fly anytime soon. You may have little faith in an older vehicle so that renting might make sense to go on road trips longer than several hours. You might also want to consider renting a bigger car to accommodate the people in your or all of the equipment or off-roading required for a socially-distant . Or maybe you just want to get better gas mileage for the distance you'll be driving.
Whatever the reason, your credit card might be able to help you save when you book a car. Some cards even provide varying degrees of , which can help pay for any damages to the rental car in case you get into a or someone breaks into your car. Here are our picks for the best credit cards for spending on rental cars.
The popular is good for both redeeming points and relying on the rental car coverage.
You can book rental cars with® points and when redeemed for travel, points earned on this card are worth 1.25 cents, meaning a $150 car rental will generally cost about 12,000 points.
Unlike a lot of other credit cards, the also offers primary rental car coverage, meaning it'll pay for damages before your own primary auto insurance. The coverage limit is up to the cash value of most rental vehicles.
The more tricked-out offers similar benefits to the , including primary rental car coverage. The coverage limit is $75,000.
Chase Ultimate Rewards® points earned on this card are worth even more than they are with the . You can redeem points for 1.5 cents each, so the cost of the $150 car rental went down to just 10,000 points.
Instead of redeeming your points, you might opt to pay with cash because of some of the discounts available to cardholders. The automatically gives you elite status with National Car Rental (yes, rental car companies have loyalty programs and just like airlines and hotels).
The real highlight here is that membership in National's Emerald Club allows elite members to choose any vehicle in the Emerald Aisle and pay the midsize rate, no matter what size the car is. Cardholders can also get a cash discount at National, Avis and Silvercar through the "Special Car Rental Privileges" section of their Chase Ultimate RewardsⓇ portal.
If you've got one of these business credit cards, you can also save on the rental car coverage. Both the and offer primary rental car coverage, up to the cash value of most rental cars.
The oft-considered gold-standard for premium travel cards, , can't compete on the primary rental car insurance, but it does come with Hertz Gold Plus Rewards and . The elite status with both programs includes a one-car class upgrade when available and discounts of up to 15% on standard cars. Hertz's discount increases to up to 25% off Prestige Collection vehicles. Terms apply.
In terms of airline cards, the United Airlines co-branded cards are surprisingly good options for rental cars. Both cards come with primary rental car insurance, up to the value of most rental vehicles. In addition, holders receive complimentary Hertz President's Circle status, which includes benefits like confirmed one-car upgrades and your choice of any vehicle from the President's Circle at no extra charge.
With airline credit cards, you'll want to be cautious of redeeming your miles for rental cars because these types of redemptions don't usually offer the best value when you compare them with booking award flights with miles.
For example, NerdWallet values United miles at each for award flight redemption. So, if the cash value of the car rental is less than the value of the miles it would take to get an award rental, you might want to pay in cash instead.
If you choose to book with cash, don't forget to include your frequent flyer account to for your car reservation.
If you're taking a road trip and a rental car could make you more comfortable, your credit card could make it more affordable with the ability to book with special cardholder discounts or even credit card points. Be sure to check your rental car coverage carefully. Many cards only offer secondary coverage, meaning they will only kick in after your primary auto insurance, and they usually don't cover luxury car rentals. For a fully points-funded vacation, check our .
You want a travel credit card that prioritizes what's important to you. Here are our picks for the , including those best for: