The Best Cheap Renters Insurance in Florida
NerdWallet looked at rates from more than a dozen insurers to find the cheapest options in the Sunshine State.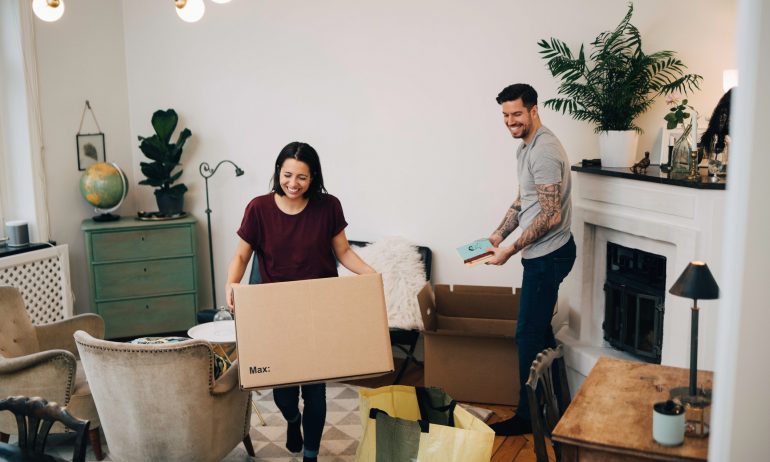 Many or all of the products featured here are from our partners who compensate us. This may influence which products we write about and where and how the product appears on a page. However, this does not influence our evaluations. Our opinions are our own. Here is a list of our partners and here's how we make money.
Living in Florida has its perks — beaches, sunshine and never having to shovel your car out of the snow — but renters should also be prepared for the perils of life in the Sunshine State. Renters insurance in Florida can cover your belongings after damage from hurricanes, tropical storms, sinkholes and other disasters.
NerdWallet compared rates from more than a dozen companies across the state to find the best cheap renters insurance in Florida.
How much is renters insurance in Florida?
The average cost of renters insurance in Florida is $161 a year, or about $13 a month, according to NerdWallet's rate analysis. That's slightly less than the national average of $168.
Renters living in the Tampa-St. Petersburg-Clearwater metro area pay even less on average — $156 a year — while those in Miami and Fort Lauderdale pay more, at $207 a year, on average.
Cheap renters insurance companies in Florida
NerdWallet sampled rates across the state from a variety of companies, including both well-known national insurers and smaller, Florida-based providers. Here are the companies offering the cheapest Florida renters insurance.
| | | |
| --- | --- | --- |
| | | |
| | | |
| | | |
| Citizens Property Insurance | | |
| | | |
| | | |
| | | |
| | | |
| | | |
| | | |
| | | |
| | | |
| | | |
| | | |
| | | |
| | | |
More about some of the cheapest companies
Florida Farm Bureau: To get renters insurance from the cheapest company in our analysis, you'll need to become a member of your county's Farm Bureau. To learn more, see our Farm Bureau insurance review.
Security First: You may be eligible for discounts from this Florida-based insurer if you live in a gated community, have a central burglar or fire alarm or are at least 55 years old.
Travelers: Bundling your renters and car insurance with Travelers can net you up to 5% off your auto premium. You can also save money if you haven't filed any recent renters claims.
Citizens Property Insurance: This nonprofit entity was created by the Florida government to provide property insurance to those who can't get it anywhere else. You can only buy insurance through Citizens if you've been denied by other Florida insurers or if quotes from other companies are more than 15% higher than the rate Citizens offers you.
Bankers Insurance: In addition to standard options, Bankers offers several coverage types that you can add onto your Florida renters policy, including identity fraud expense coverage, animal liability coverage up to $300,000 and extra coverage for valuable items like jewelry or bicycles.
Chubb: This was the most expensive company in our rate analysis, likely because Chubb focuses primarily on higher-value homes, providing lofty liability limits and perks such as replacement cost coverage for your personal belongings. That means if your 10-year-old sofa is destroyed in a fire, Chubb will pay to replace it with a brand-new one.
Cheap Florida renters insurance from the best companies
If you prefer to buy insurance from widely available companies with a strong reputation, consider one of the following insurers from NerdWallet's best renters insurance companies.
What to know about Florida renters insurance
Florida is prone to certain natural disasters — hurricanes, tropical storms, sinkholes and tornadoes — and they aren't all covered by a standard renters insurance policy.
For example, most renters policies exclude damage due to flooding. That means if you live in a ground-floor apartment and your belongings are ruined by a hurricane storm surge, your belongings likely won't be covered unless you've added flood insurance to your policy.
Most renters policies do cover wind damage, but in high-risk "wind-pool areas" of Florida, you might need to purchase this coverage separately as well.
Florida is highly prone to sinkholes, and state law requires that all property insurance companies cover damage due to "catastrophic ground cover collapse." Keep in mind, though, that this does not include less-than-catastrophic damage from sinkholes. More comprehensive sinkhole coverage is generally available at additional cost, though Citizens Property Insurance Corporation includes sinkhole loss coverage in all its renters policies.
What determines Florida renters insurance rates?
The average annual premiums listed above can give you a rough idea of what to expect, but your own renters insurance quotes will depend on several factors.
Where you live. If your home is in a coastal community that's at a high risk for hurricanes, or you live in a neighborhood with more crime than average, you may pay more for renters insurance. Your home's proximity to fire hydrants or stations can also affect your rates.
Your claims history. If you've filed any renters insurance claims in the past few years, your insurer may charge you more.
Your credit. Although insurance companies don't use a traditional credit score to set your rates, they typically look at a similar measure called a credit-based insurance score to judge how likely you are to file a claim. Improving your credit may help you pay less for renters insurance.
Your coverage limits. In general, the more coverage you need, the more you'll pay. If you have higher-end furnishings or a larger home, you'll probably need more personal property coverage (and therefore pay more for your policy) than someone with a few pieces of secondhand furniture in a studio apartment.
Your home's features. Do you live in a gated community or a building with a security guard? Do you have a home security system or fire alarm? Such features could earn you discounts on renters insurance.
Your deductible. Choosing a higher deductible can save you money on your Florida renters policy. Just make sure you can access enough cash to pay the deductible in a pinch.
Other policies. Many insurance companies offer bundling discounts if you buy both renters and auto insurance from them.
Your dog. Because renters liability insurance typically covers damages if your dog bites someone, you might pay more — or not be covered at all — if your pet is a breed that insurance companies consider to be a higher risk, such as a pit bull or a Doberman pinscher.
Florida department of insurance
Have complaints or questions about your Florida renters insurance? The Florida Office of Insurance Regulation may be able to help. You can call the consumer helpline at 877-MY-FL-CFO (877-693-5236) or access other services on its website.
Methodology
NerdWallet averaged rates for 30-year-old men and women from insurance companies in every ZIP code across Florida. Sample tenants were nonsmokers with good credit living in a two-bedroom apartment. They had a $500 deductible and the following coverage limits:
$30,000 in personal property coverage.

$100,000 in liability coverage.

$10,000 in additional living expenses coverage.

$1,000 in medical payments coverage.
City-level data was gathered from all counties within each city's metropolitan statistical area as defined by the United States Office of Management and Budget.
These are sample rates generated through Quadrant Information Services. Your own rates will be different.