Yes, You Need a 401(k) in Your 20s — Here's Why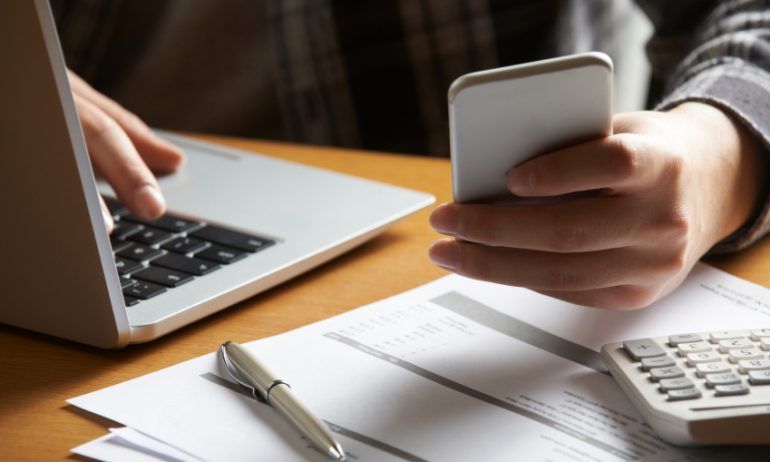 Many or all of the products featured here are from our partners who compensate us. This influences which products we write about and where and how the product appears on a page. However, this does not influence our evaluations. Our opinions are our own. Here is a list of our partners and here's how we make money.
---
The investing information provided on this page is for educational purposes only. NerdWallet does not offer advisory or brokerage services, nor does it recommend or advise investors to buy or sell particular stocks, securities or other investments.
Even before the first paycheck from your first full-time job hits your bank account, you should be planning for the day you'll receive your final paycheck.
You may be thinking: I just began working. Do I really need to start thinking about retirement now?
The answer is yes. It's far better to contribute some money to your company's 401(k) — even if it's a seemingly trivial amount each month — than to do nothing. Don't have a 401(k)? An individual retirement account offers some of the same advantages, but you can open one without employer sponsorship.
Not convinced about the benefits of a 401(k)? Here's why you should contribute to one, or to another retirement savings vehicle, when you're young — and some tips on how to do it right.
Why retirement savings matter
Trying to envision what life will be like some four decades down the road is next to impossible. There are so many unknowns, including your career trajectory, family situation and even the fate of Social Security.
But there is something easier to predict: the need to look out for yourself. Social Security probably still will exist in some form, but gone are the days when companies provided a guaranteed safety net to employees in the form of pensions. These still exist, but only in select industries.
Rather, it's largely up to you to fund your retirement nest egg. You may strike it rich, marry your celebrity crush or win the lottery, but until then it's a good idea to plan for a more mundane future. Time is on your side, and money you save today has decades to grow. That's because investments compound over time, meaning you earn interest on both money you deposit and interest it accrues.
Start with your 401(k) — but don't necessarily stop there
Once you're convinced it's important to save for retirement as early as possible, it's time to dive into some logistics. Here's a priority list for determining which accounts to use for your savings:
Contribute the minimum to get your employer's full match on your 401(k). This represents a return of up to 100% on your investment. Don't pass it up.

Consider cutting costs with an IRA. Does an IRA offer lower fees than your employer-sponsored plan? If so, max out this contribution. The IRA contribution limit is $6,500 in 2023 ($7,500 if age 50 and older).

Return to your 401(k) as needed. If you wish to save still more, max out your 401(k) contribution beyond your employer's match. The maximum is $22,500 in 2023 ($30,000 for those age 50 or older).

Invest any additional retirement savings in regular taxable accounts. This is basically any investing vehicle other than a 401(k) or IRA.
You should prioritize your 401(k) plan, especially if your employer offers a match, because it offers tax breaks. They're also easy to fund; deductions can be taken directly from your paycheck. Matching programs often are structured as either a 1-for-1 match up to a certain amount or 50 cents per dollar to a specified level.
How much should you save? A good goal is 10% to 15% of your gross income. Feeling more ambitious? So long as you can afford to save more without putting yourself in debt or shortchanging of other goals (more on that below), go right ahead.
Habits developed at a young age can last a lifetime.
Advertisement
Fees 

$0

per trade for online U.S. stocks and ETFs

Fees 

$0.005

per share; as low as $0.0005 with volume discounts

Promotion 

Get $100

when you open a new, eligible Fidelity account with $50 or more. Use code FIDELITY100. Limited time offer. Terms apply.

Promotion 

Exclusive!

US resident opens a new IBKR Pro individual or joint account receives 0.25% rate reduction on margin loans. Tiers apply.

Promotion 

Up to $600

when you invest in a new Merrill Edge® Self-Directed account.
Choosing the right investments
Deciding how to invest your retirement savings can be exciting or overwhelming, depending on your perspective. The options are more limited within company-sponsored retirement plans than with an IRA.
Three of the most common assets you'll encounter in a 401(k) plan are:
Bonds: An investment in a government's or company's debt obligations

Target-date funds: A mutual fund that contains a mix of investments — stocks and bonds, namely — and that automatically rebalances over time.
There often are additional options within each type of asset, such as where the companies are located — U.S. or international, for example — or the size of the companies. Deciding on the right mix of these investments is largely personal. Your tolerance for risk, for example, might be far higher or lower than that of other investors. In general, investors who want to minimize risk should consider index funds that track broad benchmarks, such as the S&P 500, or target-date funds.
Target-date funds offer the most hands-off approach — they're structured around a future date, such as when you'll retire — but they may carry higher fees. If you're looking for a more hands-on strategy, you'll largely be deciding between stocks and bonds. Bonds are considered less risky in the short term than stocks, but you'll also earn a lower return. Because you have decades between now and retirement, you can afford to take a riskier approach with your investments.
Regardless of what route you take, keep an eye on fees. This may sound a bit like a broken record at this point, but the reason fees matter so much is they'll cut into your future returns.
What if the market changes or you leave your job?
All this talk of growing your investments may be exciting — until circumstances change. Markets will hit rough patches throughout your career, and you may lose your job if a recession hits or your company downsizes.
Your retirement savings are meant to be locked up for decades, and that means time is on your side. Investing carries inherent risks because asset prices can fluctuate wildly, but over the long term, the market has proved profitable. You can mitigate some of the risk by ensuring your portfolio is diversified — including a variety of assets.
If you switch jobs, the money in your 401(k) is something you take with you — unlike, say, a stapler. Matching contributions may be subject to a vesting period, which varies from company to company. That means you may not be able to take all the money your employer contributed to your 401(k). If you brush up on that vesting deadline and decide you can stick it out a bit longer, you can take the full amount.
Once you've landed a new job, you'll need to decide what to do with your 401(k). Your best options often are to roll it over into an IRA or into your new employer's plan. Again, the decision often will come down to fees. Whatever you do, don't cash out your 401(k). Not only will you incur a big tax penalty, you'll probably be tempted to do something with it other than saving for retirement.
Whether you envision working full time into your golden years or aspire to drop out of the 9-to-5 rat race a lot earlier, the steps you take now will help your dreams become reality. But retirement probably isn't your only goal, and it's important to be realistic about what else you'd like to save for, like buying a home, starting a family, traveling or going back to school.
The basic advice still stands: Contribute as much as possible to get the company match for your 401(k). But the key is to take a measured approach, striking a balance between short-term and long-term goals.
Being too aggressive can cost you. Don't save more than you can for retirement if you're simultaneously amassing high-interest credit card debt or haven't established an emergency fund. Dipping early into your retirement account often incurs a 10% tax penalty if you're under age 59½, unless you're doing so for some very specific reasons allowed by the IRS.
The journey to retirement is a long one, and while someday sooner than later you should aspire to max out your 401(k) contributions, you should only do so when it makes sense within your overall financial picture.
Get more smart money moves – straight to your inbox
Sign up and we'll send you Nerdy articles about the money topics that matter most to you along with other ways to help you get more from your money.