Dogecoin (DOGE) Cryptocurrency: Current Price and How It Works
Dogecoin users pride themselves above all on the culture that has grown around the cryptocurrency.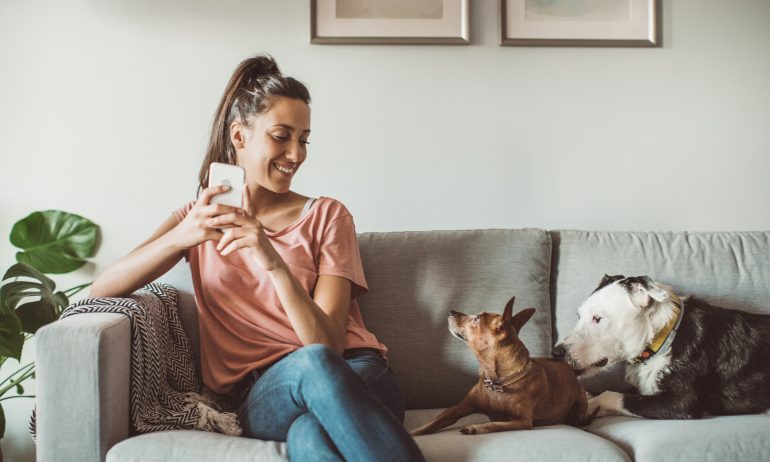 Many or all of the products featured here are from our partners who compensate us. This may influence which products we write about and where and how the product appears on a page. However, this does not influence our evaluations. Our opinions are our own. Here is a list of our partners and here's how we make money.
---
The investing information provided on this page is for educational purposes only. NerdWallet does not offer advisory or brokerage services, nor does it recommend or advise investors to buy or sell particular stocks, securities or other investments.
Dogecoin is a cryptocurrency that began as a lighthearted reference to one of the internet's most enduring memes. But in recent years it has become one of the most highly valued digital assets — thanks in large part to a devoted community of users who continue to promote it.
For the uninitiated, Dogecoin (pronounced dowzh-koyn) is named in honor of Doge, a character based on a picture of a shiba inu that has been passed around the internet since 2010. Doge is often used online as a mascot for good-natured wonder, and the coin inspired by the canine's image tends to represent a similar point of view.
Dogecoin, also known by its ticker, DOGE, was developed as a digital form of payment, similar to Bitcoin or Litecoin. Many people also use it as an investment product. Primarily, it's known as a "memecoin," whose users pride themselves above all on the culture that has grown up around it.
"​​Dogecoin sets itself apart from other digital currencies with an amazing, vibrant community made up of friendly folks just like you," a message boasts on Dogecoin.com, a prominent Dogecoin website.
Advertisement
Read review

Fees

0.5% - 4.5%

varies by type of transaction; other fees may apply

Fees

0.5% - 3.99%

depending on payment method and platform

Promotion

None

no promotion available at this time

Promotion

Get $5 in Bitcoin

when you make your first trade. Terms Apply.

Promotion

$20 of BTC

for new users after trading $100 or more within 30 days
Over the years, Dogecoin has seen substantial growth in its market value. However, those longer-term gains have been a product of a sequence of intense ups and downs that have come to characterize the crypto space in general.
Below, you can find Dogecoin's price history and Dogecoin's current price.
Dogecoin's functions are fundamentally similar to those of other cryptocurrencies, particularly those like Bitcoin that were primarily designed for payments.
Dogecoin is built on blockchain technology, a computer networking method that makes it possible for cryptocurrencies to run without the need for a central authority.
Instead of an institution such as a bank keeping records of who owns what, blockchain networks rely on their members to keep a shared record of transactions. In an effort to prevent fraud, users must solve complex computing puzzles in order to add new transactions to the record.
In exchange, they receive additional Dogecoin as a reward. This process is known as Dogecoin mining, and it has become extremely competitive, to the point where people generally use costly, specialized equipment to do it.
If you own Dogecoin, that means the network agrees that you have an account balance with a certain amount of the cryptocurrency. If you spend your Dogecoin, that means the network has recognized a transaction in which you've transferred some of your balance to another user.
You can establish your ownership of Dogecoin with a private key, which is a code similar to a password that allows you to access a cryptocurrency. These keys are often held in crypto wallets.
What gives Dogecoin value?
To understand what gives any cryptocurrency value, it's important to know the basics of blockchain technology, and what led to the formation of altcoins like Dogecoin.
For context, investors may see value in Bitcoin because it was created to be a new, better way to record financial transactions. Ethereum investors often discuss the network's ability to run smart contracts — agreements that execute automatically if certain conditions are met — as its main value driver. The scores of other cryptocurrencies and tokens that have been developed typically seek to improve upon an existing coin or provide a new, blockchain-based solution to an existing problem.
So why was Dogecoin created, and what gives it value?
Billy Markus, co-founder of Dogecoin, has written that he started Dogecoin as a joke to bring some lightheartedness, kindness and generosity to the crypto world. Dogecoin devotees often use social media to hark back to some of the coin's guiding principles, including charity, fundraising, support of one another, cryptocurrency advocacy and making memes.
And the Dogecoin crowd has walked the walk: In 2014, the Dogecoin Foundation raised more than $50,000 in Dogecoin to help the Kenyan drinking water crisis. More recently, Dogecoin owners have been at work devoting their computing power to the [email protected] project, which helps scientific research by running simulations involving proteins.
But perhaps the project's primary message is summed up best by a common Dogecoin Reddit rallying cry, which notably forms an acronym of DOGE: "Do Only Good Everyday."
So, Dogecoin doesn't have any real intended purpose beyond being a driver of good in the world, and it wasn't created with the intention of enriching any person or business. Dogecoin could theoretically become a commonly accepted medium of exchange someday, and such a development could potentially increase demand for Dogecoin.
This is a hotly competitive space, however, and for the time being the value of Dogecoin — in terms of U.S. dollars — depends on the market. In other words, Dogecoin will be worth whatever someone else is willing to pay for it at any given moment.
Learn more about cryptocurrencies
Disclosure: Andy Rosen owned DOGE, BTC and ETH at the original time of publication.
Get more smart money moves – straight to your inbox
Sign up and we'll send you Nerdy articles about the money topics that matter most to you along with other ways to help you get more from your money.