FUD: What It Means and What To Do About It
Some crypto investors say fear, uncertainty and doubt (FUD) have no place in investing. Are they right?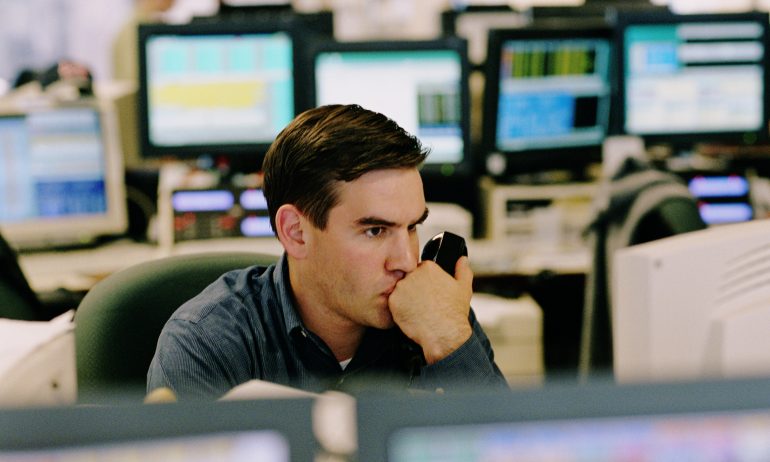 Many or all of the products featured here are from our partners who compensate us. This influences which products we write about and where and how the product appears on a page. However, this does not influence our evaluations. Our opinions are our own. Here is a list of our partners and here's how we make money.
---
The investing information provided on this page is for educational purposes only. NerdWallet, Inc. does not offer advisory or brokerage services, nor does it recommend or advise investors to buy or sell particular stocks, securities or other investments.
"FUD" means "fear, uncertainty and doubt." In some ways, it's the opposite of FOMO, or fear of missing out. This idea is particularly popular among cryptocurrency enthusiasts. When someone uses the term FUD, they are most likely criticizing other investors for what they see as uninformed pessimism.
This perspective has merit, but it isn't perfect. It's true: Investing shouldn't be driven by emotions. At the same time, it's important to be flexible, making a change if needed after evaluating new information. Understanding the difference is key to a smart approach to investing.
Advertisement
Fees 

0% - 3.99%

varies by type of transaction; other fees may apply

Promotion 

Get $200 in crypto

when you sign up. Terms Apply.

Promotion 

None

no promotion available at this time

Promotion 

None

no promotion available at this time
The term FUD is commonly used on online forums when talking about investments, especially investments that are highly volatile, such as cryptocurrency.
For example, one user in Reddit's popular "CryptoCurrency" forum wrote this when the crypto market slipped substantially in early 2022: "Who else is ignoring the FUD and feeling really bullish on crypto for 2022?" the post said. The writer added, "I've been in crypto for a few years and I'm hearing the same tired excuses this January that are repeated every time the market dips/corrects/crashes."
It's normal to feel fear, uncertainty and doubt as an investor. It's your hard-earned money, after all. But here are some tips to ensure your emotions don't have an outsized effect on your financial decisions.
The problem: Fear can lead to rash decisions that you might later regret.
Some people sell investments when prices drop thinking they are being conservative, protecting their assets from further loss. This approach can backfire. Although market rebounds are not guaranteed, countless people have missed the opportunity to recoup their losses because they moved out of a falling position that later began to climb.
In other cases, fear of missing out — FOMO — can make drive people to buy investments impulsively.
How to handle it: If you're feeling worried about your portfolio, or even a specific component of it, a financial advisor may be able to help you make a more cool-headed decision.
Investors, especially long-term investors who don't have an immediate need to withdraw funds, are often better equipped to withstand short-term turmoil. Investing can also be less scary when you have your other financial bases covered, like a healthy emergency fund.
The problem: There's no such thing as a sure bet in investing. Nearly every asset in your portfolio has some degree of risk. And that's OK: The amount of risk you take on is related to your potential reward.
How to handle it: Risk is something you take into account, not something to avoid altogether. Bonds, for instance, tend to have a lower risk profile than an S&P 500 index fund, which is made up of stocks of hundreds of companies. But bonds also tend to have lower returns. Cryptocurrency and individual stocks may have even more risk and tend to be highly volatile — experiencing wild swings in value, both positive and negative.
The risk profile of your overall investment portfolio is more important than the performance of a single holding. To understand your personal risk tolerance, you should consider factors like your age and goals. If you make a plan that incorporates your risk tolerance, it might be easier to tolerate the ups and downs.
Spreading your money across many investments and asset types — known as diversification — is a common way to manage risk. A 50% drop in the value of an investment is a big deal if it's the only thing you own, but it's manageable if it's 2% of your overall portfolio. This is a longstanding investment principle that can also be applied to crypto.
The problem: It's OK to revise your outlook based on new information, but second-guessing a decision because of a news cycle can be a recipe for disaster. A temporary decline in value might not say much about what will happen five or 10 years from now.
How to handle it: Instead of staring at a price chart, review your original investment thesis for an investment to decide whether you still believe in that reasoning. If something has happened to make the prospects for your investments dimmer, there's no shame in reevaluating. The alternative — assuming that any price drop is bound to be followed by a big bounce — is not an appropriate response to FUD. But if your overall philosophy hasn't changed, there's no reason to let your feelings usurp it.
In crypto, there's a particular term for taking a long-range approach to investment. HODL, which began as a misspelling of the word "hold," is an article of faith among many investors. A recent international survey by the cryptocurrency platform Gemini suggested that close to 80% of crypto owners buy and hold it for its long-term investment potential.
Get more smart money moves – straight to your inbox
Sign up and we'll send you Nerdy articles about the money topics that matter most to you along with other ways to help you get more from your money.