How to Invest in Mutual Funds
Investing in mutual funds calls for deciding between active or passive management, choosing where to buy funds, understanding fees and sticking to a plan.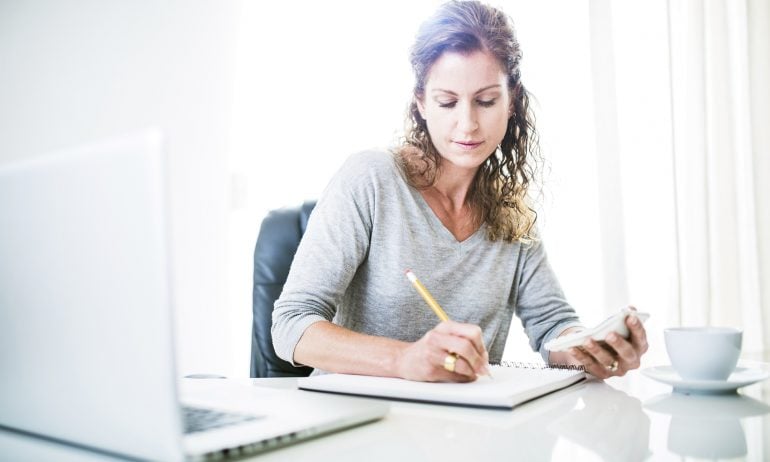 Many or all of the products featured here are from our partners who compensate us. This may influence which products we write about and where and how the product appears on a page. However, this does not influence our evaluations. Our opinions are our own.
Mutual funds are the big-box stores of the investing world, buying in bulk to pass along a wide range of products at affordable prices.
Buying a mutual fund in 5 steps
Decide whether to go active or passive. Costs and performance often favor passive investing.

Calculate your budget. Funds may track well-known indexes like the S&P 500 or specific industries or types of companies.

Decide where to buy mutual funds. Find the right fund for your budget.

Understand and scrutinize fees.  A broker that offers no-transaction-fee mutual funds can help cut costs.

Build and manage your portfolio. Check in on and rebalance your mix of assets once a year.
Step 1. Decide whether to go active or passive
Your first choice is perhaps the biggest: Do you want to beat the market or try to mimic it? It's also a fairly easy choice: One approach costs more than the other, often without delivering better results.
Actively managed funds are managed by professionals who research what's out there and buy with an eye toward beating the market.  While some fund managers might achieve this in the short term, it has proved difficult to outperform the market over the long term and on a regular basis. These funds are more expensive because of the human touch involved.
A more hands-off approach called passive investing is rising in popularity, thanks in large part to the ease of the process and the results it delivers. Passive investing is best for most people because the funds are cheaper and there are fewer fees.
"

Passive investing is best for most people because the funds are cheaper and there are fewer fees."
Perhaps the signature passive investment is the index fund, which buys a basket of securities meant to represent an entire market. For example, the holdings in a Standard & Poor's 500 fund mirror those in the popular index of 500 stocks, and the fund's performance is meant to replicate the performance of the index itself. So when the evening news says the S&P 500 was up 3% for the day, so would your index fund. And since there's no real management going on, its fees are lower than for an actively managed fund.
Step 2. Calculate your budget
When considering how much to invest, remember that patience pays. A good rule of thumb is you should feel comfortable leaving the money untouched for at least five years to ride out any market downturns.
Thinking about your budget in two ways can help determine how to proceed:
How much do I need to get started? Mutual fund providers often require a minimum amount to open an account and begin investing. Some brokers have no account minimum; others can range from $500 to $3,000.

How should I invest that money? As mentioned earlier, the great advantage of mutual funds is the low-cost way they offer to build a diverse portfolio across stocks (for growth) and bonds (for lower but steadier returns). But what initial mix of funds is right for you? Generally speaking, the closer you are to retirement age, the more holdings in conservative investments you will want to have — younger investors have more time to ride out riskier bets and inevitable reversals. One kind of mutual fund takes the guesswork out of the "what's my mix" question: target-date funds, which automatically reallocate your asset mix as you age.
Step 3. Decide where to buy mutual funds
You need a brokerage account when investing in stocks, but you have a few options with mutual funds. If you contribute to an employer-sponsored retirement account, such as a 401(k), there's a good chance you're already invested in mutual funds. You also can buy directly from the company that created the fund, such as Vanguard or BlackRock Funds. But each of these options may have a limited choice of funds.
Most investors would be wise to buy from an online brokerage, many of which offer a broad selection of mutual funds across a range of fund companies. If you go with a broker, you'll want to consider:
Affordability. Mutual fund investors can face two kinds of fees: from their brokerage account (transaction fees) and from the funds themselves (expense ratios and front- and back-end "sales loads"). More on these below.
Fund choices. Workplace retirement plans may carry only a dozen or so mutual funds. You want more variety than that. Some brokers offer hundreds, even thousands, of no-transaction-fee funds to choose from. There are many other types of funds available, such as exchange-traded funds, or ETFs, which offer the diversification benefits of mutual funds but can be traded like individual stocks; and target-date funds, which invest in other mutual funds and reallocate their assets to become more conservative over time.
Research and educational tools. With more choice comes the need for more thinking and research. It's vital to pick a broker that helps you learn more about a fund before investing your money.

Ease of use. A brokerage's website or app won't be helpful if you can't make heads or tails of it. You want to understand and feel comfortable with the experience.
Step 4. Understand and scrutinize fees
Back to the active-versus-passive question: Generally speaking, the service level of actively managed accounts will be higher, but so will the fees you pay.
Either way, a company will charge an annual fee for fund management and other costs of running the fund, expressed as a percentage of the cash you invest, known as the expense ratio. For example, a fund with a 1% expense ratio will cost you $10 for every $1,000 you invest. These fees aren't always easy to identify upfront, but it's well worth the effort to understand because they can eat into your returns over time.
Commissions aren't a thing with mutual funds, but there still can be transaction fees for buying or selling a fund. Some funds also carry a charge that's paid to the broker selling the fund, which sounds like a commission but is called a sales load.
The good news is you can sidestep these fees by investing with a broker that offers a list of no-transaction-fee mutual funds.
Step 5. Build and manage your portfolio
Once you determine the mutual funds you want to buy, you'll want to think about how to manage your investment.
One smart move would be to rebalance your portfolio once a year, with the goal of keeping it in line with your diversification plan. For example, if one slice of your investments had great gains and now constitutes a bigger share of the pie, you might consider selling off some of the gains and investing in another slice to regain balance.
"

One smart move would be to rebalance your portfolio once a year, with the goal of keeping it in line with your plan."
Sticking to your plan also will keep you from chasing performance. This is a risk for fund investors (and stock pickers) who want to get in on a fund after reading how well it did last year. But "past performance is no guarantee of future performance" — and it's an investing cliché for a reason. It doesn't mean you should just stay put in a fund — go on, shop the funds offered by your broker to see if you can find something similar for less — but chasing performance almost never works out.
Advertisement
| | |
| --- | --- |
| | $0 trade fees. $0 annual or inactivity fees. |
| VANGUARD PERSONAL ADVISOR SERVICES | |
| | Two months free with promo code "nerdwallet" |
We want to hear from you and encourage a lively discussion among our users. Please help us keep our site clean and safe by following our
posting guidelines
, and avoid disclosing personal or sensitive information such as bank account or phone numbers. Any comments posted under NerdWallet's official account are not reviewed or endorsed by representatives of financial institutions affiliated with the reviewed products, unless explicitly stated otherwise.