Stock Market Investments: How to Pick
There's a dizzying list of stocks, mutual funds and exchange-traded funds to choose from. A robust portfolio begins with index funds.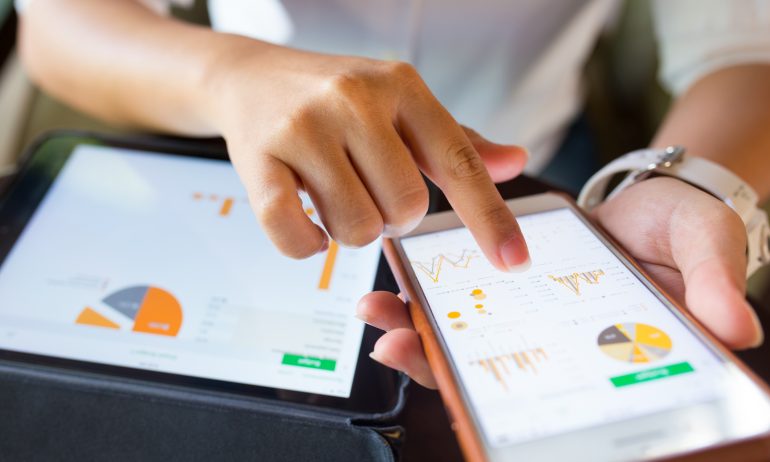 Many or all of the products featured here are from our partners who compensate us. This may influence which products we write about and where and how the product appears on a page. However, this does not influence our evaluations. Our opinions are our own. Here is a list of our partners and here's how we make money.
---
The investing information provided on this page is for educational purposes only. NerdWallet does not offer advisory or brokerage services, nor does it recommend or advise investors to buy or sell particular stocks, securities or other investments.
Some people talk about investing as if it's a click-the-button decision. That's often a too-simplistic view, especially when it comes time to, well, invest because you'll eventually have to figure out: OK, what exactly should I invest in?
It's a dilemma first-time investors and grizzled veterans alike encounter with seemingly endless possibilities. In the U.S., there are more than 4,000 publicly traded stocks, 9,000-plus mutual funds and more than 2,000 exchange-traded funds, not to mention an array of viable options and futures trades.
All roads lead to a common goal — growing your money over time — though individual journeys vary, depending on investing style, interests, objectives and how actively you intend to manage your investment portfolio.
Below are some of the top stock market investment choices to consider.
1. Use index funds to anchor your portfolio
As you embark on what hopefully will be a lifetime of investing, you're likely to experience both anxiety and excitement. Perhaps your heart is pedal to the metal (I need to invest already!) but your head's pumping the brakes (I don't want to lose that money!).
Instead of fretting about what to do, consider index funds — which can be either of the mutual fund or exchange-traded fund (ETF) variety. Index funds (for example, those tracking the Standard & Poor's 500 Index) are good first investments because they offer a simple way to gain exposure to the market without the need to buy all the stocks within the index.
Index funds are easy to buy, they carry low management fees (what's known as expense ratios), and their returns are less volatile because they track the performance of an index. Finally, these assets offer diversification, which is key to long-term investing success. Owning a variety of assets decreases your portfolio's risk, ensuring you don't get burned by any one investment.
You'll need an account to get started, either with an online broker or a robo-advisor. The difference comes down to personal preference. If you prefer selecting investments, an online broker is your best bet. If a hands-off approach is more appealing, go with a robo-advisor, where index funds are the name of the game.
A quick explainer on robo-advisors: These providers offer automated investing advice using computer algorithms to build and manage customers' investment portfolios. Robo-advisors will recommend a portfolio that's typically constructed of low-cost ETFs and index funds. If you opt for a robo-advisor, you'll inherently be investing in index funds, even if the algorithm is doing the selection on your behalf.
Advertisement
Fees

$0

per trade for online U.S. stocks and ETFs

Promotion

Up to $600

when you invest in a new Merrill Edge® Self-Directed account.

Promotion

Get $100

when you open a new, eligible Fidelity account with $50 or more. Use code FIDELITY100. Limited time offer. Terms apply.

Promotion

Get up to 12 free stocks (valued up to $30,600)

when you open and fund an account with Webull. Promotion ends 8/31/2022.
2. Pad your portfolio with individual stocks
Although investing in index funds is a perfectly fine strategy, your journey needn't end there. You should continue investing money in these funds — they'll serve as the foundation of your portfolio — and then you can begin venturing further beyond.
Let your interests be the guide. If you prefer the simplicity and low-cost nature of index funds or ETFs, add more of them to your portfolio. These funds offer plenty of opportunity to enhance your portfolio's diversification, whether they track specific industries or different company sizes. They also make for an easy way to invest in international stocks.
Ready for something new? You can try your hand at investing in individual stocks. To begin, you'll need an account with an online broker, along with a sense of your risk tolerance (investing in stocks is riskier than index funds) and investment goals, and a genuine interest in the task at hand. You should also familiarize yourself with the various types of stocks.
Don't be dissuaded by a lack of experience or funds; starting small is a prudent strategy, and there's no better education than firsthand experience. Make sure you have a solid understanding of the company you want to invest in, some context about its stock price and the basics of trading before you begin.
In general, heed Warren Buffett's advice: "Buy into a company because you want to own it, not because you want the stock to go up."
3. Use options and futures for a more tactical strategy
For most investors, a well-diversified portfolio made up of mutual funds, ETFs and individual stocks is a sufficient long-term strategy. For others, more nuanced investments may beckon.
If you find yourself getting tempted by a "hot" tip that your best friend's sister's boyfriend's brother's girlfriend heard from some guy, take a deep breath. While it's good to feel comfortable investing, it's bad to be overly confident. Even professional investors regularly get burned, and consistency, rather than a hot hand, begets long-term success.
Instead of chasing tips, dive into your portfolio. Are there holes in your diversification strategy that could use patching? For example, if you own numerous individual stocks within a specific industry (like technology), it may be wise to add ETFs that track other industries (say, health care).
Once you've combed through your portfolio, revisit your goals and objectives. If you're looking for a more tactical investing approach, consider options. These assets have a smaller investment requirement and provide flexibility regarding the duration of the investment and downside risks.
If you want to express a speculative view on the market, individual stocks or ETFs, consider futures. These contracts also require a smaller investment and obligate buyers to purchase a specific asset at a predetermined time and price in the future.
4. Whatever you do, stay on course
Regardless of what you decide to invest in, it's important to maintain consistency by making regular contributions and tweaking your strategy over time, as necessary. With any new investment you consider, make sure you understand how it works before plopping down money, and never sacrifice the pillars of your portfolio in the process. But by all means, have some fun. Staying engaged in the management of your portfolio will ensure you stay invested for the long haul.
Get more smart money moves – straight to your inbox
Sign up and we'll send you Nerdy articles about the money topics that matter most to you along with other ways to help you get more from your money.