Retirement Withdrawal Strategies: Which Should You Use?
Common approaches include the 4% rule, dynamic withdrawals and the bucket strategy.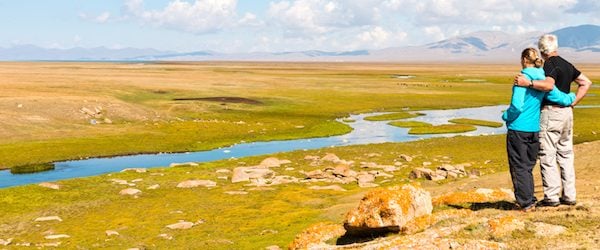 Many or all of the products featured here are from our partners who compensate us. This may influence which products we write about and where and how the product appears on a page. However, this does not influence our evaluations. Our opinions are our own. Here is a list of our partners and here's how we make money.
---
The investing information provided on this page is for educational purposes only. NerdWallet does not offer advisory or brokerage services, nor does it recommend or advise investors to buy or sell particular stocks, securities or other investments.
It'd be nice if saving for retirement was all we had to do. Turns out, we also need to decide on the best way to pull out our savings once we retire.
Luckily, smart people have come up with a variety of tactics to stretch our savings for the long haul. Read on to review some of the most popular retirement withdrawal strategies. (Or check out our calculator for a quick look at how long your retirement savings will last.)
What it is: The 4% rule, a guideline published by retired financial planner William Bengen in 1994, promoted that figure as a safe annual withdrawal rate after testing it on the toughest financial crises in history, including the Great Depression.
"

Using the 4% rule, withdraw that percentage of your savings in the first year of retirement, then take the same dollar amount adjusted for inflation in the years that follow.

"
Here's how it works: You withdraw 4% of your savings in the first year of retirement, and each year after that you take out the same dollar amount, plus an inflation adjustment.
Say you have $800,000 in retirement savings. That first year, you'd withdraw $32,000. Then, over the course of that year, inflation runs 3%. The second year, you'd withdraw $32,960.
Pros: This is a pretty easy to rule to wrap your head around, and the chance of success — that is, not outliving your money — is high, as long as you invest at least 50% of your savings in stocks, according to Bengen's analysis.
Cons: The 4% rule is inflexible and fails to take into account how retirees' spending patterns can change in retirement.
What the pros say: The 4% rule is a good starting point, says Brad Bobb, a certified financial planner and founder of Bobb Financial in Springfield, Illinois.
But it's not always practical, he says. One downside is that it assumes a steady income throughout retirement.
Bobb notes that he has a client who's planning to retire at 56, but won't claim Social Security until age 65 or later. "She's probably going to take out a higher withdrawal than 4% for about a 10-year time frame," he says.
What it is: There are a lot of different ways to structure "dynamic withdrawals," but essentially it means that, unlike the relatively inflexible 4% rule, you change your withdrawal amount when, for example, investment returns are substantially different than expected.
"

Dynamic strategies can free you up to spend more money when market returns allow it, up to a ceiling you set in advance.

"
Pros: With this method, you're taking steps each year to make sure your retirement savings last as long as you need. It makes sense to reduce spending in years when investment returns aren't as high as expected, or if, say, an emergency forced you to spend more than expected the previous year. And dynamic strategies can free you up to spend more money when market returns allow it, up to a ceiling you set in advance.
Cons: There are lots of different dynamic withdrawal strategies, and they can get complicated. If you think you might want help from an expert, here are tips for how to choose a financial advisor.
What the pros say: The best strategy for you will depend on your situation. "The retirement withdrawal strategy that we select is very much based on what your goals are," says Erin Hadary, CFP, a senior wealth planner at Dunston Financial Group in Denver.
One dynamic strategy, known as the Guyton-Klinger rule after the two men who devised it, essentially puts guardrails around withdrawal amounts to make sure you don't take too much — or too little — from your savings.
One of those guardrails involves limiting withdrawals if they represent too large a portion of your total nest egg. "If at any point your current withdrawal rate is more than 20% of your original withdrawal rate, you would just reduce your withdrawal rate by 10%," says Brandon Renfro, a finance professor at East Texas Baptist University and a fee-only financial advisor in Marshall, Texas.
What it is: You divvy up your savings into separate account types based on your goals. That could be as simple as three buckets: emergency savings, living expenses and long-term savings.
For example, you could have three months' worth of emergency savings in a savings account. Then you could have, say, three years' worth of living expenses, with one year of that in a savings account and two years' worth in a bank certificate of deposit. Then, your longer-term savings can be invested.
"The idea is that you let the aggressive investments continue to grow long-term and don't count on them to provide your short-term income," says Jon Beyrer, a certified financial planner with Blankinship & Foster LLC in San Diego. Periodically, you shift money out of the long-term bucket into the short-term one.
Pros: A bucket strategy reduces your exposure to investment risk because you don't have to sell stocks when the market is down. You've got cash on hand to pay your expenses, which can protect your savings over the long haul.
Cons: You still need a withdrawal strategy for your invested savings.
What the pros say: Beyrer says this is a good strategy for his clients who get nervous about investing.
"This is a way to give them peace of mind," Beyrer says. "No matter what you saw in the news, what big drop just happened in the stock market, you don't have to worry because you can ride it out for a few years."
Tips for any retirement approach
Don't forget taxes. If you're withdrawing money from a traditional IRA or 401(k), you're going to owe income tax on that money. Be sure to factor that into your retirement income plans. (That's one reason why a Roth IRA can be a relief come retirement: You pay taxes as you go, and not when you're withdrawing the money. Here's more on Roth vs. traditional IRAs.)
Revisit your plan at least once a year. This isn't a situation where you're going to set it and forget it. Things change, markets rise and fall, unexpected expenses arise. Check in with your plan regularly to make sure you're on track.
Remember your other income sources. Most of these withdrawal strategies are focused on your retirement savings — the stash of money you have control over. Don't forget to factor in Social Security benefits and any other sources of income when thinking about your overall retirement plan.
Ditch the debt, if you can. Financing your retirement will be a lot easier without debt. "If you don't have any debt going into retirement, then that significantly reduces your fixed expenses," Bobb says.
Flexibility can be your friend. "If you go into retirement being flexible and not having to have the exact same dollar amount every year," Bobb says, "then that gives you a better chance of not running out of money in retirement, because you can adjust as you go."
Get more smart money moves – straight to your inbox
Sign up and we'll send you Nerdy articles about the money topics that matter most to you along with other ways to help you get more from your money.