What Is Portfolio Management?
Portfolio management is the process of building and maintaining an investment account. You can manage your own portfolio, or hire a portfolio manager or investment advisor.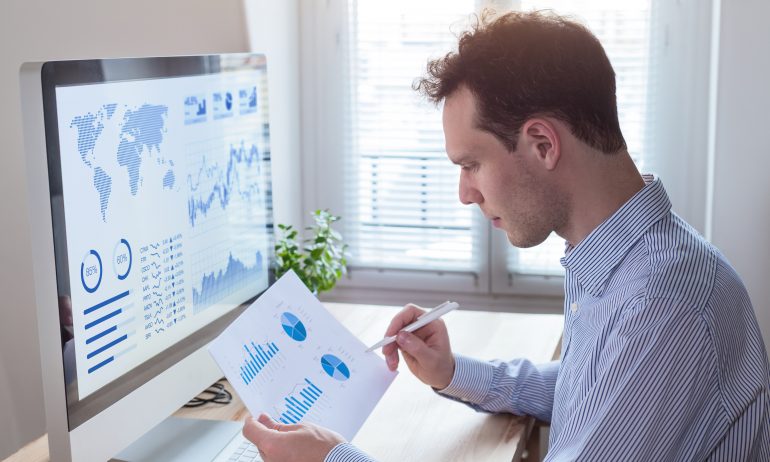 Many or all of the products featured here are from our partners who compensate us. This may influence which products we write about and where and how the product appears on a page. However, this does not influence our evaluations. Our opinions are our own. Here is a list of our partners and here's how we make money.
---
The investing information provided on this page is for educational purposes only. NerdWallet does not offer advisory or brokerage services, nor does it recommend or advise investors to buy or sell particular stocks or securities.
Portfolio management is the process of picking the type and mix of investments such as stocks and bonds, to achieve a specific investment goal, then monitoring and adjusting those investments over time.
Two main portfolio management strategies are active and passive management.
Active portfolio management: Active portfolio managers take a hands-on approach when making investment decisions. They charge investors a percentage of the assets they manage for you. Their goal is to outperform an investment benchmark (or stock market index). However, investment returns are hurt by high portfolio management fees — clients pay 1% of their balance or more per year to cover advisory fees, which is why more affordable passive portfolio management services have become so popular.
Passive portfolio management: Passive portfolio management involves choosing a group of investments that track a broad stock market index. The goal is to mirror the returns of the market (or a specific portion of it) over time.
Like traditional portfolio managers, robo-advisors allow you to set your parameters (your goals, time horizon and risk tolerance). Robo-advisors typically charge a percentage of assets managed, but because there is little need for active hands-on, that cost is a fraction of a percent in management fees (generally between 0.25% and 0.50%). (View our picks for the best.)
If you want more comprehensive help — investment account management plus financial-planning advice — consider using a service like or. (Facet Wealth and Personal Capital are NerdWallet advertising partners.) These services combine low-cost, automated portfolio management with the type of financial advice you'd get at a traditional financial planning firm — advisors provide guidance on spending, saving, investing and protecting your finances. The main difference is the meetings with your financial planner take place via phone or video instead of in person.
» View NerdWallet's list of the.
A portfolio manager creates an investing strategy based on a client's financial needs and risk tolerance, and provides ongoing portfolio oversight, adjusting holdings when needed. You don't need a portfolio manager if you'd prefer to manage your investments on your own, but if you'd rather be hands-off, you may want to work with a professional.
Portfolio management decisions are guided by four main factors: an investor's goals, how much help they want (if any), timeline and risk tolerance.
» Need help investing? Learn about
» Looking for a portfolio manager? Learn about how to choose a
Portfolio management isn't solely about building and managing an investment portfolio. Here are some of the more important aspects of portfolio management.
Asset location answers one question: Where are your investments going to live? The type of account you pick will become your investments' home — and there are lots to choose from. The key is to pick the.
Part of picking an investment account is choosing between taxable accounts and tax-advantaged ones. This decision can have both short-term and long-term tax implications. You'll want to be sure to use designated retirement accounts like IRAs and 401(k)s for your retirement savings, because these offer tax advantages — for example, money you contribute to a Roth IRA grows tax-free. (Learn more about.) You may also want to have a standard taxable investment account to invest for non-retirement goals (like saving for a down payment).
Rebalancing is how portfolio managers maintain equilibrium within their accounts. Portfolio managers do this to stay true to the target allocation originally set for the investment strategy. Over time, market fluctuations might cause a portfolio to get off course from its original goals. Read about.
Tax minimization is the process of figuring out how to pay less overall in taxes. These strategies work to offset or lower an investor's exposure to current and future taxes, which can make or break an investor's returns. It's important to consider the tax implications of investment decisions to avoid pricey surprises from the IRS.
Portfolio management in the real world combines all of these aspects into one personalized portfolio. Say an investor is planning on retiring in five years and doesn't want to take as much risk. They have a 401(k) from their employer (their asset location) where they put a portion of their paycheck. Their asset allocation could be 50% stocks and 50% bonds. If this ratio changes over time, and the investor winds up with a portfolio closer to 55% in stocks, that gives them a riskier portfolio than they are comfortable with. The investor or a portfolio manager would then rebalance the to bring it back to its original 50/50 ratio.
Tax minimization can go hand and hand with asset location. For example, if you choose to locate your assets in a Roth IRA, you are inherently minimizing your taxes since qualified Roth distributions are tax-free in retirement.
Portfolio management deals strictly with a client's investment portfolio and how to best allocate assets to fit their risk tolerance and financial goals. is the highest level of financial planning, and often includes services like estate planning, tax preparation and legal guidance in addition to investment management.
» Need more information? Learn about the different.