Modification Grants and Loans Help Make a Home More Accessible
Grants provided by the government or nonprofit organizations can help fund modifications that make homes safer and easier to navigate.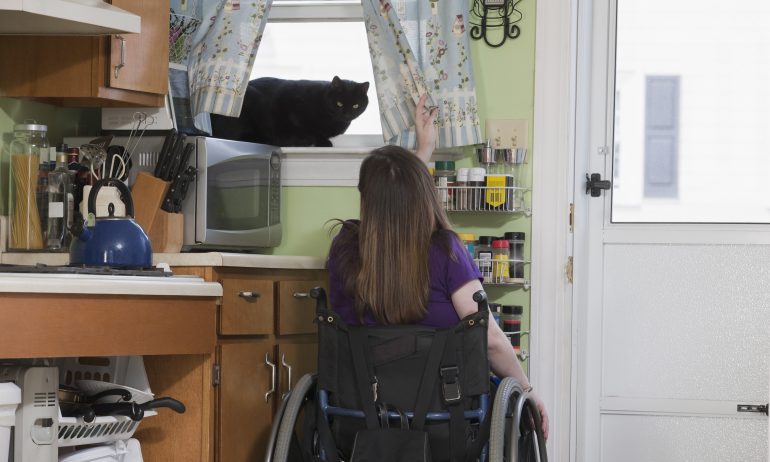 Many or all of the products featured here are from our partners who compensate us. This influences which products we write about and where and how the product appears on a page. However, this does not influence our evaluations. Our opinions are our own. Here is a list of our partners and here's how we make money.
Modifying a home to accommodate an injury, disability or aging can involve costly updates. Wide doors, altered kitchen cabinets and easier-to-use appliances can cost thousands of dollars.
Before you finance or pay out of pocket for these upgrades, look for assistance from the government or nonprofit organizations. Many offer resources for low-income individuals, older adults and people living with disabilities.
Federal home modification grants
Federal government aid is geared toward military service members and residents of rural areas.
The U.S. Department of Agriculture provides Rural Housing Repair loans and grants to rural homeowners with very low income, which the department defines as earning less than 50% of the area median income. Grants up to $7,500 are available to homeowners age 62 and older. Loans, which don't have an age requirement, are up to $20,000, repaid monthly over 20 years at 1% interest. Grants and loans can be combined, according to the department.
The Specially Adapted Housing grant offers up to $101,754 for fiscal year 2022 (which ends Sept. 30) to help modify a home you will buy, build or change.

The Special Home Adaptation grant offers up to $20,387 for FY 2022 to help modify a home that you or a family member will buy, build or change.

The Temporary Residence Adaptation grant helps modify a family member's home where you're temporarily living. You must otherwise qualify for an SAH or SHA grant. TRA grants are up to $40,938 in FY 2022 for SAH-qualified individuals, and up to $7,318 in FY 2022 for SHA-qualified individuals.

The Home Improvements and Structural Alterations grant provides funds for medically necessary home improvements, including accessibility updates to home entrances and bathrooms. Those with service-related disabilities can get up to $6,800, and those with non-service-related disabilities can get up to $2,000.
The American Red Cross may provide emergency financial assistance to military retirees and their families, which sometimes includes basic home modifications. If it can't help, it may connect you with local groups that can.
State and local home modification grants and loans
State and local agencies may be able to offer more assistance with less-restrictive qualification requirements.
The U.S. Department of Housing and Urban Development maintains a list of states that provide resources and grants for home repairs. Information on the state pages vary, but resources are usually listed under a link that references learning about homeownership.
The Independent Living Research Utilization program has a directory of organizations that support people with disabilities who want to live independently. Some organizations provide funding for assistive technology, including chairlifts and bathroom modifications, while others provide referrals.
Check with your state's housing department for other financial assistance. Your city or county government may have programs that help with home modifications, including volunteer services and grants. One way to reach them is to call 211.
Home modification loans and grants from nonprofits
Nonprofit groups that advocate and volunteer for people living with disabilities can provide funding or assistance at the national or local level. Assistance is often income-based.
Rebuilding Together is a national organization whose volunteers make homes safer and more livable for low-income families, older adults and people living with disabilities. Qualifications and the type of modifications available vary by location.
Modest Needs is an organization that provides Self-Sufficiency Grants to those who live just above the poverty level in the U.S. and Canada. The grants cover a range of expenses, including accessible-home modifications.
Your grant amount depends on your financial situation, but the group says average grants are $750 to $1,250. To qualify, one member of the household must be employed and the main source of household income must be from employment, child support, veterans benefits or retirement. You also can't be eligible for other grants or government aid.
The National Disability Institute, a group that researches and advocates for people living with disabilities, provides affordable assistive technology loans from $500 to $30,000 to residents of New Jersey and New York. The institute also has a list of organizations across the country that help finance assistive technology.
Original Medicare covers medically necessary durable medical equipment like wheelchairs and walkers, but not home renovations. Private Medicare Advantage plans are able to cover some home accessibility improvements for chronically ill enrollees, but only about 0.5% of plans do, according to research from the Kaiser Family Foundation. If you have Medicare Advantage or are considering switching, ask if the plan covers updates to your home and whether you would qualify for that benefit.
How to apply for a home modification grant
To prove that you need a modification grant, you may be asked to provide evidence of a disability, information about your income and employment history, as well as tax documents and bank statements.
You can make the application process go a little more smoothly by previewing the requirements and gathering copies of supporting documents before you apply.
Other ways to finance accessible-home modifications
If you need to finance a home modification, compare multiple options to find one that your budget can manage. Borrowing requirements vary for different types of loans, but your credit score, income, existing debts and possibly the value of your home determine whether you qualify for financing.
The U.S. Department of Housing and Urban Development offers two low-rate home improvement loan options:
The FHA 203(k) rehabilitation loan can help you buy a home that needs remodeling or refinance an existing home loan to get extra money for updates. Rates are usually lower than credit cards and personal loans, and loan amounts vary depending on the type of 203(k) loan you get (standard or limited). Credit standards may be lower than a traditional home equity loan or line of credit.

The FHA Title I loan is a fixed-rate loan used for projects that improve the "basic livability or utility" of the property — a broad standard that includes accessibility upgrades, according to HUD.
A home equity loan or line of credit is a low-rate way to finance an update. These loans let you borrow up to 80% of your equity, minus what you owe on your mortgage, and require you to use the home as collateral for the loan.
A home improvement loan may be an expensive option, but it can provide fast funding for urgent repairs and modifications. These loans have annual percentage rates from 6% to 36%, and borrowers with good or excellent credit (690 or higher FICO) and high incomes get the lowest rates.
A full kitchen remodel can cost $13,000 to $38,000, and bathroom accessibility updates can cost $3,000 to $15,000, according to home improvement website HomeAdvisor.
But you don't have to do a full renovation all at once. It may be easier on your budget if you start with the most urgent updates. Here are some common modifications and their costs, according to HomeAdvisor.
Elevator: $2,500 to $60,000.

Chairlift: $1,500 to $5,000.

Lower cabinets and sinks: $1,500 to $8,500.

Accessible shower: $1,500 to $7,500.

Wheelchair ramp: $1,000 to $4,000.

New interior handrails: $1,000.

Wider doors: $700 to $2,500 per door.

Comfort-height toilet: $400 to $1,000.

Lower thermostat: $75 to $300 each.
NerdWallet writer Alex Rosenberg contributed to this article.
Get more smart money moves – straight to your inbox
Sign up and we'll send you Nerdy articles about the money topics that matter most to you along with other ways to help you get more from your money.