Christmas Loans: Should You Get One This Holiday Season?
Christmas loans can be pricey payday loans in disguise. We explore smarter alternatives.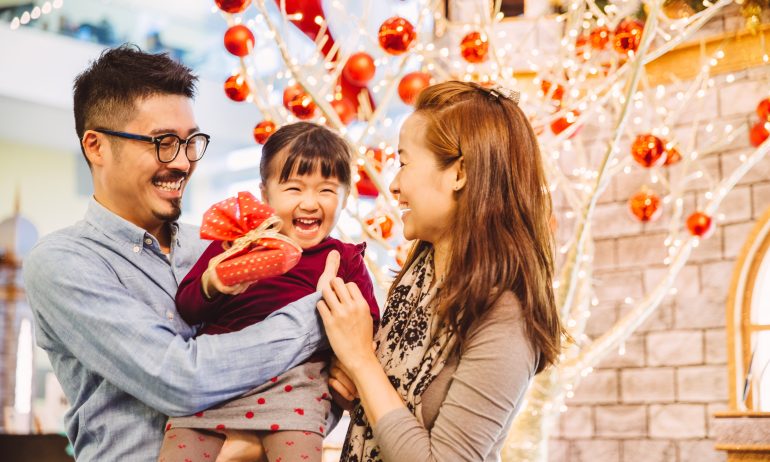 Many or all of the products featured here are from our partners who compensate us. This may influence which products we write about and where and how the product appears on a page. However, this does not influence our evaluations. Our opinions are our own. Here is a list of our partners and here's how we make money.
With the holidays approaching, you may be worried about how you're going to pay for all those gifts and other seasonal expenses.
Offers in your mail or inbox labeled "Christmas loans" may be tempting, but don't fall for them. This financial product surfaces every holiday season, and it's a bad deal. Here's why.
What is a Christmas loan?
A Google search for "Christmas loans" will return websites offering you fast cash. But many Christmas loans are payday loans in festive disguise. These lenders typically don't check your credit and promise to send you money within 24 hours.
The catch? Your interest rate will be well into the triple digits. For example, a $500 loan due in two weeks that costs $15 for every $100 borrowed equals an annual percentage rate of 390%, typical of payday loans.
You'll have to pay back all the money, plus interest, in a few weeks or months. You may also have to let the lender access your bank account to collect payments, leaving you vulnerable to costly overdraft fees if you don't have the funds in your account.
Other borrowing options for the holidays
Two less expensive types of financing include personal loans from online lenders, which are typically best for large one-time purchases, and buy now, pay later financing, designed for smaller buys.
If you have fair or bad credit (a FICO score between 300 to 689), even these forms of borrowing can be pricey.
Personal loans from online lenders
Online lenders offer unsecured personal loans with annual percentage rates up to 36% and repayment terms of typically two to seven years. The rate you qualify for depends on your credit score, credit history, debt-to-income ratio and cash flow.
Personal loan rates from online lenders like LendingClub and SoFi can start at 7% or below, but you need good to excellent credit (a FICO score of 690 or higher) to qualify for those rates. Fair or bad-credit borrowers can expect rates at the higher end of a lender's range, resulting in high interest costs.
For example, a $1,000 loan, due in two years at an APR of 20%, will cost about $222 in interest.
Depending on the term and cost, a personal loan could be harder to get rid of than the ugly sweater from your aunt and leave you paying off this Christmas when the holidays roll around next year — and possibly the year after.
Still, if you get a loan, pre-qualify with multiple lenders to find the best rate, and make a plan to pay off your loan.
Buy now, pay later financing
As you shop online or in store this holiday season, you may see the option to purchase an item now and pay in installments, known as buy now, pay later. BNPL companies like Affirm and Klarna have rates ranging from 0% to 30% and offer repayment periods from six weeks to three years.
The rate you get can depend on your credit. You may have to pay fees if you miss a payment, and large purchases could require a down payment.
Also, because of its convenience, buy now, pay later financing can lead to overspending.
More alternatives to Christmas loans
It's not too late to pull together an affordable holiday. There are other options besides costly loans, including:
0% APR credit card. If you have good or excellent credit, you may qualify for a 0% APR credit card. If you pay the balance back within the card's introductory period, typically between 15 and 21 months, no interest is charged.
Loan apps. Apps like Earnin can offer a small advance on your paycheck with no fees or interest, which could help cover a few last-minute gifts. The catch here is the app asks for an optional tip, which is like adding interest to your interest-free advance. Loan apps can be helpful in a pinch, but it's best to avoid using them regularly.
Credit union loans. Searches for "Christmas loans" and "holiday loans" also yield results for credit unions offering financing for the holiday season. Credit unions typically offer flexible terms, low starting amounts and maximum rates at or below 27%, but you must be a member to apply.
Compare Christmas loan alternatives
Con: APRs can be high for poor-credit borrowers.

Varies from 6 weeks to 3 years.

Pro: Some plans are interest-free.

Con: Potential for late fees and overspending.

12% to 25% after a 0% APR introductory period.

15- to 21-month promotional period to avoid interest.

Pro: 0% interest during promotional period.

Con: Typically available only to good- and excellent-credit borrowers.

Up to $40 in fees, depending on the lender.

Pro: Can receive funds instantly or same-day.

Con: May charge additional fees for instant access.

Pro: Flexible terms and lower rates.
Start budgeting for next year
You don't have to borrow to cover your holiday expenses. Start planning for next year, and use a budget (we recommend the 50/30/20 model) to get the most out of your paycheck. Saving at least 20% each payday throughout the year can yield the necessary funds to give yourself the best gift: a debt-free Christmas.
Get more smart money moves – straight to your inbox
Sign up and we'll send you Nerdy articles about the money topics that matter most to you along with other ways to help you get more from your money.