How to Apply for a Personal Loan
Applying for a loan starts with checking your credit and pre-qualifying to compare personal loan offers.
Last updated on Jan 19, 2023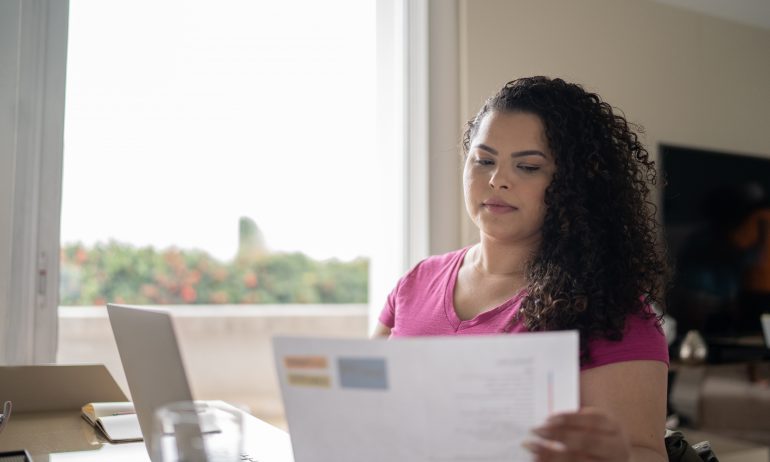 Many or all of the products featured here are from our partners who compensate us. This influences which products we write about and where and how the product appears on a page. However, this does not influence our evaluations. Our opinions are our own. Here is a list of our partners and here's how we make money.
How to Apply for a personal loan
The process of applying for a personal loan may feel overwhelming if you don't know where to begin or what you need.
Below are five steps and common questions to help you through the process of applying for and choosing the best personal loan for your financial situation.
Step 1: Check your credit
Start the process by checking your credit. The interest rate and loan amount you receive depend a lot on your credit score, so reviewing your credit report lets you spot and fix any errors — like a falsely reported late payment — and strengthen your score before applying for a personal loan.
How does my credit score impact personal loan offers?
Good- or excellent-credit borrowers (those with scores of 690 or above) typically receive lower rates and have a wider group of lenders to choose from. On the other hand, bad- and fair-credit borrowers (scores of 300 to 689) may have fewer options and receive higher interest rates.
How do I see my credit score for free?
Step 2: Pre-qualify and compare offers
Pre-qualifying for a personal loan gives you a preview of estimated rates, monthly payments and terms before you submit a formal application. Most lenders allow prospective borrowers to pre-qualify through their websites. Visit multiple lenders, including banks, online lenders and credit unions, to find the right loan for you. 
See if you pre-qualify for a personal loan — without affecting your credit score.
Just answer a few questions to get personalized rates from our lending partners.
Will pre-qualifying affect my credit score?
No, pre-qualifying for a personal loan requires a soft inquiry, which doesn't affect your credit score.
What do I need to pre-qualify for a personal loan?
To pre-qualify, you'll need to submit information such as:
Loan purpose. Unsecured personal loans can be used for almost anything, and most lenders will ask how you intend to use the money.

Requested loan amount. Lenders typically offer personal loans from $1,000 to $50,000.

Preferred loan term. Personal loans usually have monthly payments spread over two- to seven-year terms.

Personal and financial information. This could include your name, email address, date of birth, address, income and Social Security number.
If you're unable to pre-qualify for a loan on your own, consider a joint loan. Adding someone with a strong credit score and higher income can help you get approved and lower your rate. But keep in mind that a co-borrower or co-signer will be held financially responsible if you are unable to make payments to your loan. 
How long will it take to pre-qualify?
Pre-qualifying can take up to a few minutes after you submit your information. If you qualify for a loan offer, the lender will show you potential rates and terms to choose from.
Step 3: Choose your lender and loan
With offers from multiple lenders, it can be difficult to know which loan to choose. Here are a few ways to compare different loan options:
APR: The annual percentage rate is the total cost of borrowing and includes your interest rate and all additional fees. The lower the APR, the lower the cost of the loan. 

Loan term: The loan term is how long you will be paying off the loan. A longer term can make your monthly payments cheaper, but you may end up paying more interest than a shorter-term loan.

Fees: Some lenders have additional fees that add to the cost of a loan. See if the loans have an origination fee or a prepayment penalty if you want to pay your loan back sooner.

Monthly payments: Check the monthly payment and make sure that you can comfortably afford the loan in your budget. 

Features and benefits: Identify features that are important to you, like flexible payment options, help with building your credit or direct payment to creditors if you're consolidating debt. Benefits like monthly payment assistance if you're unemployed can help make difficult times easier. 
Personal loans from our partners