How to Pay for Pet Care in an Emergency
Pet emergencies can happen at any time. Knowing your options for covering urgent care can ease an anxious situation.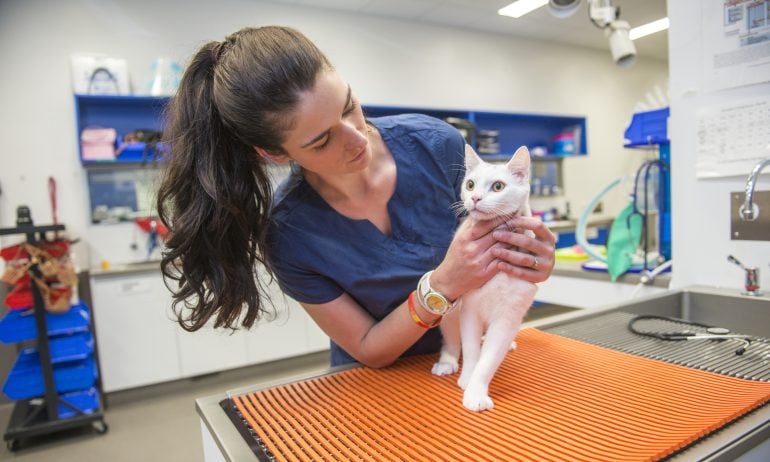 Many or all of the products featured here are from our partners who compensate us. This influences which products we write about and where and how the product appears on a page. However, this does not influence our evaluations. Our opinions are our own. Here is a list of our partners and here's how we make money.
"He's my little ball of sunshine," Mallory Bartels says of her 13-year-old Boston terrier, Buddha. With his shiny black coat and white spots on his paws that look like socks, Bartels describes him as a sweet pup with a playful personality.
Buddha's zest for life was apparent when he jumped off the couch in Bartels' home near Seattle. The leap landed Buddha in urgent veterinary care with a ruptured disk and paralyzed legs that required spinal surgery.
On top of being "a bawling mess" at the vet, Bartels also received a vet bill for over $5,000. "I didn't have savings or cash to pay for it," she says.
According to the American Pet Products Association, Americans spent nearly $36 billion in veterinary care, surgical procedures, medication and other products through vet clinics in 2022. The APPA expects that number to increase by $1 billion in 2023.
How do pet owners pay for emergency pet care? Here are options plus tips to prepare when Fido or Fluffy takes a tumble and needs urgent help.
Ways to pay for emergency pet care
Savings is one of the best ways to pay for emergency vet care, says John Boyd, a certified financial planner and the founder of MDRN Wealth in Scottsdale, Arizona. He suggests clients have an emergency fund that totals three to six months of living expenses and includes money for pet care.
The type of pet can influence how much to put away. "If you're like me and you have a Great Dane, and they're prone to stomach issues that could cost up to $2,000, factor that into the equation when it comes to how much to save," Boyd says.
Many vets and pet clinics offer financing plans, typically through a third party that partners with the vet. Some plans offer 0% interest financing and a quick approval process. Read the fine print to check the interest rate on the plan, and note that approval may require a hard credit check that will cause your score to dip a few points.
CareCredit is a financing option that specifically covers health care expenses for your family, including pets. You can apply online, and CareCredit typically offers 0% interest for six, 12, 18 or 24 months for expenses of $200 or more. However, if you don't repay the full amount by the end of the promotional period, you'll be charged interest retroactively from your original charge date.
Bartels used an existing CareCredit credit card to pay the vet bill for Buddha's surgery. Because the account was already open, Bartels was outside the initial 0% interest period. She understood she'd be charged interest on the vet bill she put on CareCredit.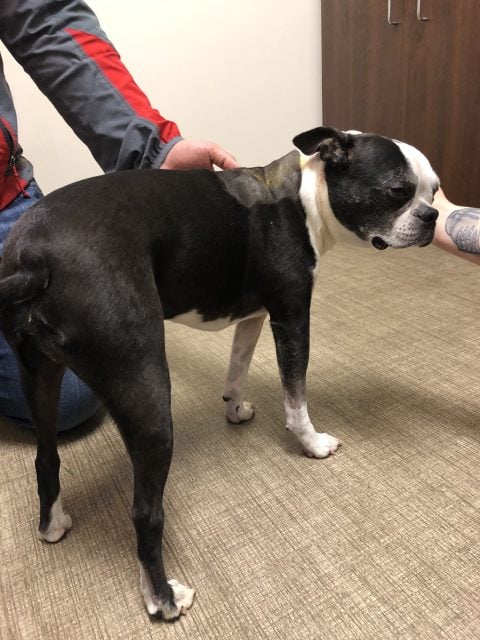 A credit card can be a convenient way to pay for emergency veterinary care if you have the available credit. However, credit card rates can be high, so paying off any accrued balance as soon as possible is important to avoid high-interest charges.
To save on interest, Bartels transferred her CareCredit balance to a credit card with a 0% annual percentage rate for 12 months. She paid a balance transfer fee, which was offset by the savings in interest. She had to add the monthly payments to her household budget, but the balance transfer card gave Bartels breathing room to pay it off.
Banks, credit unions and online lenders offer personal loans that can help pay for unexpected veterinary expenses. Personal loans typically have interest rates from 6% to 36% and two- to seven-year repayment periods. Depending on how much you qualify for, loans start at $1,000 and go up to $50,000 or more. For quick cash, such as in the case of a pet emergency, some lenders provide next-day funding.
For borrowers with strong credit, a personal loan may have a lower interest rate than a credit card to pay large vet bills. A shorter loan term can mean higher monthly payments but less total interest cost. Use a personal loan calculator to estimate monthly payments based on the rate and term.
Local animal welfare organizations
Animal welfare organizations in your local area can be another option for caring for your pet. These organizations typically provide services at a lower cost than a regular vet, thanks to private funding and donations.
Regarding pet care, "we understand that not everybody has the money all the time, and we try to meet people halfway," says Erin Johnson, clinic manager for the Society for the Prevention of Cruelty to Animals in Tulsa, Oklahoma.
In addition to preventive care, vet assistants at the SPCA offer a minor-needs clinic for pets that are feeling unwell, have an infection, are in minor pain or need an X-ray.
While the SPCA can help with minor injuries, Johnson recommends knowing where your nearest urgent care vet is in case of a major accident. "Have a relationship with a full-service vet so that when something does go wrong, you have somebody to go to," Johnson says.
What about pet insurance?
Signing up for new pet insurance won't help if you're uninsured in an emergency, but depending on the plan and provider, pet insurance can cover a future accident.
Boyd says pet insurance can make sense if you don't have enough emergency funds or if you have cash flow but not savings. In that situation, monthly premium payments can help provide coverage and peace of mind if something happens to your pet.
On the other hand, if you have savings for pet emergencies, "I would ditch the pet insurance and just self-insure, essentially," Boyd says.
"He's just been like a little pillar in my life," says Bartels, who was relieved to have Buddha home after his operation. Although his spinal surgery was successful, the costs didn't end. Bartels bought an orthopedic bed for Buddha to recuperate more comfortably and stairs to make it easier for him to go up or down from furniture.
Having learned the hard way about sudden emergency bills, Bartels opened a separate checking account for Buddha's expenses. She deposits money monthly and uses the checking account's debit card to pay for vet trips, food and other Buddha-related purchases.
"It helps me feel more comfortable that if we were put in the situation again, we'd at least have a cash buffer to help us out," Bartels says.
See if you pre-qualify for a personal loan – without affecting your credit score
Just answer a few questions to get personalized rate estimates from multiple lenders.
Comparing options? See if you pre-qualify for a personal loan - without affecting your credit score
Just answer a few questions to get personalized rate estimates from multiple lenders.
Get more smart money moves – straight to your inbox
Sign up and we'll send you Nerdy articles about the money topics that matter most to you along with other ways to help you get more from your money.