Pet Insurance Waiting Periods: What You Need to Know
No-wait pet insurance isn't common, but there are carriers with short waiting periods.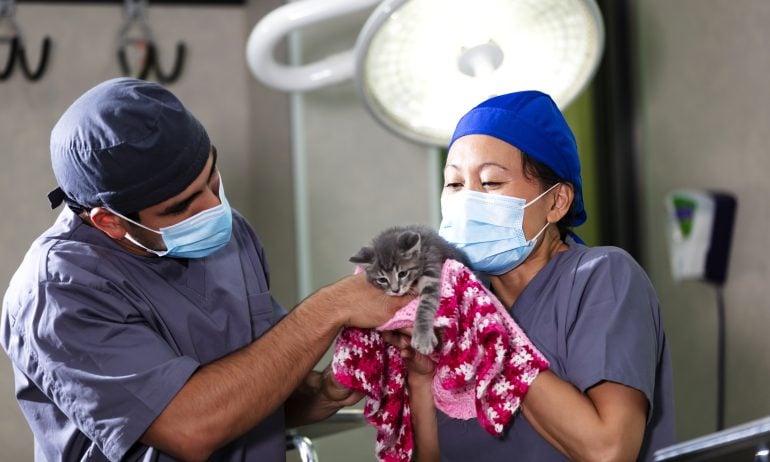 Many or all of the products featured here are from our partners who compensate us. This influences which products we write about and where and how the product appears on a page. However, this does not influence our evaluations. Our opinions are our own. Here is a list of our partners and here's how we make money.
A pet insurance waiting period is the time between when you buy a plan and when coverage starts.

Accident coverage usually begins after two to five days. Illness coverage may begin after 14 to 30 days.

Orthopedic conditions may have a six-month to one-year waiting period, while wellness plans may have no waiting period.
When you buy a pet insurance plan, coverage doesn't begin immediately. Instead, a waiting period applies before you can make any claims. Pet insurance companies set their own waiting periods, so they're not the same across the board.
In rare cases, you may be able to get pet insurance with no waiting period, but it still won't be instant. You'll have to wait a few days while the company reviews your pet's medical records and makes a decision.
What are pet insurance waiting periods?
A pet insurance waiting period is the time between when you buy a policy and when coverage begins. If your pet needs to visit the vet during the waiting period, you'll have to pay for those expenses out of pocket.
Waiting periods generally apply to new policies or those reinstated after a lapse in coverage. If you renew your policy continuously, you usually won't have to go through another waiting period.
Do any pet insurance companies have no waiting periods?
Most pet insurance companies have waiting periods, but the best ones don't make you wait long. For example, MetLife's accident coverage begins immediately, and illness coverage starts after 14 days.
One of the only pet insurance companies without a waiting period is Companion Protect. But you're eligible only if you adopt a pet from one of its partner shelters, and coverage isn't instant. There's usually a delay between sign-up and policy activation while the company reviews your pet's medical records. Also, a vet visit may be required if your pet hasn't had one in the past 12 months. This delay acts as an unofficial waiting period.
How long do waiting periods last?
Pet insurance waiting periods may vary depending on where you live and the plan you choose. Below are typical waiting periods for some of the best pet insurance companies.
Can you get pet insurance retroactively?
You can't buy pet insurance retroactively. If your pet shows signs of an illness or injury before you buy the policy or during the waiting period, it's considered a pre-existing condition and typically won't be covered.
If your pet insurance policy lapses, anything your pet has been diagnosed with up until that point can be considered a pre-existing condition and be excluded from coverage. Keep your policy active by paying your premiums on time and renewing before the expiration date.
Pet insurance policies often have different waiting periods for different types of coverage. Here are some common waiting periods.
Accident waiting periods typically last one to 14 days. They apply to accidental injuries like broken bones, fractured teeth, swallowed objects or bites from other animals.
Illness waiting periods tend to be longer than accident waiting periods and can last from 14 to 30 days. They apply to illnesses like cancer, stomach issues, ear infections, heart conditions or allergies.
Waiting periods for orthopedic conditions
Some pet insurance plans have separate waiting periods for orthopedic conditions like hip dysplasia, patella luxation or ligament injuries. These waiting periods sometimes apply to dogs only and can be from 14 days to six months or longer.
For example, Embrace pet insurance coverage for orthopedic conditions in dogs begins after six months, but you can reduce it to 14 days by having your vet do an orthopedic exam. Healthy Paws' hip dysplasia coverage begins after a 12-month waiting period and is available only to pets enrolled before age six.
Waiting periods for pre-existing conditions
There are two common types of pre-existing conditions: curable and incurable. Most pet insurance companies will cover curable pre-existing conditions that have been symptom-free for at least 180 days to 12 months.
Curable pre-existing conditions are temporary health issues that were treated and resolved before you bought insurance. They can include things like respiratory infections, urinary tract infections, vomiting and diarrhea.
Most pet insurance companies won't cover incurable pre-existing conditions, but AKC is one exception. Once you've had your policy for 365 days, AKC may cover pre-existing conditions other companies may consider incurable, like allergies and chronic ear infections. (This coverage isn't available in all states.)
Wellness plan waiting periods
Some pet insurance companies offer optional wellness plans to help cover routine services like check-ups, vaccinations and flea and tick prevention. Wellness plans often have no waiting periods.
Why do pet insurance companies have waiting periods?
Waiting periods protect insurance companies from people who sign up for coverage only after their pet gets sick or injured. Without waiting periods, pet owners could sign up for insurance as soon as an emergency happens, file a claim, then cancel their policy once they get a payout. This would increase risk for the pet insurance company and drive up premiums for everyone else. Waiting periods help lower this risk.
How to handle waiting periods
Waiting periods can be frustrating, especially if your pet needs medical attention during that time. Here are some tips for handling waiting periods.
One way to minimize waiting periods and avoid pre-existing condition exclusions is to get pet insurance early in your pet's life. The younger and healthier your pet is when you sign up for insurance, the less likely they are to have pre-existing conditions that could limit coverage.
If your pet already has pre-existing conditions, pet insurance may not be worth it. Think about your vet bills over the past few years. If most of them are related to incurable or chronic conditions that a new policy won't cover, you may be better off creating an emergency fund for your pet.
Look for ways to limit out-of-pocket costs
If you need emergency pet care during a waiting period, there are things you can do to manage costs. Some veterinary clinics offer payment plans through third-party lenders. You can also look into CareCredit, a credit card for medical expenses.
If your pet needs expensive medications, ask your vet about generic alternatives or look into pet prescription discount programs from GoodRx or AARP.
Get more smart money moves – straight to your inbox
Sign up and we'll send you Nerdy articles about the money topics that matter most to you along with other ways to help you get more from your money.