What Is a Line of Credit?
A line of credit works like a credit card: You use only as much as you need, and pay interest only on what you use.
Last updated on Jan 7, 2022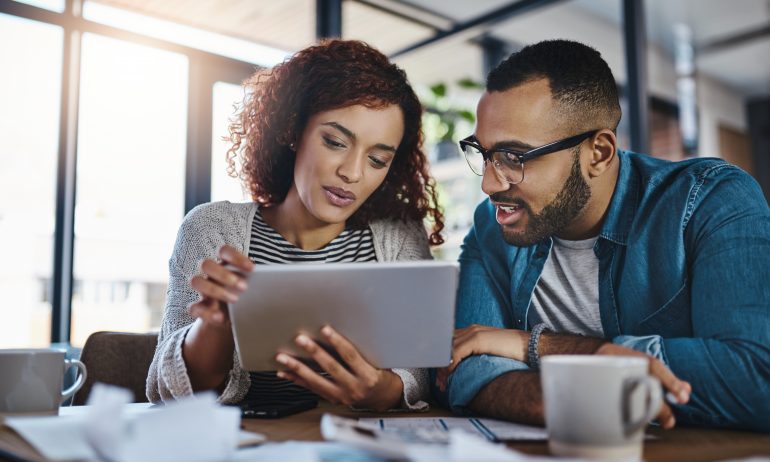 Many or all of the products featured here are from our partners who compensate us. This may influence which products we write about and where and how the product appears on a page. However, this does not influence our evaluations. Our opinions are our own. Here is a list of our partners and here's how we make money.
A line of credit is a loan you use like a credit card. You borrow a set amount of money, but draw only what you need and pay interest only on the amount you use. It's different from an installment loan, which you repay in full with interest over a fixed term.
How does a line of credit work?
For personal lines of credit, a lender preapproves you for a certain amount. You use the funds over time as you need them, and you pay interest only on the amount you use, rather than the full amount.
Requirements for lines of credit vary by the type and lender, but borrowers with good or excellent credit (690 or higher on the FICO scale) have better chances of getting approved at the lowest rates available. Personal lines of credit tend to have lower interest rates than personal loans and credit cards, but the rates are usually variable, so they can fluctuate.
Bank customers may hold an open line of credit to cover emergencies or as overdraft protection for their checking account.
Most lines of credit have two phases:
Draw period: Once approved for a line of credit, you're in the draw period and can use the funds as often as you want. During this time, you're responsible for minimum monthly payments or interest-only payments, depending on the lender. Some lenders offer credit lines with continuous draw periods you can leave open.
Repayment period: After a predetermined amount of time, the credit line goes into repayment and you can no longer withdraw money.
Unsecured vs. secured lines of credit
Unsecured lines of credit: Personal lines of credit are commonly unsecured. That means the lender uses only information about you — your credit, income and outstanding debts, for example — to decide if you qualify for a line of credit. This information can also affect the amount and annual percentage rate you receive.
Secured lines of credit: Securing a line of credit with collateral can help you qualify or get a lower rate. A home equity line of credit is an example of a secured credit line, where your home is collateral for the borrowed funds. Small businesses may use inventory or property as collateral on a secured business line of credit. The lender can take your property if you fail to repay.
Compare personal lines of credit, credit cards and personal loans
| | | | |
| --- | --- | --- | --- |
| | | | |
| | Lender decides your credit limit. | Lender decides your credit limit. | |
| | | | |
| | | | |
| | | | |
| | | | |
| | | | |
Personal lines of credit are most commonly offered by credit unions and smaller banks, though some large banks still offer them. Credit lines can have rates between 7% and 20% and vary widely. A line of credit may also have an annual fee, which you generally have to pay regardless of whether you use the available funds.
Many lenders offer an online application, but small financial institutions may require a phone call to get started.
When they work best: A line of credit can make money readily available for unexpected expenses. They also work well for ongoing projects with variable costs and timelines, like home or business renovations.
Credit cards are usually issued by banks or credit unions. Typical credit card APRs range from 11.99% to 24.99%. You can usually apply for a credit card online and receive the card within seven to 10 business days after approval.
When they work best: Credit cards are intended for everyday use. You can swipe them to get gas or groceries, or use them to buy furniture or cover a car repair. It's a best practice to keep your credit utilization at or below 30%, so credit cards aren't ideal for expenses that exceed that threshold.
Personal loans can come from a bank, credit union or online lender. These loans are most often unsecured and have rates between 5.99% and 35.99%.
You can often pre-qualify for a personal loan online to preview potential rates and loan amounts. Many lenders make approval decisions within a day or two and send your funds in a lump sum within a few days after approval. Repayments toward your loan typically begin the next month.
See if you pre-qualify for a personal loan – without affecting your credit score
How a line of credit affects your credit score
Applying for a personal line of credit will likely cause your credit score to dip. This is usually a temporary drop of a few points.
Beyond that, the impact to your credit score hinges mostly on repayments. On-time payments toward revolving credit lines can build your credit, but missed payments will damage your score, so borrow only if you have a plan to pay it back.
Closing the account can drive up your credit utilization and negatively affect your credit score. If you plan to replace the credit line, be strategic about it. For example, if you've applied for credit recently, wait a few months because many consecutive credit applications can lower scores.
Get more smart money moves – straight to your inbox
Sign up and we'll send you Nerdy articles about the money topics that matter most to you along with other ways to help you get more from your money.