What Is a Line of Credit?
A line of credit works like a credit card: You use only as much as you need, and pay interest only on what you use.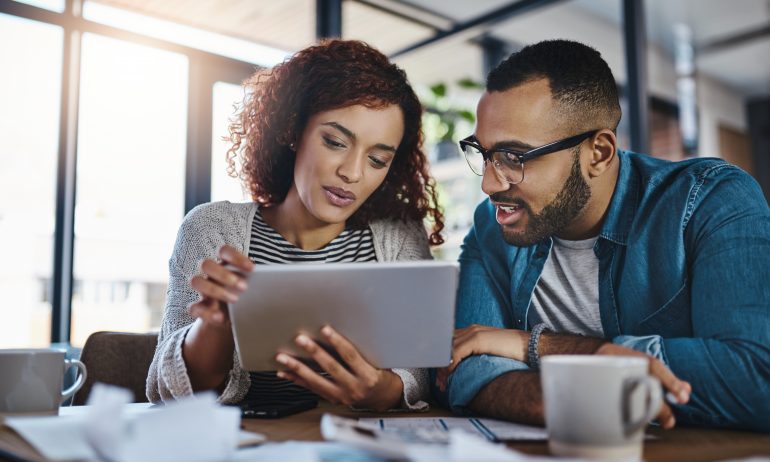 Many or all of the products featured here are from our partners who compensate us. This may influence which products we write about and where and how the product appears on a page. However, this does not influence our evaluations. Our opinions are our own. Here is a list of our partners and here's how we make money.
A line of credit is a loan you use like a credit card. You borrow a set amount of money, but draw only what you need and pay interest only on the amount you use. It's different from an installment loan, which you repay in full with interest over a fixed term.
Three types of credit lines
Personal lines of credit can be used for your own expenses, whether to purchase something or cover unexpected costs. Lenders determine how much you can borrow by evaluating your credit and other information like income and existing debt.
Personal lines of credit are more commonly offered by banks than online lenders.
Unsecured personal loans are similar to personal lines of credit, except you pay interest on the full amount you borrow.
Annual percentage rates on personal loans can be lower than on personal lines of credit, and rates are typically fixed. If you're confident you'll use the full amount you're planning to borrow, a personal loan may be a better option.
Secured personal loans require you to pledge an asset, like a car or savings, to secure the loan. They often have lower rates than unsecured loans, but carry more risk, as the lender can take the asset if you don't repay.
A business line of credit can be used to cover things like inventory or unexpected expenses. The amount you receive depends on qualifications like revenue and how long your business has been active.
Many of these loans are unsecured, but lenders may require collateral for larger credit lines.
Small-business loans are better for large one-time expenses. Unlike revolving lines of credit, a small-business loan gives you a lump sum of cash that you repay over a set period.
Business credit cards tend to have lower credit limits than business lines of credit, making them a better choice for small expenses. But they can come with annual and late-payment fees. A business credit card is a good option for startup businesses.
Home equity lines of credit
You can use a home equity line of credit for home improvement projects or repairs. A HELOC is a second mortgage, and the amount you can borrow is determined by the equity in your home, your debt-to-income ratio and credit score.
Home improvement loans are unsecured personal loans you can put toward renovations and repairs. If you don't have a lot of equity in your home, these can be a way for you to borrow the amount you need.
Home equity loans are a different kind of second mortgage on your home. With home equity loans, you borrow a portion of your home's value all at once and pay it back in installments at a fixed interest rate.
With unsecured lines of credit for personal or business use, a lender preapproves you for a certain amount. Unlike an installment loan, you don't necessarily withdraw the full amount immediately. Instead, you use the funds over time as you need them, and you pay interest only on the amount you use, rather than the full amount.
Personal and business lines of credit can be unsecured or secured. A secured loan requires you to pledge an asset as collateral. Your home is the collateral for a HELOC.
Requirements for lines of credit vary by type and lender, but borrowers with good or excellent credit (690 or higher on the FICO scale) have better chances of getting approved at the lowest rates available. Interest rates are usually variable, not fixed, so they can fluctuate.
A line of credit may also have an annual fee, which you generally have to pay regardless of whether you use the available funds.
With a HELOC, you have a "draw period," which is when you can borrow the money, and a "repayment period," which is when you pay it back. Some unsecured lines of credit also have repayment terms that are structured this way, says Nessa Feddis, senior vice president and deputy chief counsel for the American Bankers Association.
How a line of credit affects your credit score
Typically when you borrow money in your name, even if your home or business is collateral, the impact to your credit score hinges partly on your repayment of that money.
Missed payments are among the biggest factors in a drop in your credit score, so no matter the kind of credit line you're considering, borrow only if you have a plan to pay it back.
Get more smart money moves – straight to your inbox
Sign up and we'll send you Nerdy articles about the money topics that matter most to you along with other ways to help you get more from your money.