Does Capital One Offer Student Loans?
You can't get a student loan from Capital One; consider these alternative lenders instead.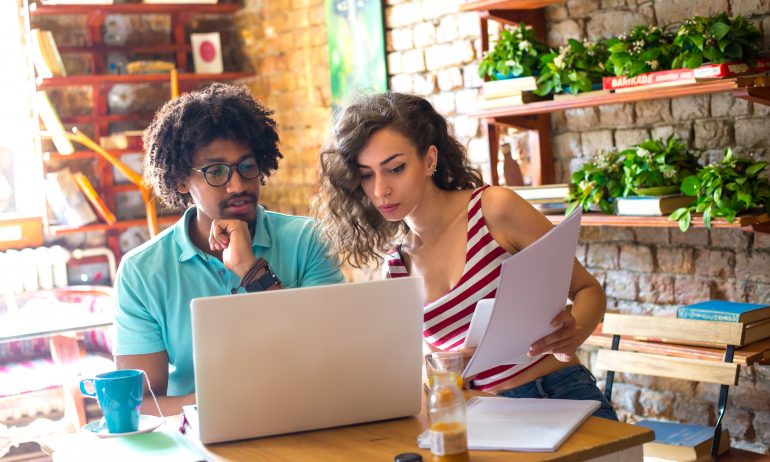 Many or all of the products featured here are from our partners who compensate us. This may influence which products we write about and where and how the product appears on a page. However, this does not influence our evaluations. Our opinions are our own.
Capital One does not offer student loans. If you need a private student loan for college or want to refinance your existing loans, you'll have to look elsewhere.
Few banks offer student loans. If Capital One is your bank of choice, explore all your private loan options to get the best deal possible.
Capital One private student loan alternatives
You can't get a student loan from Capital One, which is the case at most big-name financial institutions, including Bank of America, JPMorgan Chase and U.S. Bank. Here are some alternatives:
Banks and credit unions. If you prefer a brick-and-mortar bank, Citizens Bank student loans come with a loyalty discount for existing customers and multiyear approval. PNC Bank also offers private student loans, as do community banks and credit unions via LendKey.

Online lenders. Many online-only lenders offer private student loans, including Ascent, College Ave and Earnest. Ascent offers traditional credit-based loans that may require a co-signer, as well as loans based on your future income if you want or need to qualify on your own.

State-based agencies. These nonprofit agencies offer private student loans, often outside their home state. For example, loans from the Rhode Island Student Loan Authority are available nationwide, and Advantage Education Loans, a product of the Kentucky Higher Education Student Loan Corp., lends in 32 states.
Review all your options when considering private student loans to ensure you get the lowest rate you can qualify for.
Also, be sure to exhaust federal financial aid before turning to any private loan. Government student loans have benefits that private options lack, including the option to make payments based on your post-graduation income and loan forgiveness programs.
Apply for federal student loans by completing the Free Application for Federal Student Aid, or FAFSA.
Compare private student loans
Variable APR

1.23 - 10.99%

Student Loan Rate Disclosure: Variable interest rates range from1.23%-11.38% (1.23%-10.99% APR). Fixed interest rates range from 4.25%-11.95% (4.25% -11.53% APR).

Variable APR

2.69 - 12.98%

Ascent Student Loans are funded by Richland State Bank (RSB), Member FDIC. Loan products may not be available in certain jurisdictions. Certain restrictions, limitations; and terms and conditions may apply. For Ascent Terms and Conditions please visit: www.AscentStudentLoans.com/Ts&Cs. Rates are effective as of 11/01/2020 and reflect an automatic payment discount of either 0.25% (for credit-based loans) OR 2.00% (for undergraduate future income-based loans). Automatic Payment Discount is available if the borrower is enrolled in automatic payments from their personal checking account and the amount is successfully withdrawn from the authorized bank account each month. For Ascent rates and repayment examples please visit: AscentStudentLoans.com/Rates . 1% Cash Back Graduation Reward subject to terms and conditions. Click here for details. Cosigned Credit-Based Loan student borrowers must have a minimum credit score. The minimum score required is subject to change and may depend on the credit score of your cosigner.

Min. Credit Score

Does not disclose
Capital One student loan refinancing alternatives
You can't refinance student loans with Capital One. If you want to do this, compare student loan refinance companies to get the best rate possible and find a lender that meets your repayment needs:
If you want to pay off loans fast. Pentagon Federal Credit Union, or PenFed, offers short terms and features like automated biweekly payments that can speed up repayment.

If you want to take over your parents' loans. CommonBond is one of a few lenders that not only refinances parent PLUS loans but also lets you transfer the loan into the student's name.

If you didn't graduate with a degree. Advantage Education Loan doesn't require an associate or bachelor's degree to be eligible to refinance, but loans aren't available in all states.
Capital One student benefits
Capital One student loans aren't available, but the bank has other products and services that may benefit college students, including:
First-Gen Focus. This free nationwide program lets incoming first-generation college students access virtual workshops, work with mentors and explore careers. You can apply with Capital One here.
Find ways to save with NerdWallet
Really get to know your money and find cash you can put aside and grow.