Your College Choice: How to See If a School Is Legit
To make sure your college choice is credible, find its credentials, check its track record and look out for red flags.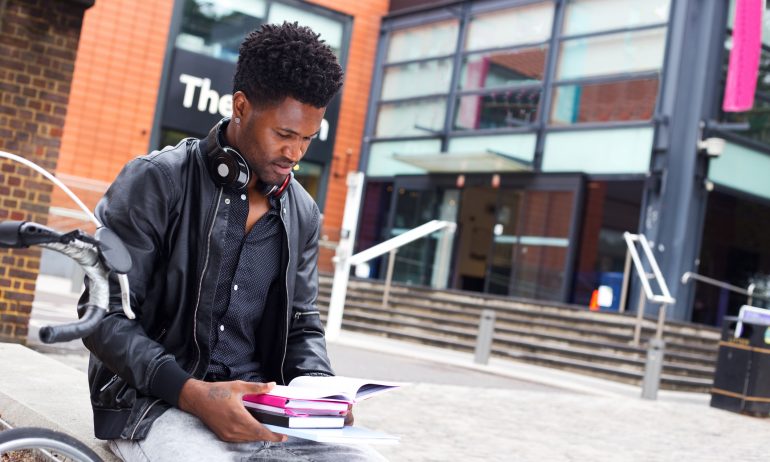 Many or all of the products featured here are from our partners who compensate us. This influences which products we write about and where and how the product appears on a page. However, this does not influence our evaluations. Our opinions are our own. Here is a list of our partners and here's how we make money.
Just because a school has "university" in its name doesn't mean you'll get a quality education. When you're making a college choice, you need to look beyond the ads.
A slew of for-profit colleges and career training schools in recent years were accused by state attorneys general and the Consumer Financial Protection Bureau of misleading students with phony job placement rates or misrepresenting their credentials. Big-name chain schools, such as ITT Technical Institute and Corinthian Colleges, stopped operating after legal battles.
But other predatory colleges continue to enroll unsuspecting students.
The easiest way to avoid being duped by a shady school is to search its name with the word "lawsuit." If you find news articles or court filings about predatory practices, you'll know to avoid the school. But searching for legal action isn't the only way to check out a school.
Here's what else you'll need to do to determine if your college choice is credible.
Get pre-qualified in just 3 minutes with Credible
Check multiple student loan lenders to get accurate, pre-qualified rates with no impact to your credit score.
1. Find the school's credentials
Licensing and accreditation are the bare-minimum credentials a school should have. But they're not foolproof measures of quality — colleges like ITT Tech and Corinthian were both licensed and accredited.
Having a license means the school meets state standards to operate, although not all states require one.
Accreditation means a school meets standards set by one of the national or regional private agencies the U.S. Department of Education recognizes. Accreditation is the only way schools can get money from federal and state student aid programs. That also means if a school isn't accredited, you won't have access to federal loans and grants to pay for school.
Contact the licensing and accrediting agencies affiliated with a school to confirm it's in good standing.
2. Make sure specific programs are accredited or licensed
To meet the educational requirements to obtain your professional license in certain fields, individual programs must be accredited by a professional accreditation agency. To get a dental assistant certification, for example, you must graduate from a dental assisting program accredited by the American Dental Association's Commission on Dental Accreditation.
Even if the school is accredited, its programs might not be. You can search for schools in your state that accredit certain programs with the education department's database. If you'll need a license to work, contact your state's licensing organization or accrediting body to find out if the school's program meets the requirements.
3. See if other schools accept its credits
If you're starting at a school and you plan to transfer to a different one later, you'll need to make sure the credits you earn will be accepted elsewhere.
"With any nontraditional pathway, the planning for that pathway is key because there are many more steps to take where students can misstep and get sidetracked or have credits fall through," says Heather Durosko, the former assistant director of strategic initiatives for educational content and policy at the National Association for College Admission Counseling.
Make sure that you can take courses that will apply toward the degree you hope to eventually earn, Durosko says. Do this by meeting with your current school's transfer advisor to determine which credits will transfer and to learn about the campuses your school has transfer agreements with.
4. Search for a school with a track record
Use the education department's College Scorecard or College Navigator tool for details on a school's performance. This includes graduate rates and rates of return after a student's first year.
The scorecard can also show graduates' salaries and how many students earn incomes that are above workers with only a high school diploma. These details are important because you want to attend a school only if you're confident you'll earn enough to make the program worthwhile, says Jordan Matsudaira, associate professor of economics and education policy at Teachers College, Columbia University.
"A lot of for-profit colleges — and surprisingly online programs — relative to the most traditional brick-and-mortar school program, tend to be more expensive," Matsudaira says. "That would be justifiable in some sense if the more extensive programs produced better earnings gains, but that doesn't appear to be the case."
If a school advertises job placement or average salaries of graduates, ask for that information in writing. Even though it's illegal, some schools exaggerate job placement rates in ads.
5. Visit and connect with students
Visit the school, if possible, and check out its facilities to make sure it matches the photos and descriptions online or in ads. While you're there, talk to current students about what they think of the school and its programs. Or, if the school is online-only, try contacting current students through social media.
You can find graduates to talk to through alumni networks or LinkedIn. Ask about their experience at the school and what they've done with their education after graduation.
6. Look out for red flags
Steer clear if you find any red flags, including:
The school's address isn't easy to find: Even online schools operate from somewhere

The school's website address ends in ".com" or ".net" instead of ".edu"

The school won't provide information on accreditation or licensing

Total cost or graduation rates are difficult to find

The costs are higher compared with similar schools

You're pressured to enroll or send a deposit

You're pushed to borrow loans with high amounts or excessively high interest rates

A school promotes its own private loan programs before federal loans, which have more borrower protections

A degree appears too easy to earn

Job placement rates or salary outcomes seem too good to be true
Get pre-qualified in just 3 minutes with Credible
Check multiple student loan lenders to get accurate, pre-qualified rates with no impact to your credit score.
Spot your saving opportunities
See your spending breakdown to show your top spending trends and where you can cut back.