You're our first priority.
Every time.
We believe everyone should be able to make financial decisions with confidence. And while our site doesn't feature every company or financial product available on the market, we're proud that the guidance we offer, the information we provide and the tools we create are objective, independent, straightforward — and free.
So how do we make money? Our partners compensate us. This may influence which products we review and write about (and where those products appear on the site), but it in no way affects our recommendations or advice, which are grounded in thousands of hours of research. Our partners cannot pay us to guarantee favorable reviews of their products or services. Here is a list of our partners.
Your FAFSA Questions Answered
Students must file the FAFSA to get financial aid. Here's what you need to know to apply and what comes next.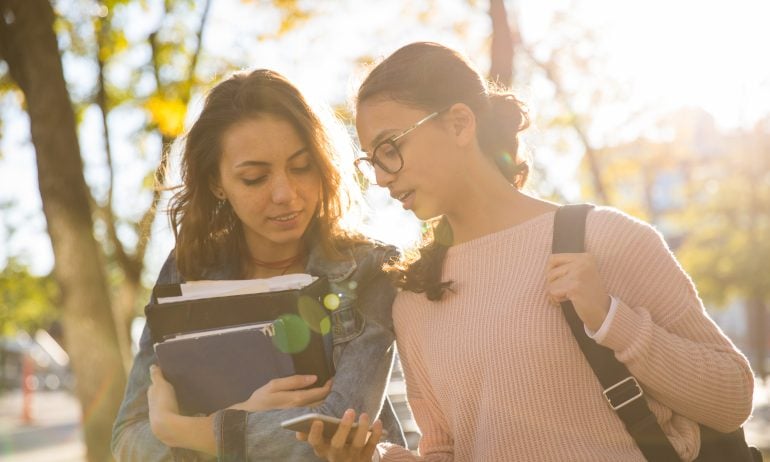 Many or all of the products featured here are from our partners who compensate us. This may influence which products we write about and where and how the product appears on a page. However, this does not influence our evaluations. Our opinions are our own. Here is a list of our partners and here's how we make money.
Filling out and submitting the Free Application for Federal Student Aid, or FAFSA, is the key to getting financial aid to help pay for college if you or your family can't foot the entire bill.
The Education Department provides over $125 billion in aid to students each year. While the supply of cash isn't infinite, all eligible financial aid applicants can expect to get a piece of the pie.
The process — and the application itself — can be confusing, so here is a FAFSA faq that provides answers to questions you may have.
Yes. The FAFSA is free to fill out and submit. Be wary of companies that charge you to fill out the form.
You also often need to file the FAFSA to qualify for state and institutional aid, such as scholarships.
All students should file the FAFSA, even if they think their parents make too much money to qualify. That's because not all financial aid is based on need. For example, you could qualify for a merit scholarship that requires the FAFSA to be on file.
The Education Department estimates it takes applicants less than an hour to fill out and submit the FAFSA. But it will take you longer if you're not prepared for the process with all required documentation and tax information.
Complete the FAFSA as close to the Oct. 1 start date as possible every year to ensure you receive the maximum amount of aid. In some states, financial aid is disbursed on a rolling basis. That means it's first come, first served, so find out your state's FAFSA deadline.
To submit the FAFSA electronically, use the form on the Federal Student Aid website. Before you can submit, you'll need an FSA ID. It's a username and password used to sign in to federal student aid websites. You'll also need the FSA ID to electronically sign the FAFSA and promissory notes.
Alternatively, you can submit the FAFSA by mail. Download and fill out a PDF copy or request a paper copy by calling 1-800-433-3243.
Before you fill out the FAFSA, get all documents together to make the process easier. U.S. citizens typically will need their Social Security number, driver's license number and tax and income records. Use this FAFSA checklist to determine exactly what you'll need.
Families should use their "prior-prior year" tax information to complete the FAFSA instead of the prior year's tax information. In other words, use 2019 tax information to complete the 2021-22 form. This allows you to file the FAFSA before filing your previous year's taxes.
On the 2021-22 form, for example, if you were born before Jan. 1, 1998, you are considered an independent student. You're also considered independent if you are married, a veteran, homeless, enrolled in a graduate program, or you provide a certain amount of support to dependents or children.
Take care to choose the correct dependency status because it can impact how much aid you receive.
The parent you've lived with more over the past 12 months is responsible for filling out your FAFSA form, says Shawna Wells-Booth, the director of financial aid at Beacon College in Leesburg, Florida. "If you did not live with one parent more than the other, give answers about the parent who provided more financial support during the past 12 months or during the most recent year that you actually received support from a parent," Wells-Booth says. "If this parent is remarried as of today, answer the questions about that parent and your stepparent."
If you're considered a dependent, you'll need your parents' financial information to access most financial aid. If your parents decline to help, you can still file the FAFSA and could get unsubsidized student loans.
On the FAFSA, answer "no" when you're asked if you can provide information about your parents. You also should answer "no" when asked about special circumstances if you don't meet those standards. Special circumstances include if your parents are in prison or if you don't know where your parents are. Then you can submit the FAFSA without their information. It will be up to your college to determine if you can get an unsubsidized student loan. You'll need to contact the school's financial aid office as soon as possible to discuss getting approved for a loan.
You can use the FAFSA4caster tool to estimate the type and amount of aid you may be eligible to receive. Once you submit the FAFSA, you will get your Federal Student Aid report. It contains all the answers you provided on the FAFSA and the amount your family is expected to pay, known as your expected family contribution. If you don't have an EFC, your FAFSA likely contains an error that you need to correct. Colleges use the information in your report to determine the aid you qualify for.
Yes. If you want to keep getting federal loans and grants, you'll have to apply for financial aid every year. Because it won't be your first time filling out the FAFSA, you already know what to expect. And if your parents' income hasn't changed since last year, you'll likely receive a comparable amount of student aid.
Don't wait for them to file taxes before you submit the FAFSA. Filers must report prior-prior-year taxes. For example, on the 2021-22 FAFSA form, you need to report 2019 tax information.
You can import tax information into the FAFSA form by using the IRS data retrieval tool. When you sign in to your application, you'll see a "Link to IRS" button if you're eligible to use the tool. If you aren't eligible, you'll need to have that tax information on hand.
Uncertainty about where you plan to apply shouldn't stop you from submitting the FAFSA. If you submit the form online, you can include FAFSA codes for up to 10 schools where you plan to apply. If you file a paper form, you can include up to four schools. If you need to add more schools, you can always update your FAFSA at fafsa.gov.
After submitting your application
Your results, known as your Student Aid Report, will arrive by email or mail between three days and three weeks after you submit the form, depending on your application method.
The report provides basic information about financial aid eligibility, including your answers to questions on the FAFSA. It also specifies your expected family contribution, which is the amount your family must pay toward your education. Colleges use your EFC to determine your financial aid package.
Once you get your Student Aid Report, make sure all the information is accurate. If you find inaccuracies, update your FAFSA.
Yes. Sign in to fafsa.ed.gov to update information if you find any errors, if your family's financial situation changes or if you want to send your Student Aid Report to more schools. On the "My FAFSA" page, click on "Make FAFSA Corrections," enter your FSA ID, change the information and resubmit your application. Making changes can impact your aid.
You can make changes up until the FAFSA deadline – June 30 after the school year you need aid.
Once you choose a college to attend and receive an aid offer, you must indicate what aid you want to use for the upcoming school year. Accept aid in this order: grant and scholarship money, work-study, subsidized federal student loans and then unsubsidized federal student loans.
If you have payment gaps you can't fill with savings or income, consider a private student loan. Private loans are not available through the FAFSA process. You'll need to research the possibility of getting private loans from banks, credit unions or online lenders. Compare interest rates, repayment options and protections, such as forbearance, before choosing a private loan.
Spot your saving opportunities
See your spending breakdown to show your top spending trends and where you can cut back.