Will Student Loans Be Canceled? Where We Stand
Student debt cancellation appears likelier than ever for certain borrowers.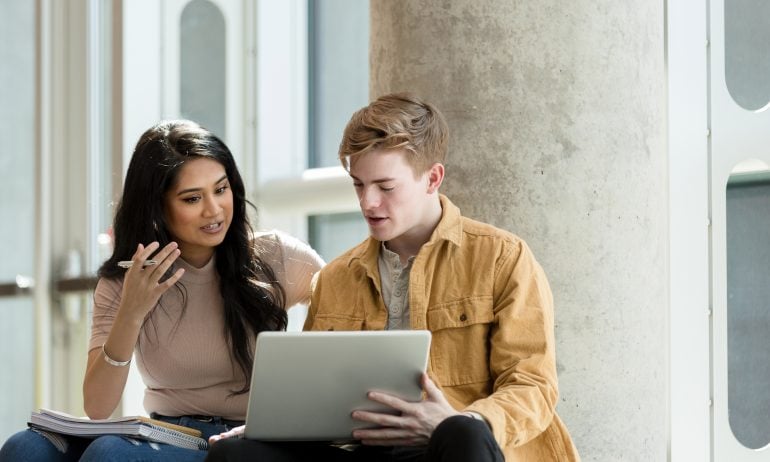 Many or all of the products featured here are from our partners who compensate us. This may influence which products we write about and where and how the product appears on a page. However, this does not influence our evaluations. Our opinions are our own. Here is a list of our partners and here's how we make money.
Student debt cancellation is the big question mark on the minds of federal student loan borrowers since President Joe Biden promised to forgive $10,000 per borrower while on the campaign trail.
Although Biden has voiced support for broad student debt cancellation, since becoming president he has yet to offer a specific proposal or amount. Biden could ask that Congress pass a bill to cancel debt or, pending legal interpretation, use executive authority to do so.
The White House has dropped a number of hints about its plans but offered no official timetable for an announcement.
What Biden has done for borrowers so far
The White House has extended the broad, zero-interest pause on loan payments begun under President Donald Trump. Federal student loan forbearance now is expected to end Aug. 31.
By then, most borrowers will not have made a payment in over two years. But when payments restart, most federal student loan borrowers will resume making monthly payments on the same outstanding balance they had when the pandemic began unless the White House cancels some of that debt.
The Department of Education also has revised existing loan forgiveness programs and estimates that $25 billion in loans has been canceled for roughly 1.3 million borrowers since the beginning of Biden's term.
The White House also has announced plans to wipe the slate clean for more than 7 million borrowers who have defaulted on their student loans, which brings severe consequences including possible seizure of tax refunds and Social Security checks and long-lasting impacts on credit.
As the debate on student loan forgiveness continues, borrowers should not assume that student loans will not be canceled in full.
Where Biden stands on debt cancellation
Members of Congress have urged Biden to cancel $50,000 in debt per borrower. But the president has reiterated that if he used his authority for broad loan forgiveness, it would not be for more than $10,000 per borrower.
At a news conference on April 28, he said: "I am considering dealing with some debt reduction; I am not considering $50,000 in debt reduction. But I'm in the process of taking a hard look of whether or not there will be additional debt forgiveness, and I'll have an answer on that in the next couple of weeks."
During a news conference on May 3, former White House spokesperson Jen Psaki said Biden was considering relief for borrowers making less than $125,000 a year, confirming speculation that any debt cancellation would likely be targeted.
No provision in Biden's 2022 budget proposal included broad student loan forgiveness. He had proposed forgiveness in the following instances during his presidential campaign:
If you attended a public college or university. Attendees of private historically Black colleges and universities and additional minority-serving institutions would also be eligible.

If you used the loans for undergraduate tuition.

If you earn less than $125,000. Biden's plan referenced a phaseout of this benefit but did not offer further details.
Since there is no formal forgiveness proposal, there are no details about which loans might be canceled.
Popular arguments for student debt cancellation
Student debt has caused borrowers to delay their lives. From starting businesses and buying homes to getting married and having children, student debt is preventing borrowers from making significant financial decisions, proponents of debt cancellation say.

Not all borrowers have degrees that boost earnings. Those with debt and no degree are four times as likely to default compared to those with a degree, according to  Brookings. About 41.8% of those who entered college in 2011-12 took on student loans, National Center for Education Statistics data shows. But six years later, only 59% had completed their bachelor's degree. Borrowers without degrees don't benefit from the increase in lifetime earnings that tend to correlate with college completion.

Student debt cancellation could reduce the racial wealth gap. Proponents point to data that shows a lack of generational wealth drives many Black and Hispanic families to lean more heavily on student loans to afford college. The inequities continue after graduation: Black and Hispanic graduates typically earn less than other graduates and are thus more likely to default on their loans.
Popular arguments against student debt cancellation
Student debt cancellation is inherently unfair. Critics argue those who didn't go to college or those who already paid off their student loans would not benefit from student debt cancellation. Critics say cancellation would benefit only the 13% of the population who attend college, and argue cancellation is unnecessary because those with college educations tend to earn more.

Broad student debt cancellation is regressive. Research from a January 2022 Brookings Institution study argues cancellation would disproportionately benefit wealthy student loan borrowers — those with the highest amounts of debt typically have attended graduate school. Holding an advanced degree tends to correlate with higher earnings.

One-time cancellation doesn't solve tomorrow's student debt problem. If all student debt were eliminated, overall debt would return to the current level by 2035, according to July 2021 estimates by the Committee for a Responsible Federal Budget, a right-center public policy organization. If $10,000 in debt per borrower were eliminated, overall debt would rise to current levels by 2025.
How student debt cancellation could impact borrowers
Broad student loan forgiveness could affect 45.7 million borrowers with federal student loan debt who owe a total of $1.61 trillion to the government. Wiping out $10,000 each — as Biden called for while campaigning — would result in up to $457 billion canceled.
Here's how that could affect borrowers based on their total debt owed:
For 15.2 million borrowers, a slate wiped clean. Nearly a third of federal borrowers could see their balances fall to zero with $10,000 in debt cancellation. Among those, 7.8 million owe less than $5,000 in student loans and 7.4 million owe between $5,000 and $10,000, according to federal data.
Of borrowers who default, over half (52%) have less than $10,000 of federal undergraduate debt, according to a June 2019 analysis of federal data by The Institute for College Access and Success.That's because those with lower debt amounts often have not completed their schooling, so they don't reap the benefits of a degree that leads to a better paying job. TICAS found that 49% of those who default did not complete their program of study..
For 18.9 million borrowers, some breathing room. Nearly 19 million borrowers owe between $10,000 and $40,000 in federal student loans, according to federal data. Without a detailed execution plan, these borrowers face a number of possible outcomes from broad student loan forgiveness. For example, cancellation might not reduce the amount they pay each month, but it could draw their end date closer and lower the total amount they'd pay overall, due to interest. Or it might wipe out one loan completely but leave payments on others intact.
For 11.6 million borrowers, a drop in the bucket. Households with high student debt are likely to hold advanced degrees and often have higher earnings. More than 8 million people owe the government between $40,000 and $100,000 in student loans. An additional 3.3 million borrowers owe more than $100,000 on their federal loans, data show. A borrower repaying $100,000 on the standard federal 10-year plan at 5% interest would pay off the loans 15 months early if $10,000 were forgiven.
Other plans we're watching: financial aid, student debt
Policy proposals in the works
Proposed regulations to prevent interest capitalization and improve forgiveness
Free or lowered tuition at some colleges
Revised income-driven repayment and Public Service Loan Forgiveness
Waived student loan interest
More cost and performance transparency from colleges
Recommended changes to closed school discharge
Reconsideration for PSLF applications
Streamlined student loan services
Student loan servicer changes
A fresh start for student loan borrowers in default
Income-driven repayment fixes
Keep track of these dates
July: Loans serviced by FedLoan Servicing begin transferring to MOHELA.
July 1: New interest rates are in effect on federal student loans for the 2022-23 school year.
Aug. 31: Expiration date for the federal student loan payment pause. Most borrowers will need to confirm their auto-debit status in order to stay on auto-debit after Aug. 31, 2022.
Sept. 1: Delinquent and defaulted student loan borrowers will be brought back to good standing.
Oct. 1: Opening date for 2023-24 FAFSA.
Oct. 31: Expiration date for the Public Service Loan Forgiveness waiver.
December 2022: FedLoan Servicing will no longer service federal student loans. If FedLoan is your servicer, your loans will be transferred to a different servicer.
Feb. 28, 2023: Last day to self-certify income for income-driven repayment. To self-report, complete the IDR application, but in Step 2 (income information) select, "I'll report my own income information."
Unpaid interest will not capitalize during the payment pause and through March 1, 2023. If your grace period ends between March 13, 2020 and March 1, 2023, your interest will not be added to your balance.

Earliest month borrowers would need to recertify for income-driven repayment. If your account still shows your recertification date set before March 2023, it will be pushed out by one year.
June 30, 2023: Deadline for the 2022-23 FAFSA.
Spot your saving opportunities
See your spending breakdown to show your top spending trends and where you can cut back.