2020 Election: The Student Loans Issues
Free college, canceling student loan debt and lowering student loan costs are top of mind for 2020 presidential candidates.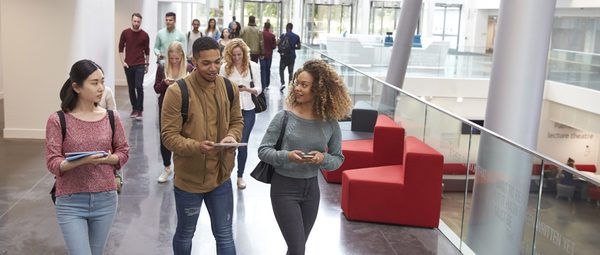 Many or all of the products featured here are from our partners who compensate us. This may influence which products we write about and where and how the product appears on a page. However, this does not influence our evaluations. Our opinions are our own. Here is a list of our partners and here's how we make money.
As the Democratic Party debates build toward the 2020 general election, you'll hear presidential candidates talk about loan forgiveness, free college, even canceling student debt altogether.
Some will offer hyper-detailed policy prescriptions, and others may simply endorse a concept.
While only 6% of Americans say they prioritize education issues when voting for federal offices, more than two-thirds of Americans say student loan debt is a threat to the economy, according to a 2019 poll from Politico and Morning Consult.
Even if student loans won't be your deciding factor, the proposals you hear could affect current and future students, their parents and 43 million Americans who have student debt. Here's a breakdown of the main college and student loan issues you're likely to hear more about.
Multiple states, including Tennessee, Oregon and New York, offer free tuition at many public colleges. In these programs, students still have to cover non-tuition expenses like room and board, textbooks and transportation. On the federal level, there's no free college program in place or a clear idea of what it would look like if implemented.
The ideas: Candidates have proposed multiple versions of free college, including:
Debt-free public college: Support making college more affordable by increasing financial aid so students don't need to take on student loans in order to attend.

Tuition-free college: Support eliminating tuition costs at public colleges, technical schools and/or community colleges.
Canceling existing student loan debt
Outstanding student loan debt has surpassed $1.5 trillion, according to the Office of Federal Student Aid. Studies have shown that this level of debt prevents borrowers from reaching financial goals like buying a home or starting a family.
The ideas: Candidates have proposed a one-time program that would cancel all or some of borrowers' existing federal and private student loans, with the amount perhaps tied to a borrower's income level. The candidates behind such proposals believe student loan cancellation would stimulate activity that benefits the broader economy, like purchasing homes or having children. However, others question the fairness and costs associated with bailing out borrowers.
New loan forgiveness programs
The government currently has a few programs that eventually forgive borrowers' federal student loans if they take much-needed but potentially low-paying jobs. These include Public Service Loan Forgiveness — for borrowers in government and nonprofit professions — as well as Teacher Loan Forgiveness, which incentivizes borrowers to teach in high-need areas.
The ideas: Candidates have mentioned the need for more programs that allow borrowers to earn eventual loan forgiveness. Borrowers would likely need to perform specialized services to qualify, like working in rural areas or with underserved populations. It's unclear how many people would benefit from such programs, and those who do qualify likely wouldn't receive any relief for years based on how current programs work.
Streamlining the Free Application for Federal Student Aid
The Free Application for Federal Student Aid, or FAFSA, is the key to accessing federal financial aid, including Pell Grants, scholarships, work-study and federal student loans. By not completing the FAFSA, eligible students miss out on billions in Pell Grant aid. In the past few years, the government has broadened access to the FAFSA by moving up the application start date, allowing students to access prior-prior-year tax returns (from two years earlier) to file applications sooner, and introducing a mobile app.
The ideas: Candidates say the FAFSA is lengthy and complicated, which deters students from completing it — particularly low-income and first-generation students who often don't have access to support from someone who has previous experience with the paperwork and process. They argue for a streamlined application process that would remove barriers to college aid access.
Lowering student loan costs
Federal student loan interest rates range from 4.53% to 7.08% for the 2019-20 school year and remain fixed until the loan is repaid. Rates are based on the type of loan and the year they're disbursed — not the borrower's credit profile. Currently, the only way to reduce federal loan rates is to refinance through a private lender, and borrowers lose federal loan benefits by doing that.
The ideas: Candidates' proposals include eliminating origination fees and interest rates, reducing interest rates and allowing federal loans to be refinanced through the government. Offering federal student loan refinancing through the government would let students lower their rates while maintaining access to federal loan benefits like income-driven repayment plans.
Expanding the Pell Grant award program
A Pell Grant is need-based federal financial aid for undergraduates from low-income families. In the 2017-18 academic year, more than half (52%) of high school graduates were eligible for a Pell Grant, according to federal financial aid data from the Florida College Access Network. The amount changes each year, but is not tied to inflation. The Institute for College Access and Success found that in 2019-20, the maximum award will cover 28% of the cost to attend a four-year public college. That leaves students with financial need to cover two-thirds of their cost of attendance with other financial aid and loans.
The ideas: Candidates argue Pell Grant award amounts, which help students with need afford college, do not keep pace with inflation. Providing larger grant amounts would increase college access and achievement for low- and moderate-income students.
There are annual and total federal student loan limits on subsidized loans, which are for undergraduate students, and unsubsidized loans, which are for undergraduate and graduate students. However, there are no limits on federal PLUS loans, which are for graduate students and parents of undergraduates who need additional funds to cover college costs.
The ideas: As a solution for outsized student loan borrowing, candidates have proposed removing annual caps on subsidized federal loans and capping federal PLUS loan borrowing. With PLUS loans capped, parents and graduate students would be more likely to resort to private student loans, which lack federal loan benefits. However, private loans could be more affordable than PLUS loans for borrowers with good credit.
Revising income-driven repayment
Federal student loan borrowers can currently choose from four income-driven repayment plans. These plans have similar features — payments capped at a percentage of discretionary income and eventual loan forgiveness — but enough differences that selecting the most beneficial one can be difficult.
The ideas: Candidate proposals involving income-driven repayment include consolidating the existing plans into a single option, increasing payment amounts and decreasing repayment terms. Replacing four plans with one would simplify choice, but that plan may benefit borrowers less if payments increase. And while faster forgiveness sounds nice for those struggling, bigger payments mean more borrowers would likely pay off their loans before receiving it.
Automatic enrollment in income-driven repayment
Currently, all federal student loan borrowers enter repayment under the standard 10-year repayment plan. This plan offers fixed monthly payments over 10 years based on the loan's amount, as opposed to a borrower's income or ability to repay.
The ideas: Candidates have suggested starting borrowers on income-driven plans, raising the idea of taking payments directly from paychecks as well. While income-driven repayment helps borrowers who can't afford their current repayment amount, it can raise bills for those who earn enough money. Those borrowers would pay off loans faster, but they may prefer to use that extra money for a different financial goal, like starting an emergency fund.
Forcing repayment via payroll deductions limits those decisions for all borrowers. It would make them prioritize student loans over other expenses — like rent or mortgage payments — that have a greater impact on their day-to-day lives.
Support for college alternatives
The ideas: Some candidates advocate for increased investment in community colleges, technical schools and apprenticeships — including by making community college tuition-free. However, many trade schools are for-profit institutions, which generally have higher costs, lower graduation rates and higher student loan default rates.
Increasing funding for historically black colleges and universities
Historically black colleges and universities serve a key role in educating black students, including a significant population of first-generation, low-income students. However, these schools are unable to offer as much financial assistance to their students as other schools do, typically due to having smaller endowments.
The ideas: Candidates have proposed providing HBCUs with additional funding. Black students often lack financial support and end up taking out loans at a higher rate than other groups. This is one of the documented reasons the student debt crisis has hit black students the hardest. HBCUs could use additional funding to help students struggling with college costs.
Relaxing bankruptcy regulations
Student loans can be discharged via bankruptcy, but they are treated differently from other debts. Borrowers must file an additional lawsuit, and few do so. Those who proceed must prove that repaying their student loans causes "undue hardship." No definition exists for this term, though, so borrowers are at the mercy of their specific bankruptcy court.
The ideas: Candidates have proposed changing bankruptcy regulations so discharging student loans is easier. Some simply want to standardize what "undue hardship" means, whereas others have proposed removing this additional step for student loans altogether. Either would provide borrowers with more clarity about bankruptcy as well as another potential option to manage overwhelming debt.
Spot your saving opportunities
See your spending breakdown to show your top spending trends and where you can cut back.