Supreme Court Hears Student Debt Cancellation Cases: What to Know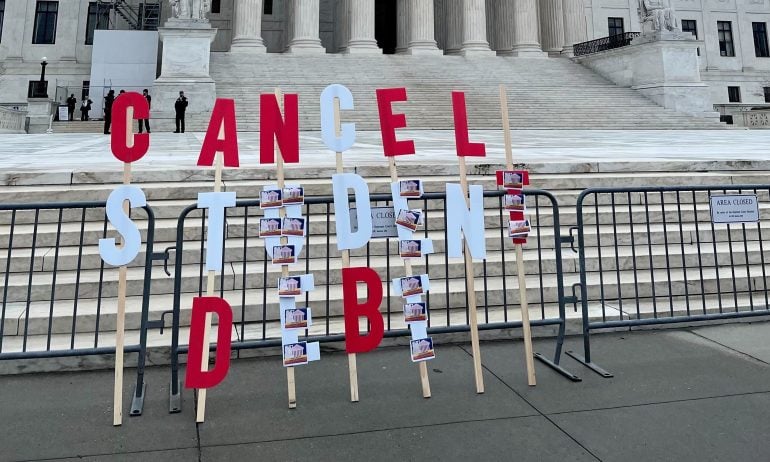 Many or all of the products featured here are from our partners who compensate us. This influences which products we write about and where and how the product appears on a page. However, this does not influence our evaluations. Our opinions are our own. Here is a list of our partners and here's how we make money.
Editor's note: On June 30, 2023, the Supreme Court blocked President Joe Biden's student debt cancellation plan, saying his administration lacked authorization under the HEROES Act to forgive up to $20,000 in student debt per borrower.
Borrowers are one step closer to a student loan cancellation decision — but it'll likely be months before they have a final answer.
On Tuesday, the Supreme Court heard oral arguments for two lawsuits that have frozen President Joe Biden's federal student loan debt relief plan, which could cancel up to $20,000 in debt per eligible borrower. The court now must decide whether cancellation is lawful.
The first case — Biden v. Nebraska — was jointly filed in Missouri by six states: Arkansas, Iowa, Kansas, Missouri, Nebraska and South Carolina. It alleges the relief would harm tax revenue in those states in addition to the finances of certain state-based loan agencies.
The second case — Department of Education v. Brown — was filed in Texas by the Job Creators Network Foundation Legal Action Fund and argues the relief violates a federal act that allows for public comment on any proposed rule, and it questions whether Biden had the authority to cancel debt.
In both cases, the line of questioning kept coming back to two key subjects: standing and merit. Standing refers to the right of a party to bring a lawsuit to court. The justices also focused on the legal merits of the plan, which is based on an interpretation of the 2003 HEROES Act. The court only needs to find one plaintiff has standing to then move on to evaluating the legality of Biden's plan.
Hundreds of attendees packed the courtroom to observe the arguments, which ran nearly two hours longer than expected. The audience spanned from legal activists and borrowers to former Secretary of Education Betsy DeVos, who oversaw the start of the federal student loan payment pause back in March 2020.
What happened at the Supreme Court?
The crux of the questioning in Biden v. Nebraska was standing — Missouri's right to pursue a lawsuit as an injured third-party in a case that centers on injury to Mohela, one of the largest federal student loan servicers. Mohela is not involved in the lawsuit, and Missouri had to file "sunshine law" information requests to get its public records used in the case.
"Usually we don't allow one person to step into another's shoes and say, 'I think this person suffered harm' even if that harm is very great," said Justice Elena Kagan.
Nebraska Solicitor General James Campbell, who represented the group of Republican-led states, insisted that the state's interest was directly impacted by cancellation through Mohela since the company — despite being a separate corporate entity — was created to provide financial aid for Missouri students and is contractually obligated to provide regular contributions to scholarship funds. As noted during arguments, one of those funds — the Lewis and Clark Discovery Fund — has not received payment from Mohela since 2010.
Justice Amy Coney Barrett asked why Missouri did not "strong-arm" Mohela into pursuing the lawsuit. Campbell responded, "That's a question of state politics."
U.S. Solicitor General Elizabeth Prelogar — who argued on behalf of the Biden administration in both cases — said that Mohela is not injured by forgiveness and, in fact, the delay of forgiveness is standing in the way of Mohela returning to business as usual. Mohela, like all student loan servicers, is missing out on fees it receives for loans serviced while payments have been paused.
Originally passed following the 9/11 attacks, the HEROES Act empowers the secretary of education to "waive or modify" the federal student loan program in an emergency. In their questions, conservative and liberal justices appeared to disagree on whether cancellation could be considered a waiver or modification.
Campbell argued that cancellation doesn't fall under "waive or modify" and is the creation of a brand new program. Prelogar said the administration was "not claiming just limitless authority for the federal government" in canceling student debt during an emergency, since it was stipulated under the HEROES Act.
The issue of executive overreach peppered the arguments. Several justices asked if Biden's plan was a violation of the "major questions doctrine," which says that an agency must be supported by clear congressional authorization if it seeks to act on an issue of "vast economic or political significance."
"We take very seriously the idea of the separation of powers and that power should be divided to prevent its abuse," said Chief Justice John Roberts.
Prelogar responded that if the court's aim was to respect Congress's role in the process, then reading the text of the HEROES Act in line with the plain language of the text would actually argue in favor of fulfilling that goal.
The cost of cancellation appeared top of mind for conservative justices in particular. Roberts expressed skepticism about whether the HEROES Act would allow more than $400 billion in debt to be wiped clean.
"Because there is provision to allow waiver when your school closes, that because of that, Congress shouldn't have been surprised when half a trillion dollars is wiped off the books?" Roberts asked Prelogar.
Kagan said the HEROES Act guidance was clear when it came to executive powers to cancel debt; it was intended to protect student borrowers and ensure they would not be worse off financially as the result of a national emergency.
"We worry about executive power when Congress hasn't authorized the use of executive power," said Kagan. "Here Congress authorized the use of executive power in an emergency situation."
Department of Education v. Brown
The validity of the case rests on whether there is procedural injury. That is, that the plaintiffs are harmed by not having the opportunity to participate in a notice-and-comment period for the program.
Justice Brett Kavanaugh asked J. Michael Connolly — an attorney representing two Texas borrowers represented in the case, whose lawsuit was brought forth by the Job Creators Network Foundation Legal Action Fund — to speculate as to why the Education Department didn't want a notice-and-comment period. Connolly responded that the negotiated rulemaking and the notice-and-comment processes take a long time: "Most agencies would prefer not to have to do that."
Kagan then interjected, "And this is an emergency. And emergency statutes typically do not have notice and comments, do they?"
Connolly responded, "If this were authorized by the HEROES Act, then they could have gone under it. But it's not."
Justice Sonia Sotomayor questioned Connolly about the logic behind the suit itself. It asserts procedural violations on behalf of two individuals — one of whom would receive nothing because her loan did not qualify and the other who would receive only $10,000 in cancellation, not the full $20,000 for those who received Pell Grants in college.
"I'm at a loss as to how you have standing because there is no notice and procedure required under the HEROES Act. The only way you can win is if you strike down this program completely, and that means that you don't get an opportunity to be heard, but nobody else does either," said Sotomayor, adding that the individual who would otherwise receive $10,000 would get nothing and the individual who wants something would also get nothing. "This is so totally illogical to me that you come into court to say, 'I want more, I'm going to file a suit to get more, but I know I'm going to get nothing.'"
Prelogar argued there was no evidence of procedural injury, since the HEROES Act exempts the education secretary from the procedure cited in the claim — the notice-and-comment procedure — when it issues waivers or modifications under the HEROES Act.
Justice Ketanji Brown Jackson asked if the plaintiffs had evidence that if cancellation was struck down under the HEROES Act, the education secretary would further pursue cancellation under the Higher Education Act — which would have a notice-and-comment period — instead.
Connolly said the program helps 95% of all borrowers, not solely people who are uniquely suffering from the pandemic, and asserted that the Education Department would pursue other avenues. "When this program is declared unlawful and they go back to the drawing board, I don't think they're going to fold up shop, I think they're going to say 'How about the [Higher Education Act]?'"
Justice Samuel Alito said that while the education secretary had his reasons for canceling student debt — adding "some of them are on the record; some may not be" — it comes down to a question of fairness. He pressed Prelogar to provide a reason why the secretary's actions were "fair."
Prelogar argued the plan was fair because of the potential for delinquency and default for millions of student loan borrowers, pulling from evidence that Secretary of Education Miguel Cardona included in the cancellation announcement. She said it's fair because the HEROES Act specifically designates the secretary to provide relief to student borrowers in an emergency situation.
Fairness was also top of mind for Roberts. He asked Prelogar how the program was fair if a person who took out a loan to start a small business couldn't have their debt canceled, while someone who took out a student debt could. Roberts offered an analogy: "I don't see any evidence that they took the person who is trying to start the lawn service, because he can't afford college, I don't see any evidence that they took him into account."
Liberal justices pointed out that few benefits programs were fair. "There's inherent unfairness in society because we're not a society of unlimited resources," said Sotomayor.
Jackson said, "I'm wondering whether or not the same fairness issue would arise with respect to any federal benefit program. So I'm thinking about the fact that, as a result of COVID, we had massive infusions of money given to various companies, organizations, clearly authorized because Congress said, 'do it.' I'm wondering whether that would be unfair to people who didn't own a company or somebody who didn't have, you know, a nonprofit and wasn't getting that money."
Last August, the White House unveiled a broad, one-time student debt cancellation program: up to $10,000 per individual borrower earning less than $125,000 per year and up to $20,000 for those who received a need-based Pell Grant while in college.
The program is intended "to protect borrowers most at risk of delinquency or default as a result of hardships brought on by the COVID-19 pandemic," the White House wrote in a January fact sheet.
"The consequences of default are devastating. We're talking about people having their wages garnished and their Social Security offset," says Alpha Taylor, a National Consumer Law Center staff attorney focused on student loans.
Roughly 26 million borrowers already applied or were automatically eligible for the relief. And 16 million of them were approved by the Education Department and subsequently sent to loan servicers. But the White House stopped taking applications in mid-November as multiple legal challenges arose.
In December, the Supreme Court agreed to take two of the cases.
Despite the delay in implementing its program, the Biden administration has been unwavering in its commitment to delivering relief.
"We remain confident in our legal authority to adopt this program," Cardona said in a January news release.
Borrowers may have to wait months for a decision
Borrowers shouldn't expect a decision anytime soon. The oral arguments marked the Supreme Court's last visible step in its decision-making process before a final opinion comes out. 
At the end of the week, the nine justices will hold a private conference in which they'll discuss each of the past week's oral arguments and hold a preliminary vote. From there, the justices will work on their opinions on the student debt relief cases. At least five justices — a majority of the court — must agree on the final decision.
Given the complexities of this case, it's unlikely the court will deliver its ruling until the end of its term — late June or the first week of July, says Frederick M. Lawrence, a distinguished lecturer at the Georgetown University Law Center in Washington, D.C. 
The Supreme Court is the highest legal body in the U.S., so its decision is virtually final. If the Supreme Court rules against Biden's plan, it's possible the White House or Congress could try to pass debt cancellation through another avenue, but with the White House's legal authority in question and a divided Congress, it's unclear if, when or how that could happen.
Borrowers should prepare for the federal student loan payment pause, known as forbearance, to end this summer. Payments are currently slated to resume 60 days after June 30, 2023, or 60 days after the Supreme Court releases its final decision — whichever comes first.
(Top photo by Eliza Haverstock)
Spot your saving opportunities
See your spending breakdown to show your top spending trends and where you can cut back.