Supreme Court's Student Loan Decision Will Impact Black Women Most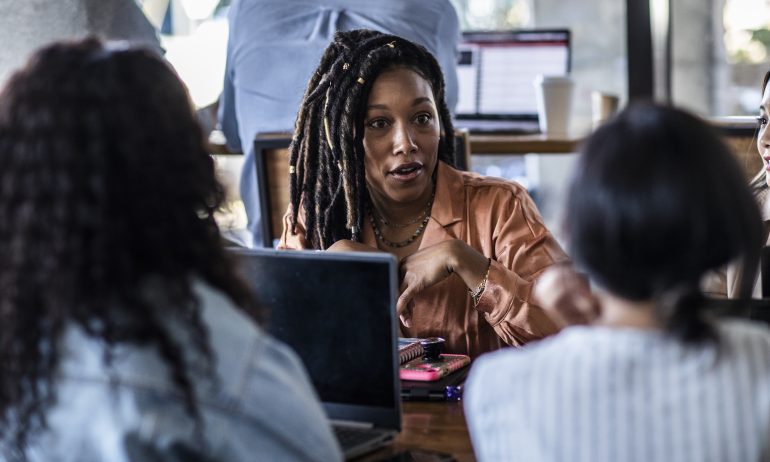 Many or all of the products featured here are from our partners who compensate us. This influences which products we write about and where and how the product appears on a page. However, this does not influence our evaluations. Our opinions are our own. Here is a list of our partners and here's how we make money.
The fate of up to $20,000 in student loan cancellation for over 40 million borrowers is now in the hands of the Supreme Court. One group, however, has the most to lose if the court decides against the Biden administration.
That group is Black women.
"We are told that if you get your education, you can make more money," says Tisa Silver Canady, author of "Borrowing While Black." "And then you find yourself in this situation where the education that was supposed to open doors has put you in the biggest trap of your life."
Black women bear a disproportionate amount of the $1.6 trillion federal student debt total with higher debt averages than any other demographic. For example, Black women have 43% more undergraduate debt and nearly 99% more graduate school debt than their white woman counterparts 12 months after graduation, according to an April 2022 study by the nonprofit organization The Education Trust. 
The problem is complicated. "Higher education has become this system for perpetuating financial inequality, when it is believed in our society to be this great equalizer," says Fenaba Addo, author of "A Dream Defaulted: The Student Loan Crisis Among Black Borrowers."
Black women are less likely to see higher wages as a result of their education: College-educated Black women earn 10% less than college-educated white women and 34% less than college-educated white men on average, according to The Education Trust study. 
"I think that when we talk about student loan debt as a whole, we don't pay attention to the spaces where, particularly for Black women, higher learning does not equate to higher earning,"  says Brittani Williams, senior policy analyst in higher education at The Education Trust.
Though Biden's cancellation would serve as a hand up for many Black women, you can gain control of your student loans regardless of the Supreme Court's decision. "This is not something that you should approach passively," Canady says. "Be active. Be strategic."
The Department of Education also plans to conclude a one-time IDR waiver this summer. The waiver will count more months toward the time needed for forgiveness. If your loans are more than 10 years old and your original balance was $12,000 or less, you could qualify for immediate forgiveness under the new rules. If your original balance was higher but your loans are closer to 20 years old, you could still see expedited forgiveness with the waiver. 
Public Service Loan Forgiveness
Those who work in public service or for nonprofit organizations could qualify for full loan forgiveness under the Public Service Loan Forgiveness, or PSLF, program. Under PSLF, borrowers who make 120 qualifying payments can get their remaining balance erased. 
All months — even without payment — during the interest-free forbearance period count. And after the Department of Education's upcoming waiver, you could be on your way to total forgiveness sooner than expected.  
Your state could have its own forgiveness program. These programs are generally tied to a degree plan or employment type, and forgiveness amounts vary. Contact your state's education department to explore options. 
Employer assistance programs
Some jobs will help you repay your student loans. Generally, these employers pay a set amount on your outstanding balance each year or month. The payments can be tied to a service obligation, so make sure you understand the implications of accepting any money. Contact your human resources department for more information on your company's student loan repayment benefits. 
Some private or nonprofit organizations offer grants designed to help borrowers pay off their student loans. These programs have varying eligibility criteria and award amounts. Check Bold.org for a list of opportunities. 
If you've exhausted all of your options and are still drowning in student loan debt, bankruptcy may be a good option. 
"Bankruptcy isn't actually a financial death sentence," says student loans bankruptcy attorney Stanley Tate. "It's really a shortcut to debt relief."
With bankruptcy rules around student loans easing, you may have a new tool in overcoming student debt. But bankruptcy isn't right for all borrowers right now.
"If you have Education Department-owned loans, just hold up and see what happens" with the proposed relief plans, says Tate. He adds that most borrowers with federal student loans may get relief from other government programs. 
Those with private student loans have fewer options for cancellation or forgiveness. However, if you have strong finances and stable income, refinancing may help you lower your interest rate and monthly payment. 
Refinancing is not a good option for those with federal student loans because you'll lose out on any potential government forgiveness. But those with private loans are not eligible for those programs anyway. Before deciding to refinance, prequalify with several lenders to see which offers you the best deal. Only refinance if it can help you save money each month or over the long haul. Avoid refinancing if it means your interest rate will increase. 
While understanding your student loans and knowing your options is important to managing the debt, Addo says the ultimate solution requires more. "You can't financially educate your way through solving this problem," she says. Addo encourages Black women to pressure elected officials to find solutions. "This was an issue that was created by poor policy, and it has to be fixed through policy." 
Spot your saving opportunities
See your spending breakdown to show your top spending trends and where you can cut back.