6 Tips for Transferring From a Community College (and Keeping Your Credits)
Plan carefully to get the most out of your community college transfer.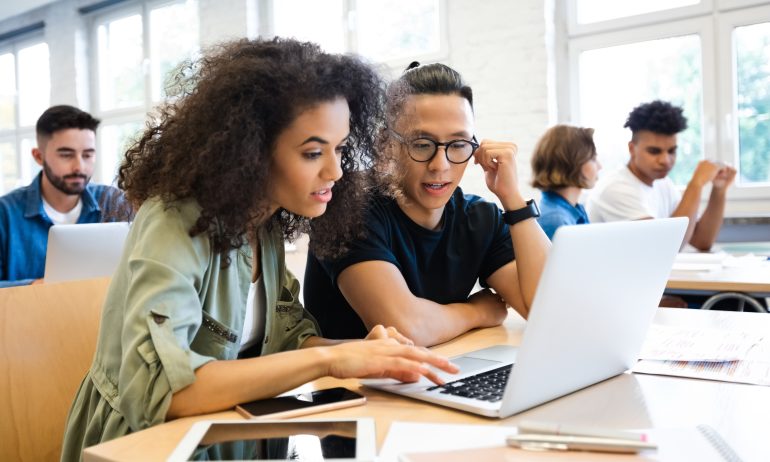 Many or all of the products featured here are from our partners who compensate us. This influences which products we write about and where and how the product appears on a page. However, this does not influence our evaluations. Our opinions are our own. Here is a list of our partners and here's how we make money.
With rising college costs, attending a community college for two years and transferring to a four-year school can be a smart way to save money. The average cost of attending a community college is about 31% less than the cost of attending a four-year public university, according to a 2022 report from The College Board.
However, transferring colleges can be a more complicated process than you might expect. A 2017 study released by the Government Accountability Office found that transfer students lose 43% of their credits when they transfer to a four-year school.
Losing credit for so much of your hard work can be frustrating and financially draining. If you're planning on going to community college and transferring to a four-year school, follow these six tips for transferring colleges — they'll help you retain as many of your credits as possible.
1. Pay attention to articulation agreements
Articulation agreements are established between certain community colleges and four-year universities. These agreements outline which course credits transfer over, considering similarities in curriculum, textbooks and difficulty of the class. An articulation agreement makes transferring from a community college easier and ensures more credits carry over.
Depending on the community college you choose, your school may have agreements with one or more colleges. Under the agreement, your credits in eligible courses will transfer to the partnering university — up to a set maximum — but they may not transfer if you choose a nonpartner four-year school.
Visit your community college website or contact the school's academic advising department to find out if an articulation agreement exists.
2. Choose your school carefully
When choosing which college to transfer to after completing two years of community college, keep in mind that some types of universities are more likely to accept credits than others.
The Government Accountability Office's study found that students who transferred between public schools lost 37% of their credits, while those who transferred from private for-profit schools to public schools lost 94% of their credits.
Opting for a public school within the same state you completed community college courses increases the odds of retaining credits — especially if the schools have an articulation agreement.
3. Work closely with advisors at both schools
If you want to transfer to a certain four-year school, keep in touch with your academic counselor at your community college — but reach out to the transfer advisor at your future university, too.
Your counselors and advisors can guide you through the transfer process and help you select a major, reducing the risk of losing hard-earned credits.
When it comes to transferring colleges, good grades are critical. Four-year schools often have strict rules in place about transfer credits and grades. Depending on the school, you may need to earn a "B" or better in a certain class for the credits to transfer. If your grades are below that mark, the university may not count those credits toward a four-year degree and may require you to retake the class once you enroll.
5. Earn an associate degree
Earning an associate degree before transferring to a four-year school isn't a requirement for most students, but it can make the process of transferring colleges easier.
Some states have instituted policies that guarantee students who have earned associate degrees can transfer all of their credits to a four-year school and enroll as a third-year student. Depending on the state's policies, the state may also exempt the student from any other general education courses. As of 2023, 35 states guarantee transfer of associate degrees.
6. Reach out to your state transfer liaison
The loss of credit hours for transfer students is a major problem, and some states have instituted policies and programs to help students successfully transfer to four-year schools. In some states, the department of education or state education agency acts as a state transfer liaison. If a student has problems or concerns with how their transfer is handled, the state higher education department can help find a resolution.
As a transfer student, there are a variety of financial aid programs available. Depending on your circumstances, you may be eligible for one or more of the following options:
Many universities have scholarships and grants specifically designed for transfer students. For example:
Northern Illinois University (NIU): NIU provides merit scholarships ranging from $1,000 to $3,000 per year to transfer students. 

University of Alabama: The University of Alabama issues several scholarships to transfer students. Among the most substantial is the Competitive Transfer Scholarship, which covers up to the full cost of tuition for up to six semesters. 

University of Central Florida (UCF): UCF offers several transfer scholarships, which give qualifying students up to $4,000 for tuition and fees.
Reach out to the financial aid department at the four-year school of your choice to find out about potential scholarships or grants.
Independent scholarships and grants
Some private companies and nonprofit organizations have launched programs for students transferring colleges, including the following opportunities:
Ford Transfer Scholars Program: Issued by the Ford Family Foundation, this scholarship provides up to $40,000 per year in aid to students from Oregon or Siskiyou County, California, transferring from a community college to a four-year school. 

Cooke Undergraduate Transfer Scholarship: The Jack Kent Cooke Foundation awards this scholarship to community college students transferring to four-year schools to complete a bachelor's degree. Qualifying students can receive up to $55,000 per year. 
Student loans from our partners

If you transfer schools and not all of your credits are accepted, you may have to retake some classes. If that happens, you may reach the annual or aggregate maximum of federal student loans you can take out before you can complete your degree.
Private student loans can be a useful tool for students in that scenario, covering the gap between scholarships, grants and federal loans and the remaining balance you owe to your college.
Get pre-qualified in just 3 minutes with Credible
Check multiple student loan lenders to get accurate, pre-qualified rates with no impact to your credit score.
Spot your saving opportunities
See your spending breakdown to show your top spending trends and where you can cut back.