Voices Backing Student Debt Cancellation Rise at Protest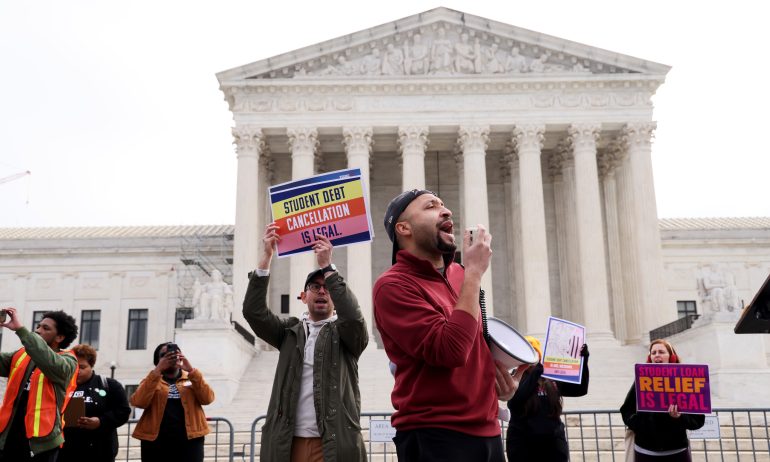 Many or all of the products featured here are from our partners who compensate us. This influences which products we write about and where and how the product appears on a page. However, this does not influence our evaluations. Our opinions are our own. Here is a list of our partners and here's how we make money.
As a formal debate on student debt cancellation unfolded inside the Supreme Court on Tuesday, the scene outside was lively and loud.
The People's Rally for Student Debt Cancellation, co-hosted by the NAACP, Student Borrower Protection Center, Young Invincibles and over 20 other organizations, urged the court to rule in favor of President Joe Biden's up-to-$20,000 student debt cancellation plan. The rally's message was clear: Student loan debt is a civil rights failure, and the Supreme Court has a legal and moral obligation to cancel it.
Standing before a backdrop reading "Student Debt Cancellation is Legal," Cedric Lawson, field director at the Leadership Conference on Civil and Human Rights, led the crowd through call-and-response chants.
"Education," Lawson called. "IS A RIGHT," the crowd responded.
"College access," Lawson followed up. "IS A RIGHT," the crowd repeated.
The rally had over 100 protesters who traveled to Washington, D.C., from around the country, musicians, more than 30 speakers and nearly four hours of personal stories on how student debt affects the lives of borrowers. Progressive lawmakers including Sen. Bernie Sanders, I-Vt.; Sen. Elizabeth Warren, D-Mass.; and Rep. Ilhan Omar, D-Minn.; also took to the small stage facing out from the court's marble steps.
Maddy Clifford, deputy press secretary of the Debt Collective, said her $120,000 student loan debt now feels like a badge of solidarity. "If one person owes the bank, that's the one person's problem," she told the crowd. "But when a million people owe the bank, that's the bank's problem."
Speakers encouraged the protesters — many of whom are among that 45 million — to chant loud enough for the justices to hear them inside. If they were listening, this is what they might have heard.
Borrowers' stories shed light on student debt crisis
Several borrowers shared feelings of shame and embarrassment at their inability to pay their student debt. They say they were gaslit by a system that set them up for failure and let them think it was their fault.
Shanna Hayes of Washington, D.C., described herself as a first-generation college student who accumulated over $150,000 in student loan debt. She says her first job as a public school teacher paid $29,000 a year. "I went from feelings of joy and pride to feeling like I couldn't afford a place to live," she says.
She contacted her student loan servicer to discuss the best way to manage her debt and says she was put in a plan that set her payments to $0 but continued to tack on interest and disqualified her from Public Service Loan Forgiveness, a federal program intended to forgive student debt for borrowers who spend a decade working in certain public service jobs like teaching.
Ashley Green of St. Petersburg, Florida, says she took out $78,000 in federal student loans that ballooned up to $112,000 over the past decade. "I've paid back about $58,000, so I still owe about as much as I've taken out," she says.
Green, who has spent her career in nonprofit and service work, says people are told they have to get an education to make it in life, but her education debt caused her to have trouble sustaining herself.
"It took me a while to realize I was not alone. I thought I was wrong for having to take out loans in the first place, and I was wrong for not being able to repay them," she says. "This is actually a problem in how our higher education system is structured in itself."
Systemic racism blamed for putting Black and brown borrowers at higher risk
Rep. Ayanna Pressley, D-Mass., used her speech to tie student debt to other historic actions that "denied [Black Americans] the ability to build generational wealth," including redlining and GI Bill refusal. Because of that history, she said, Black Americans "borrow and default at higher rates." 
Over 80% of Black students borrow student loans to get through college, several rally speakers pointed out. Nearly half of all Black borrowers defaulted on their loans, federal data shows.
Student debt can determine the opportunities of those who relied on it. "I thought a few loans here and there would be something I could pay back over time," Green says. "They've shaped everything over the last decade — where I've lived, what I've been able to pursue."
One protester stood at the front of the crowd, holding a sign that read, "72% of Latinos take out student loans," an assertion backed by the Student Borrower Protection Center.
"This is a story that plays out in every Latino family," she said. And it appears to persist to the next generation: The Education Data Initiative, an independent team of researchers who analyze federal higher education data, found that Latino and Hispanic borrowers were most likely among all groups to delay marriage and having children because of student debt.
The rally, she says, "is about how student loan debt affects minorities."
Hayes asks lawmakers to consider the circumstances of those who take out student loans and feels there is a disconnect between those in power and those in debt. "The folks making these decisions are the people who the system has worked swimmingly for," she says.
Warnings to future borrowers
While student loan borrowers at the rally await a solution to their debt, they have cautionary words for those coming after them.
"Ask more questions than I did," Hayes says.
She also advises high school students to seek help from local nonprofits if they don't have anyone at home to help them plan for college funding.
Green warns future college students to be intentional about the loans they take out. "If you have an alternative — I mean any alternative — do not take out the loans," she says. "If I could do it again, I would probably go to community college first." 
While standing in the crowd, you could hear the echo of the chants bounce off the Supreme Court's marble facade.
"Whose court?" Lawson asked. "OUR COURT," the crowd replied.
Now, they wait to see if their voices made it through.
Spot your saving opportunities
See your spending breakdown to show your top spending trends and where you can cut back.