Early Action vs. Early Decision: What's the Difference?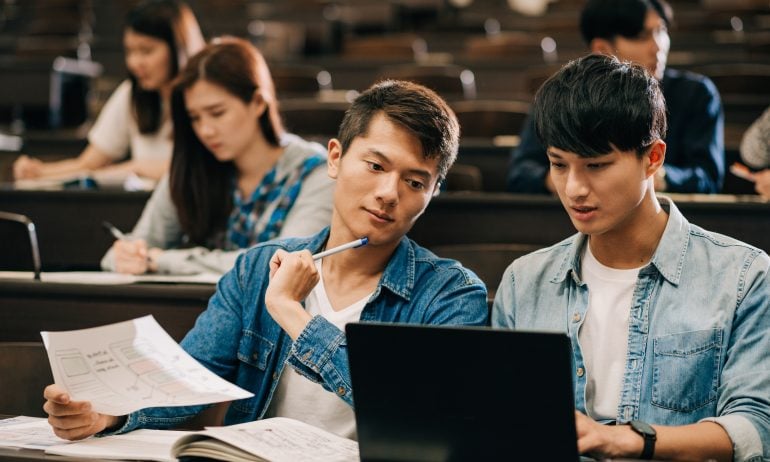 Many or all of the products featured here are from our partners who compensate us. This influences which products we write about and where and how the product appears on a page. However, this does not influence our evaluations. Our opinions are our own. Here is a list of our partners and here's how we make money.
Students who are accepted into college early have the advantage of peace of mind during their senior year of high school. Applying early decision or early action is a smart move for the confident applicant to stand out from the pack. But applying early is not for the faint of heart—those applicants who are accepted enter into a binding agreement to attend that college.
What does early decision mean?
It is critical for a student to be absolutely certain in the choice of early-decision college before applying. Prospective students can apply for regular admission to other schools, but cannot apply to any other college by early decision. If the student is accepted, any other applications must be withdrawn.
A common misconception lies in the "binding" agreement of early decision. Applicants accepted under this program have agreed to attend only that college in the fall. It does not mean legal action can be taken against a student if he or she decides not to attend.
However, since the applicant is bound under the terms of early decision to attend that college, she still cannot attend another school in the same academic year she was accepted for. If there is a change of heart, applicants may want to consider taking a gap year and reapplying to other colleges for the subsequent academic year. Other schools will not allow a student to attend if he or she has rejected an early decision acceptance at another college.
Students typically apply for early decision without knowing what kind of financial aid they will be awarded. Some schools may consider financial aid a valid reason to break the binding attendance agreement. If a financial aid award may sway a student's decision to attend a particular school, it's best to find out if that college will break the agreement for this reason before applying early decision.
» MORE: Need help filling out your FAFSA? Check out our FAFSA Guide
Early action vs. early decision
The biggest difference between early decision and early action programs is the attendance agreement. Students who are accepted through early action programs can reject the offer and attend a different school without repercussions.
The nonbinding nature of the program also allows students to apply to several schools through early action. This is helpful for students in need of financial aid who can compare award offers from several schools. However, some schools, such as Harvard, Princeton and Yale, only offer single-choice early action programs, in which students can commit to just one early action college.
Early decision and early action applications are typically due by Nov. 1, but this deadline might be earlier or later depending on the college.
Students will typically hear back by mid-December, prior to most colleges' regular admission deadlines in January. If a student is deferred, he or she will enter the pool for regular admission and will likely not hear back until mid-March or mid-April.
Applying early can be beneficial to both students and colleges. Schools with early decision programs tend to have higher acceptance rates for those applicants than for the overall applicant pool.
Early decision is more valuable to colleges than early action because it helps them determine their yield of accepted applicants who actually enroll in college. Yield is important to schools because it influences rankings and desirability among prospective students.
Stephanie Klein Wassink, founder of AdmissionsCheckup.com and a former member of the admissions committee at Northwestern University, offers another argument for applying early. She suggests standing in the admissions officer's shoes: "When do you think it is easier to impress a college admissions officer—when you are application 31 or application 1,031?" she says.
Students with strong junior-year grades and standardized test scores are better candidates for early applications. Those with applications that could benefit from boosted fall semester grades or who are taking fall ACT or SAT tests may want to wait for regular admission before applying.
Above all, if a student chooses early decision, he or she needs to be sure of the decision before applying. For those ready to apply, but unsure of their choices, early action allows for more flexibility. Ultimately, receiving early admission could mean a less stressful senior year for savvy applicants.
Spot your saving opportunities
See your spending breakdown to show your top spending trends and where you can cut back.