What Is a Gap Year?
A well-planned gap year can cure academic burnout, but stopping out can have unintended consequences.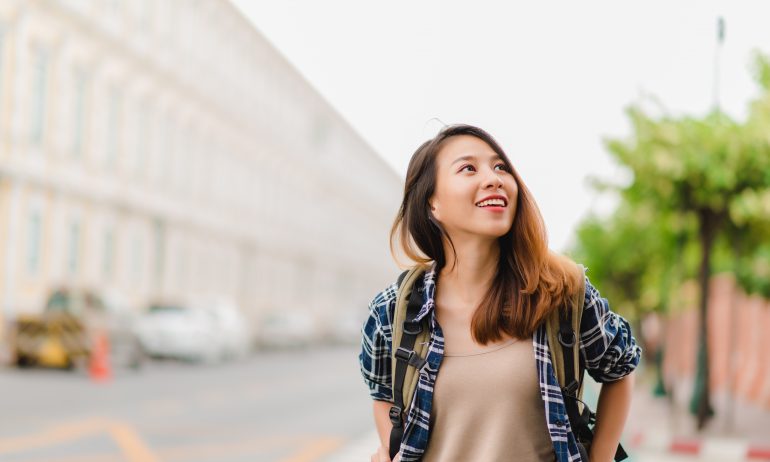 Many or all of the products featured here are from our partners who compensate us. This influences which products we write about and where and how the product appears on a page. However, this does not influence our evaluations. Our opinions are our own. Here is a list of our partners and here's how we make money.
A gap year is a yearlong break after you complete a diploma or degree and before you move on to higher education or the workforce.
The most common gap years happen between high school and college or undergraduate and graduate school. Graduates can also take a gap year before entering the workforce.
Gap years aren't a new concept — they're already common among European students — but they're growing in popularity with Americans.
Get pre-qualified in just 3 minutes with Credible
Check multiple student loan lenders to get accurate, pre-qualified rates with no impact to your credit score.
A gap year is usually a time when recent graduates take a break from academic pressures and pursue other passions, like travel or volunteer work. In some cases, you can even earn college credits.
In the era of COVID-19, some students may look to a gap year as a way to wait out college uncertainties.
Taking a gap year can lead to better academic outcomes once you start college. But postponing school isn't a good idea for everyone. If you fail to follow protocol, a gap year could lead you to lose your spot in school and jeopardize your financial aid.
How to pay for a gap year
If you're curious about how to finance a gap year, you have a few options. You might be able to use financial aid to pay for your gap year, or your school might offer a fully funded gap-year program. School officials can guide you through their deferred admissions process to hold your place in the class and preserve arrangements for housing and financial aid upon your return. Some may ask for a deposit to do so.
How a gap year affects student loans
Students who take a gap year may have to make student loan payments sooner than expected.
For student loan borrowers, leaving school for more than six months can exceed your grace period. If that happens, you could have to start making payments. You also won't be eligible for financial aid and work-study programs if you're not enrolled in school.
Students who take a break in the middle of their academic studies are called stopouts, as are the breaks themselves. A 2019 study from Strada Education Network found that stopping out is more common for students looking to alleviate pressures related to balancing work and school.
If you're already in school, the best way to avoid the risks of stopping out is to prioritize graduation and take a gap year before starting your career.
Gap year:
A yearlong sabbatical before starting college or graduate school, or before entering the workforce. A
gap year
can lead to greater academic success, but stopping out — taking a break in the middle of your studies — can have unintended financial effects.
Stopout:
A break from college during an academic program. A
stopout
differs from a gap year, which typically is taken between academic studies, such as between high school and college. Stopping out breaks up the momentum of your degree program and could cause you to have to make payments on your student loans. This term can also refer to a person who takes this type of break.
A
student loan
is money you borrow from the federal government or a private lender to help pay for college costs, like tuition, supplies, books and living expenses. Federal student loans typically have lower interest rates and more flexible repayment options than private loans. Borrowers should exhaust
student loans
from the federal government before applying with private lenders.
Grace period:
A period of authorized nonpayment that generally lasts six months after you've graduated, left school or dropped below half-time enrollment. All federal student loans qualify for a grace period, but private lenders may not offer them. You can make payments during the
grace period
to start paying down the loan and to avoid interest capitalization.
Get pre-qualified in just 3 minutes with Credible
Check multiple student loan lenders to get accurate, pre-qualified rates with no impact to your credit score.
Spot your saving opportunities
See your spending breakdown to show your top spending trends and where you can cut back.