4 Costly Moving Mistakes to Avoid
Mistakes such as failing to vet your movers or changing plans at the last minute could increase your expenses.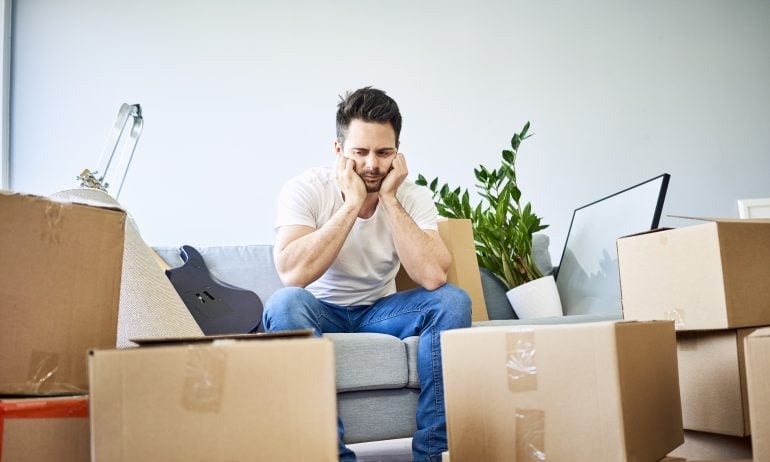 Some or all of the mortgage lenders featured on our site are advertising partners of NerdWallet, but this does not influence our evaluations, lender star ratings or the order in which lenders are listed on the page. Our opinions are our own. Here is a list of our partners.
Hiring professional movers can get pricey — and keeping costs down requires more than finding free boxes. Here are four costly moving mistakes, and how you can avoid them.
1. Hiring movers without vetting
If you don't research a moving company before booking, you might end up with a much larger bill — and more stress — than planned. Inexperienced or unreliable movers might damage or lose belongings, for instance, causing you to spend money on replacements and repairs.
Getting ready to buy a home? We'll find you a highly rated lender in just a few minutes.
Enter your ZIP code to get started on a personalized lender match
Even worse, you could get scammed. Rogue movers are bad actors who might try to lure you into using their service with a low quote. If you hire them, they might load your belongings in a truck and then hold them hostage until you agree to pay a much greater amount than agreed upon, which is illegal under federal law. While you can get your stuff back by filing complaints and reporting the fraudulent activity, you still might be separated from your belongings for weeks, which might mean you have to purchase replacement items or stay in hotels or rentals for longer than planned.
How to avoid this mistake
"It's important to make sure the company is licensed and insured," says Nick Friedman, co-founder and president of College HUNKS Hauling Junk & Moving, which specializes in local moves, junk removal, donation pickup and labor services, and has over 130 franchise locations nationwide. "Check the reviews online. If the movers are offering a rate too good to be true, chances are it very well might be."
Search your state's Department of Transportation website to check a local company's permits and other information. For interstate movers, check the Federal Motor Carrier Safety Administration's website for registration, insurance, complaints and safety ratings. Look at the company's Better Business Bureau rating and reviews. Pay special attention to how issues were resolved since that information can provide a good indication of how you'll be treated if problems arise.
2. Adding services at the last minute
To secure a low quote, you might have requested only basic moving services, skipping add-ons and planning to handle some parts of the move yourself. That's a good way to save money — as long as you follow through with your plans. But if you're crunched for time and add services at the last minute, you might blow your budget.
"Sometimes, [clients] say, 'Hey, I'm going to move a lot of the little stuff myself and I'm going to have the movers do the big things,'" Friedman says. "Then what happens is the client is pretty tired of this after five or 10 trips and figures the movers are coming anyway," so they leave the remaining work for the movers.
But boxes are time-consuming to move, he explains; you can fit only a few at a time on a dolly. If you're paying by the hour, adding several to your shipment could make for a longer move and increase your costs.
Likewise, if you don't book packing services and need to add them on moving day, your mover will have to revise your estimate.
How to avoid this mistake
Be realistic about how much packing and heavy lifting you can do when moving. If you have a large volume of belongings or limited moving help from family and friends, consider relying more on professional moving services rather than giving yourself more tasks. If you're planning to tackle any parts of the move yourself — such as packing — give yourself plenty of time to get the job done so you don't have to change course and pay for added services later.
Moving every single thing in your home, including items you don't want — say, a huge sectional you're planning to get rid of soon, or several boxes of books you meant to donate — can make a move unnecessarily expensive.
Movers generally charge by the hour for local moves and by weight for moves over state lines, so moving items that you don't want could mean paying for additional hours or pounds. And fragile items like pianos, which need special care, could add even more to the expense. If your new space doesn't have room for these items, you may have to pay for storage, increasing costs further.
How to avoid this mistake
A month or more before your move, start thinking about what items you don't want to keep.
"Take stock of all your belongings and cull, sort and organize as you go," Patti Mazzarella, principal of luxury moving planning company NouvelleView, said via email. "Figure out what you and your family do not want to keep, and then either discard or label and donate those items as soon as possible."
Give yourself plenty of time to figure out how to dispose of these items. Especially for large items or electronics, donating, selling or disposing of them properly could come with logistical challenges and require more planning.
During a move, boxes may be lifted, stacked, jostled or transported through cold and hot temperatures. Without careful packing, items can easily get damaged — especially on long journeys with multiple stops. Dishes packed without padding, for instance, could clatter against one another and break. Boxes filled with overly heavy items could burst at the seams, causing things to fall out. A bottle of red wine that's not wrapped properly could break and make stains. Damaged items could cost a bundle to repair or replace, driving up your total moving expenses.
How to avoid this mistake
Don't rush the packing process. Use small boxes for heavy items and large boxes for light, bulky items. Wrap and bag bottles containing liquids so that a spill doesn't ruin other items. For dishes and glassware, use boxes with cardboard separators and cover each piece with foam or bubble wrap.
If you're not confident in your packing abilities, consider using professional packing services. Full-service moving companies generally offer this service as an add-on. Especially if you have several fragile or valuable items, paying for these services upfront could prevent expensive damage and save you plenty in the long run.
Getting ready to buy a home? We'll find you a highly rated lender in just a few minutes.
Enter your ZIP code to get started on a personalized lender match
Get more smart money moves – straight to your inbox
Sign up and we'll send you Nerdy articles about the money topics that matter most to you along with other ways to help you get more from your money.