2023 Home Buyers Hope to Spend $200K — Here's What's Realistic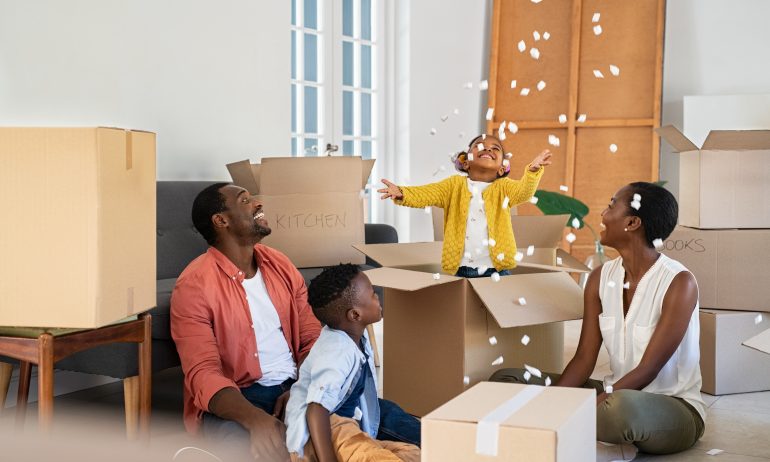 Some or all of the mortgage lenders featured on our site are advertising partners of NerdWallet, but this does not influence our evaluations, lender star ratings or the order in which lenders are listed on the page. Our opinions are our own. Here is a list of our partners.
A little optimism can help propel you when things get difficult in the homebuying market. But if you're feeling too good about your chances of buying this year — good in ways simply not justified given the current economic conditions — you could find yourself disappointed, at best, and unsuccessful or overextended, at worst. 
About 28 million Americans plan on buying a home in the next 12 months, according to NerdWallet's recent annual Home Buyer Report. Typically, they're hoping to spend $200,000. This will be extremely difficult when the national median sales price of all homes, including condos, is $342,000, according to the latest data from Zillow. 
Home prices have skyrocketed over the past two years. The housing market was overrun with buyers competing for too few available homes; pair that with low mortgage rates, and prices were driven skyward. They've come down a bit since their peak of $363,000 in June 2022, according to the Zillow data, but are unlikely to sink significantly in a broad-based fashion in 2023.
So, where will buyers find homes selling for $200,000? Not likely in the markets they're hoping; high-demand markets command higher prices, and that's always the case. And this analysis of recent sales prices and a generous forecast of where prices could fall in the coming year find buyers will be hard up for that kind of bargain in most areas across the nation.
Even if home prices stop growing this year, a $200,000 budget won't go far in most markets. In fact, median sales prices haven't been that low since early 2016. Of the 614 areas with available October 2022 Zillow pricing data, just 204 have median sales prices of $200,000 or lower. Most are smaller towns, as the dataset includes metropolitan and other areas with populations as low as 10,000 people. The largest of the metro areas with a sub-$200,000 sale price is Dayton, Ohio, with a population of 807,000.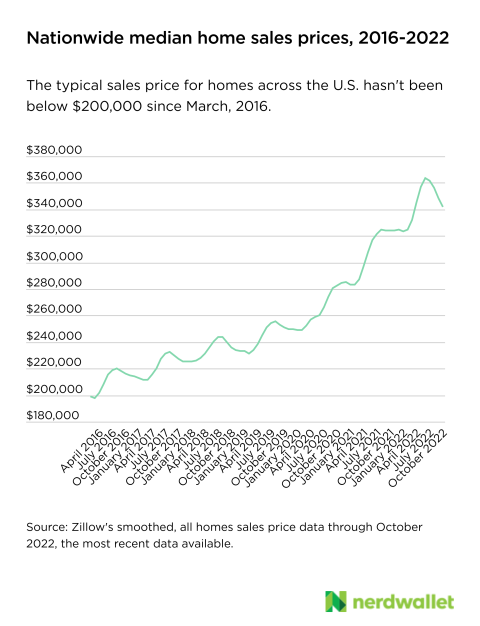 Among the 50 largest metro areas, the average, typical price for this past October (the most recent data available) was $419,000, according to the Zillow data. Buyers who hope to purchase in these more populated areas should brace themselves for sales prices far above $200,000. These geographic areas are not only city centers, but generally include surrounding neighborhoods and even suburbs, so don't assume a commute will knock six figures off the prices you see.
Even if prices fall, they won't likely fall far
But just for fun, what if prices do fall in a measurable way? Growth in sales prices was fast and painful for buyers over the past few years, and those high prices aren't sustainable in some markets. The most likely scenario in 2023 is that prices will come down slightly in some areas but stabilize in others. They're unlikely to plummet in a broad-based fashion. 
Even if prices gave up half of their recent growth, few would be within that median buyers' budget of $200,000. 
From 2020 through October 2022, the most recent month for which data is available, sales prices grew 30% across the nation and as much as 50% or more in some metropolitan areas. In Austin, Texas, for example, sales prices rose 51%, from $347,000 in 2020, on average, to $525,000 in 2022. In Phoenix, AZ, they rose 48% during that period, from $312,000 to $462,000. 
But what if all markets nationally gave up half of their steep 2020-22 growth? Still, fewer than half would have homes priced below the $200,000 threshold. Among the 50 most populous markets, just 6% would fall below $200,000. And the typical national sales price would still be $294,000.
Click here to view a table with current median sales prices and 2020-2022 growth rates in more than 600 areas across the country. 
Glimmers of hope for 2023 buyers 
This isn't all to dash dreams of buying in the next year. If the history of buying and selling homes in the United States has taught us anything, it's that millions will be successful, even in tough economic times. But hopefuls should be more realistic than optimistic. Knowing what headwinds you might face can help anchor your expectations and drive the kind of planning that ensures you won't get in over your head. 
Consult with a local real estate agent to learn a realistic budget for the area where you hope to buy. Also, use a home affordability calculator to understand better how a mortgage payment will fit in with your other financial obligations.  
Some good news for 2023: Sellers no longer have sole control; the market is more balanced than it has been, mainly because demand has come down due to higher mortgage rates. This means there's more room for negotiations on things such as price, closing date, inspections and so on. But buyers will need to remain flexible, especially if their budget is at the lower end. A few hundred thousand may not go far enough in the hottest markets, but careful hunting in other areas and a willingness to forgo some "must haves" on your wishlist can make homeownership more likely a reality than a dream. 
Get more smart money moves – straight to your inbox
Sign up and we'll send you Nerdy articles about the money topics that matter most to you along with other ways to help you get more from your money.