FHA vs. VA Loan: Which One Is Right For You?
An FHA loan might be an option for a veteran or service member with a lower credit score.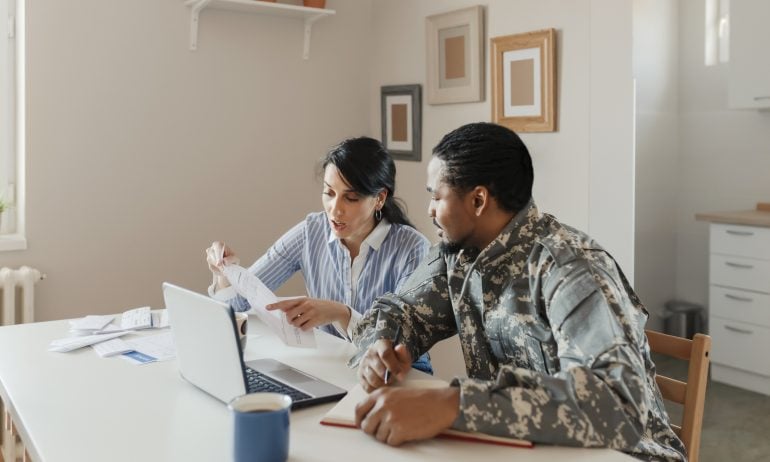 Many or all of the products featured here are from our partners who compensate us. This may influence which products we write about and where and how the product appears on a page. However, this does not influence our evaluations. Our opinions are our own. Here is a list of our partners and here's how we make money.
With no down payment or mortgage insurance requirements, VA loans are hard to beat.
But even if you're eligible for a VA loan, an FHA loan might be worth a look, especially if you have a lower credit score.
Both mortgages are backed by the federal government and are popular with first-time home buyers. VA loans are open only to those who have served or are serving in the military and for some surviving spouses. FHA loans are open to anyone. Beyond that, specific features and requirements of the two loans differ as well. The mortgage that's right for you will depend on your circumstances.
| | | |
| --- | --- | --- |
| | | |
| | | 3.5%, and home price must be under FHA loan limits. |
| Mortgage insurance and fees | No mortgage insurance. Borrowers must pay a one-time VA funding fee. | Borrowers must pay an upfront mortgage insurance premium and a monthly mortgage insurance premium. |
| Minimum credit score requirement | No minimum set by VA, but 620 is a common lender requirement. | 500 to 579 to qualify with minimum 10% down payment; 580 or higher to qualify for 3.5% down payment. |
| | Lenders will apply more scrutiny if DTI is over 41%. | 50% or less, depending on credit score and other factors. |
VA loans and FHA loans can be used to purchase or refinance a primary residence, as long as the home is safe and structurally sound. The property must meet minimum requirements set by the Department of Housing and Urban Development for an FHA loan and the Department of Veterans Affairs for a VA loan.
The take-away: If you want to buy a vacation home or investment property, shop for a conventional mortgage, which isn't backed by the federal government.
Down payment and loan limits
VA loans don't usually require a down payment. A new law eliminated VA loan limits — the maximum amount you can borrow without a down payment — for borrowers with full entitlement to VA loans starting in 2020. But borrowers who have other active VA loans or defaulted on a VA loan are still subject to VA loan limits. Those limits mirror the guidelines set by the Federal Housing Finance Agency for conforming loans, The limit is $647,200 in a typical U.S. county and higher in expensive real estate markets, such as San Francisco County.
The minimum down payment for FHA loans is 3.5%. FHA loans also have limits, which vary by county and may reset annually. The most you can borrow with an FHA loan ranges from $420,680 in low-cost counties to $970,800 in high-cost counties. See the FHA loan limit in your area at the HUD website.
The take-away: VA loans win for the lowest down-payment requirement.
Credit score requirements
The VA doesn't specify a minimum credit score for VA home loans, but lenders can set their own thresholds. A minimum credit score in the mid-600s is a common requirement.
"Every borrower's situation is different, but eligible veterans are typically better served by VA loans compared to FHA loans," says Chris Birk, director of education at Veterans United Home Loans. However, he adds, "it's possible that a veteran or service member who can't meet lenders' credit score guidelines for a VA-guaranteed loan might have better luck with FHA financing."
Veterans United offers free financial consulting for borrowers who aren't able to meet minimum credit guidelines, Birk says.
The lowest score you can have and still qualify for an FHA loan is 500. But a score of 580 is required for a down payment of 3.5%. A 10% down payment is required for a credit score of 500 to 579.
VA borrowers tend to have higher average credit scores than FHA borrowers overall. In the last half of 2020, the average FICO score among borrowers of VA purchase mortgages was about 725, according to mortgage data provider Ellie Mae. For FHA purchase mortgages, the average FICO score was about 684.
The take-away: An FHA loan might be an alternative if you can't qualify for a VA loan.
The VA does not set a maximum DTI. But it requires that loan applicants with a DTI of more than 41% undergo a closer review to make sure they will have enough money to cover living expenses after making mortgage and other debt payments.
"A borrower's debt-to-income ratio is just one factor Navy Federal considers in the review of all mortgage loan applications — VA, FHA or otherwise," says Kevin Parker, vice president of field mortgage originations at Navy Federal Credit Union. "We do not have an explicitly stated requirement due to differences in financial situations for each borrower, but always recommend potential applicants pay down debt in order to get approved and also secure the best interest rate possible."
The maximum debt-to-income ratio for FHA loans is generally 50%, although the threshold may be lower, depending on your credit score or other factors.
Borrowers of VA purchase mortgages that closed in 2020 had average DTIs of 41% in most months, according to Ellie Mae. Borrowers' average DTIs for FHA purchase mortgages were 43% in most months.
The take-away: Regardless of the mortgage type, lenders will consider your debt-to-income ratio to weigh your ability to make mortgage payments.
Mortgage insurance reimburses the lender if you default on the loan. It's an expense to calculate when getting a mortgage.
VA loans don't require mortgage insurance. Instead you pay a one-time VA funding fee, which ranges from 1.4% to 3.6% of the loan amount. The fee amount depends on your military service, down payment and whether you've had a VA-backed loan before. You can pay it upfront or roll it into the loan.
FHA loans require mortgage insurance. You pay an upfront insurance premium, or fee, and a monthly premium that's added to your mortgage payment. Like the VA funding fee, you can roll the upfront cost into your FHA loan. The monthly premium depends on the loan and down payment amounts, and the length of the loan term.
The take-away: Include the cost of the VA funding fee and FHA mortgage insurance when comparing loans.
Generally VA loans have lower mortgage interest rates than other loan products. The average 30-year fixed rate for VA loans that closed in November 2020 was 2.72%, compared to 2.99% for FHA loans, according to Ellie Mae.
The take-away: Remember that mortgage rates also depend on your financial characteristics. With any type of mortgage, you generally can get a better rate with a higher credit score, lower debt-to-income ratio and higher down payment.
Get more smart money moves – straight to your inbox
Sign up and we'll send you Nerdy articles about the money topics that matter most to you along with other ways to help you get more from your money.