Roof Replacement Costs in 2023
The average roof replacement costs about $11,000, though this can vary widely depending on the size of your roof and the materials used.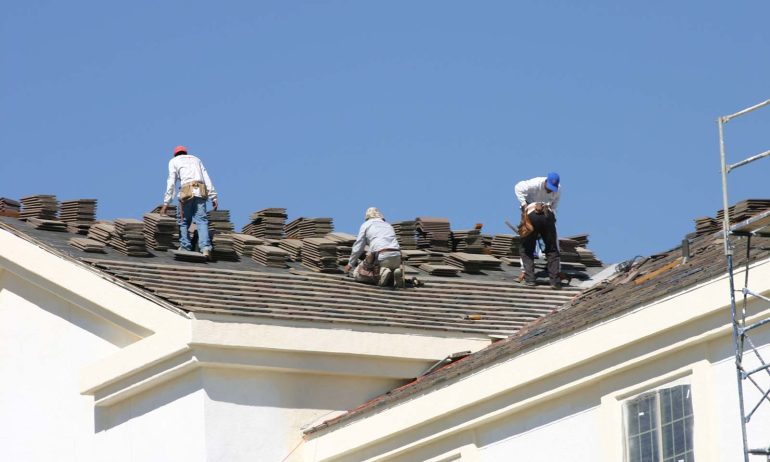 Some or all of the mortgage lenders featured on our site are advertising partners of NerdWallet, but this does not influence our evaluations, lender star ratings or the order in which lenders are listed on the page. Our opinions are our own. Here is a list of our partners.
Replacing a roof costs thousands of dollars, even at the lowest end of the pricing spectrum. Your estimate will depend on a number of factors, including your location, the materials used, the size and dimensions of your roof, and whom you hire to get the job done.
At a minimum, homeowners can expect to pay from $6,000 to $8,500, with the national average resting near $11,000. The most expensive roofs are made of premium materials such as slate, clay or copper, which can cost well over $50,000 in some cases. For most homeowners, however, materials make up only about 40% of the total cost of their roof replacement, with labor expenses accounting for the remainder of the bill.
Roof replacement cost breakdown
Understanding how a new roof is priced can prepare you before reaching out to roofers for estimates — and may highlight line items where you have the flexibility to reduce costs.
Roof size — $4,350 to $11,000 per thousand square feet
The size of the roof will contribute to the overall cost of replacement, and you can typically expect to spend from $4,350 to $11,000 per thousand square feet using typical materials, according to the home project hiring platform Angi. A professional estimate will list the size of your roof, which can differ from the square footage of living space inside the home.
Sources: Angi, This Old House
In addition to the size of the roof, the height of the house itself plays a role in total costs as well. Taller homes require more labor, and will likely be more expensive.
Materials — $4.25 to $39.70 per square foot
According to HGTV, roofs are most commonly made of asphalt shingles, clay or concrete tiles, metal, wood shingles or shake, slate or synthetic alternatives to natural materials. Each option is priced differently, and some will last longer than others.
Asphalt: costs $4.25 to $8.25 per square foot and lasts 20 to 25 years. 

Clay: costs $12 to $24.75 per square foot and lasts 40 to 50 years. 

Concrete: costs $11 to $19.80 per square foot and lasts 40 to 50 years. 

Metal: costs $5.50 to $39.70 per square foot (with copper and zinc being the most expensive options) and lasts 40 to 75 years. 

Wood shingles and shake: costs $8 to $14.30 per square foot and lasts 25 to 30 years.

Slate: costs $12 to $22 per square foot and lasts 50 to upwards of 100 years.

Synthetic materials: costs $5.50 to $7.50 per square foot and lasts for about 50 years. 
Sources: Architectural Digest, This Old House, HGTV
According to Architectural Digest, professional roofers generally charge around $11 per square foot, or $60 per hour. Simpler roofs will be less expensive, while more complex projects (such as when the home has chimneys or skylights) can be more costly. The bulk of the project estimate usually can be attributed to labor costs. If your project is not urgent, you may be able to save money by scheduling work outside your region's high season.
The steepness of your roof (called the pitch) can affect the price of your roof replacement. A typical roof is angled three (3:12) to six (6:12) inches per foot. A roof that is sloped at a 45-degree angle would have a pitch of 12:12. Steeper angles make the project more difficult and dangerous, and a pitch over 6:12 will often come with a bigger price tag.
Additional cost considerations
While the bulk of the cost of replacement comes from the roof size, materials and the overall complexity of the project, there are additional factors to keep in mind that can affect your estimate.
Location. Roof replacements can cost more in areas with a higher cost of living or where extreme weather conditions are common. Also, if a permit is required in your area, you should anticipate spending around $500 for that. 

Removal and disposal of the old roof. If the original roof has to be torn up and disposed of before the new one can be put down, the roofer will add this to their labor costs. 

Any necessary repairs. If the roofer has to make structural repairs in addition to putting down the new roof, this will inflate labor costs. 

Roof warranty. A warranty from the contractor can cost from $500 to $2,000, and typically includes yearly checkups and minor repairs. Be sure to ask what the warranty does and does not cover, and weigh the benefits of this optional expense.  
How to pay for a roof replacement
Homeowners who aren't paying for a new roof out of pocket have several options for financing the project.
Homeowners insurance usually covers roof damage that's not caused by neglect. If a hailstorm knocks some shingles loose, for example, your insurer may pay all or part of the replacement cost.
If you've built up at least 20% equity in your home — meaning that your remaining mortgage balance is 80% or less than the current value of your home — you may qualify for a home equity loan. This is a second mortgage that converts some of your equity into a lump sum of cash, which you could use to pay for a roof replacement. You would pay back this loan at a fixed interest rate.
Because you're using your home as collateral, the rate offers that you'll get with a home equity loan will likely be lower than what you'd get with a personal loan. However, this also means that you run the risk of losing your home to foreclosure if you can't repay the loan. Due to this risk factor, it's typically recommended that you only tap your equity for expenses that will help you grow your wealth. Since a new roof is an investment in your home's value, this could be a smart use of your equity.
Home equity line of credit (HELOC)
A HELOC is very similar to a home equity loan. The difference is that rather than receiving the loan balance all at once, you would have access to a line of credit up to a certain limit. If you have reason to think that you may need to access more cash than what's outlined by your roofer's estimate — say, if you're planning multiple projects, with a new roof being just one component — then a HELOC may be a good choice.
You typically have a 10-year window to access your equity, during which you're only required to make interest payments. After that, you won't be able to borrow any more, and you'll have (usually) 20 years to pay back what you've drawn. These payments will have a variable interest rate, unless your lender has allowed you to convert some or all of the balance to a fixed rate.
A cash-out refinance involves refinancing your primary mortgage to a new, larger loan, and receiving the difference in cash. This would change the terms of your mortgage, meaning that if interest rates have risen since you closed on your home, the additional expense likely isn't worth it. You would also have to pay closing costs, just like when you closed on your original loan.
If you have less than 20% equity in your home or aren't comfortable with the idea of putting your home on the line, a personal loan is an option to pay for your new roof. These typically come with higher interest rates, but are less risky than borrowing against home equity. Personal loans can usually be funded more quickly than an equity loan.
Roofing contractor financing
Your preferred roofing company may offer financing to customers, and you can compare these rates to the estimates you receive from personal loan or home equity lenders. For example, the building material manufacturer Owens Corning has a network of roofing contractors that estimates a $10,000 loan payable over 10 years would have an APR of 9.9%. This would result in a monthly payment of $132.
NerdWallet's Best-Of Award Winner
Best Mortgage Lender For Home Equity Line of Credit
Bethpage Federal Credit Union: NMLS#449104
at Bethpage Federal Credit Union
Bethpage offers a home equity line of credit with a high borrowing limit, no annual fee and a fixed-rate option. It's easy to see HELOC qualifications, too.
Get more smart money moves – straight to your inbox
Sign up and we'll send you Nerdy articles about the money topics that matter most to you along with other ways to help you get more from your money.