How to Find the Best Listing Agent
To choose a listing agent, get referrals, interview multiple candidates and check references.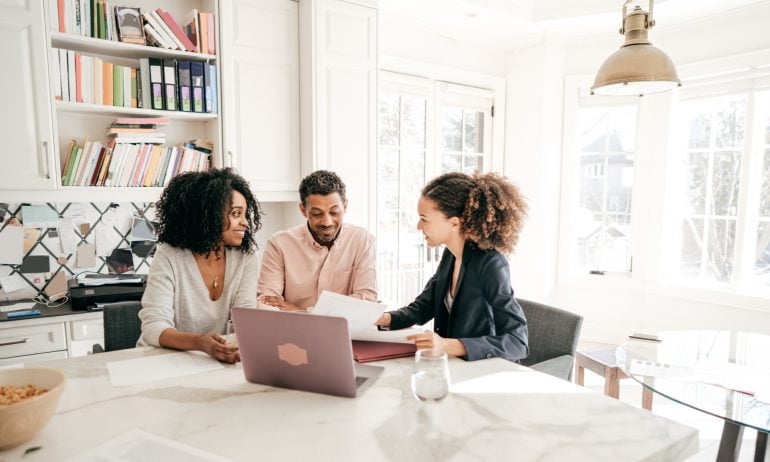 Some or all of the mortgage lenders featured on our site are advertising partners of NerdWallet, but this does not influence our evaluations, lender star ratings or the order in which lenders are listed on the page. Our opinions are our own. Here is a list of our partners.
Remember the jitters you felt when you bought your first house? Get ready to feel them again if you're planning to sell your home. One of the best ways to keep your sale on track and take the pressure off your shoulders is to hire a listing agent.
A listing agent represents your interests as the home seller. A good listing agent will advise you on pricing, recommend steps to prepare the property for sale, handle marketing, coordinate open houses and showings, present offers from buyers and negotiate on your behalf to get the best possible price and most favorable terms.
With so many different listing agents out there, it can be hard to know where to start. Follow these steps to choose a professional who meets your needs.

FIND AN AGENT AT HOMELIGHT
Visit HomeLight to find the right real estate agent for you. Get started now to see your personalized matches.
Get referrals to listing agents
Ask friends and colleagues if they've worked with an agent they would recommend, especially those who have sold a home within the last few years. Find out what it was like to work with their agent and how satisfied they were with the results.
Review listing agents' experience
Verify that potential listing agents are properly licensed by searching for their names in your state's real estate licensing database. Visit agents' websites and read their bios. Check their current and previous listings to see if they're familiar with your neighborhood and have sold similar homes.
Interview multiple listing agents
Talk to at least three listing agents to find out if they're the right fit.
Ask listing agents these questions
When you interview potential listing agents, it's important to be prepared with a list of questions. You want to see if someone is qualified and has the right experience not only to market your home but also to get it sold as quickly as possible and for top dollar. Be ready to have the agents visit your home, and ask each one:
What are the comparable listings in my neighborhood? Comparables (called "comps" in the industry) are the pillar for determining your home's value and deciding on an asking price. A well-rounded comparative market analysis will show current listings and homes sold in the past three to six months that are similar to yours in size and amenities.

What do you think my home is worth and why? During a listing presentation or before it, most agents will ask to walk through your home so they can take notes and see what they'll have to work with. It also helps them crunch numbers against the comps to provide you with an asking price they feel is in line with market conditions and your goals. You might have an asking price in mind, but your agent might not agree.

What would your marketing plan for my home include? A good real estate agent will have a robust plan to promote your listing in an effort to find the right pool of buyers. "Just listed" postcards, open houses, 3D virtual tours, professional photography and broker tours for buyers' agents (particularly for luxury homes) are all factors that may go into a marketing plan.

What experience do you bring to the table? Ask potential listing agents how long they've been selling real estate and how many houses they've sold recently. If someone hasn't closed a deal in several months, that's a reason for concern.

What is your commission rate? The typical real estate commission is about 6%; oftentimes, the listing agent splits that amount with the buyer's agent. Some agents might be willing to negotiate their commission, but don't count on it. After all, you're paying for a professional service. Leave the commission question for last, but make sure you understand how much you'll be charged for a real estate agent's services — and what exactly is included.
Check listing agents' references
Ask listing agents for client references and talk to those customers about their experiences working with the agent. What did the agent do especially well? What went wrong, and how did the agent handle the situation? Was there anything the client wished the agent had done better?
Once you've found a listing agent you want to hire, you'll likely sign a listing agreement in which you agree to a certain term of service at a set commission rate. As you work together in the coming weeks or months, keep the lines of communication open. Let the agent know what you expect and ask questions when you're confused or have concerns. Addressing small issues immediately will prevent misunderstandings later.
Mortgage loans from our partners