What Is a USDA Loan? Am I Eligible for One?
USDA loans are zero-down-payment mortgages that can open paths to homeownership for rural and suburban home buyers.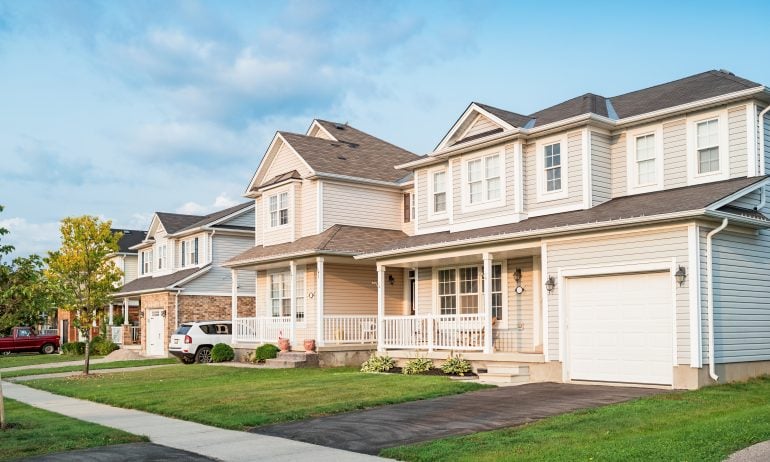 Some or all of the mortgage lenders featured on our site are advertising partners of NerdWallet, but this does not influence our evaluations, lender star ratings or the order in which lenders are listed on the page. Our opinions are our own. Here is a list of our partners.
A USDA home loan is a zero-down-payment mortgage for home buyers in eligible towns and rural areas. USDA loans are guaranteed by the USDA Rural Development Guaranteed Housing Loan Program, a part of the U.S. Department of Agriculture. Most USDA loans are issued by partner lenders, though the department can grant them directly to qualified borrowers with incomes below a certain limit.
In addition to having no down payment requirements, USDA home loans often also have lower rates than conventional mortgages because the government is taking on the risks associated with lending. This is true even when the USDA issues the loans. For example, on Aug. 1, 2023, the government agency set the interest rate for mortgages issued directly by the USDA at 4.125%. By comparison, the average interest rate for a conventional 30-year mortgage was about 6.7% that day.
USDA loans can be a great tool to unlock homeownership for qualified borrowers. However, buyers have to meet certain requirements, including purchasing property within specific areas outlined by the agency. 
There are three USDA home loan programs:
Loan guarantees: The USDA guarantees a mortgage issued by a participating local lender, allowing borrowers to qualify for low mortgage interest rates without a down payment.  While borrowers don't have to pay for PMI, they will have to pay an upfront fee of 1% and an annual fee of 0.35% of the loan balance, which is amortized across monthly payments. This typically costs less than traditional PMI.
Direct loans: Issued by the USDA, these mortgages are for low- and very low-income applicants who are without safe housing or can't access a traditional home loan. Income thresholds vary by region. With subsidies, interest rates can be as low as 1%. These loans also offer terms of up to 38 years.
The USDA usually issues direct loans for homes with a market value below the area loan limit. Again, that's a moving target depending on where you live. The limit can be $700,000 or more in pricey real estate markets like California and Hawaii, though most rural areas have loan limits closer to $330,000.
Home improvement loans and grants: These loans or outright financial awards permit homeowners to repair or upgrade their homes. Loans are capped at $40,000, while grants have a maximum of $10,000.  Packages can also combine a loan and a grant, providing up to $50,000 in total assistance. Loan terms are for 20 years with a 1% interest rate. If the borrower sells the home within three years, they'll have to repay any grant money.
Qualifying for a USDA-guaranteed mortgage
Income limits to qualify for a USDA-guaranteed home loan issued by a partner lender vary by location and household size. But the borrower's household income cannot exceed 115% of the median income in the county where their new house is located. To find the income limit for the county where you live, consult this USDA map and table.
USDA-guaranteed home loans can fund only owner-occupied primary residences. Borrowers must also:
Be a U.S. citizen or permanent resident.
Have a proven history of dependable income.
Have a credit history that demonstrates a reliable ability to repay debts, and a score of at least 640 to qualify for streamlined processing. Borrowers without credit history can be evaluated through alternative criteria. 
The monthly payment on the loan — including principal, interest, insurance and taxes — must be 29% or less of the borrower's monthly income. Other monthly debt payments cannot exceed 41% of the borrower's income.
Qualifying for a Single Family Housing Direct Home Loan
The USDA also directly issues loans to certain low-income borrowers. To qualify for a Single Family Housing Direct Home Loan, borrowers must:
Meet income limits, which are designated by county and metro area. Limits can be found here.
Currently be without "decent, safe, and sanitary" housing.
Be unable to meet the qualifications necessary to obtain another kind of mortgage.
Be a U.S. citizen or eligible noncitizen. 
Borrowers who have been prohibited from federal programs won't be eligible for a Single Family Housing Direct Home Loan, and this mortgage can't be used to finance a property that is valued above the area's loan limit. 
Mortgage loans from our partners