6 Financial Tips for Starting a Successful Bakery
Tips to start a bakery include securing equipment financing, building your client base, and controlling expenses.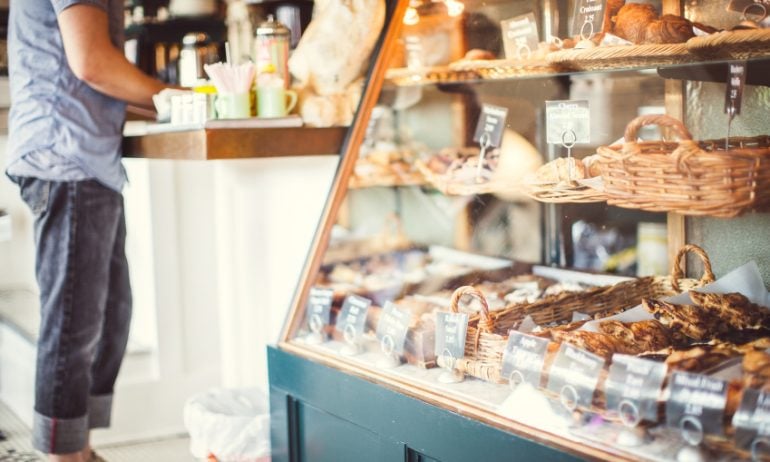 Many or all of the products featured here are from our partners who compensate us. This may influence which products we write about and where and how the product appears on a page. However, this does not influence our evaluations. Our opinions are our own. Here is a list of our partners and here's how we make money.
Bakeries are a staple in most American neighborhoods. They're the go-to spots for birthday cakes, holiday pies and other tasty goods to satisfy a sugar craving. But the business side of a bakery isn't always as sweet.
Starting a bakery can be a costly endeavor, from securing a lease to stocking up on high-quality ingredients — not to mention hiring workers and buying or leasing commercial equipment. Bakery startup costs often range from $10,000 to $50,000, according to Entrepreneur.
That's not to say you can't make money if you do it right. The U.S. has around 6,000 retail bakeries with total annual revenue of approximately $3.8 billion, according to First Research.
Four industry experts share their tips on starting a successful baking business:
Utilize equipment financing, and do it right
"It's super advantageous for the business owner to utilize equipment financing for assets [like a dough proofer, oven, fridge and point-of-sale system]," says Cory Damm. He's the vice president of client services at LeaseQ, an online marketplace for equipment financing.
"This makes sure they keep their credit card, bank line and personal capital for other things that will continuously cost money over time. Save your liquid capital for all the other things you'll need to spend money on, seen or unforeseen.
"When you're considering equipment financing, your first consideration is, do you want to own it? Will it be useful to you longer than you make payments? Let that define what structure option for your finance agreement you choose," he says.
Don't spend money branding everything — yet
"Don't think you need to brand every single item in your shop before you open your doors," says Marlene Goetzeler, president of Retail Bakers of America and owner of Freeport Bakery in Sacramento, California. "If your product goes out in a white paper bag for a while, it's fine.
"If you print up hundreds of bags, boxes, coffee cups and T-shirts, you might find that one of the bags isn't the right size or you decide to switch cups to 16 oz. instead of 12 oz. You will be encouraged by marketing people to brand everything. Be patient and see what you really need before you place a huge order. A lot changes in that first year."
Proactively build your client base
"See if you can work events that you support," Goetzeler says. "Ask if you can set up a table and hand out samples. Bring business cards, but don't use the event as a personal sales event. Be generous, grateful and happy to meet new potential customers. Bring treats to your neighbors in your shopping area. Make sure they know who and where you are. The more word-of-mouth between neighbors and fellow business owners, the better."
Know your break-even point
"As for a small retail bakery like mine that does mostly manufacturing from scratch with no seating, success depends on getting sales up to a break-even point based on your fixed expenses, and then controlling your variable expenses so they fit into a structure similar to this: 25% for cost of goods (ingredients and packaging), 35% for labor, 30% for overhead and 10% for profit," says Paul Sapienza, director of finance for Retail Bakers of America and owner of Sapienza Bake Shop in Elmont, New York.
"This is especially a challenge for manufacturing retail bakeries, since we are usually paying retail rent and using more than half of that space for manufacturing and storage," he says. "Very few of these types of bakeries have opened in the last 15 years. Newer variations include tables and chairs, food and beverages. I've heard it's easier to reach necessary gross profit levels than it is by manufacturing. In any variation, it is important to know where your sales are coming from and the expenses associated with producing each of those categories."
Embrace customer credit cards for payment
"Make sure your customers know you accept them, and your customers will use them to maximize their purchases," says Dennis Stanton, COO of Swedish Bakery in Chicago. "Seems obvious, but some shops don't like to advertise the fact they take plastic, or at least that was the case in the past, simply because they don't like paying the merchant fees. The way we look at it is, it's our job to say yes to our customers, and credit cards help with that. Two other points: In Chicago, at least, the police aren't going to chase down someone who writes you a bad check. Everyone likes cash … you might be surprised at the ways some of our former employees found to help themselves to it."
Don't sacrifice quality for savings
"This is easier said than done, but most bakeries' products cost more than what the consumer will pay at the supermarket," Stanton says. "If the perceived quality isn't higher at your shop, why on earth will customer pay more at your shop?"
You can learn more about the industry and find additional resources on SBDCNet's bakery business page.
Learn about small-business loans
NerdWallet has curated financing options to help meet business owners' needs. If you're not sure what types of funding and terms make sense for your business, you can use our small-business loans tool to see lenders and their loan products. We gauged lender trustworthiness, market scope and user experience, among other factors, and classified lenders into categories to help you find your best options based on criteria that include your time in business and yearly revenue.