Ahola Payroll and HR Solutions Review: Pros, Cons, Alternatives
This payroll and HR service provider matches business owners with dedicated payroll and HR specialists.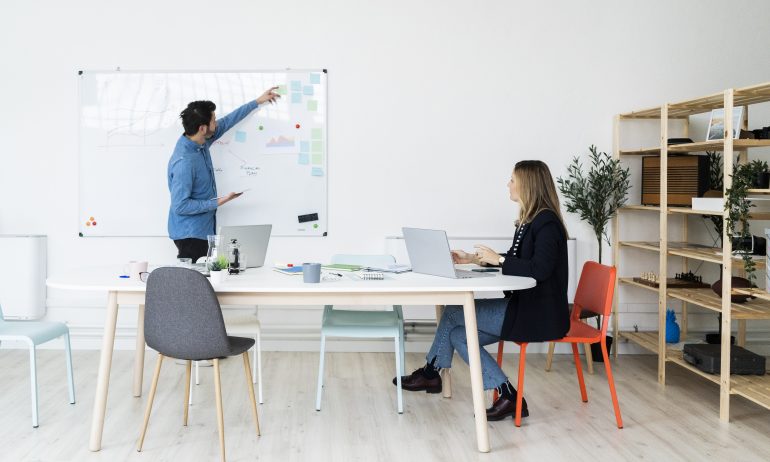 Many or all of the products featured here are from our partners who compensate us. This may influence which products we write about and where and how the product appears on a page. However, this does not influence our evaluations. Our opinions are our own. Here is a list of our partners and here's how we make money.
Ahola Payroll and HR Solutions, a family-owned payroll and human resources service provider, is a good choice for small-business owners who want to outsource certain payroll or HR tasks or get one-on-one assistance. Founded in 1967, it's serviced over 10,000 small businesses with an average of 20 employees each. It specializes in personalized client support and services, unlike payroll software companies like ADP and Paychex, and uses a white-label software platform called People Cloud from the provider iSolved.
Ahola's greatest strength is its specialized support. Its iSolved software is meant mostly for small to medium-size businesses with anywhere between 10 and 250 employees. After onboarding, clients get matched with their own payroll specialist and sales representative who both remain consistent points of contact throughout the life of the account. If a client opts for HR consulting, they're also assigned an HR specialist who can help create an employee handbook, job descriptions and company policies for that business. For business owners who are less concerned with having a team of dedicated specialists, Ahola might not be a good fit.
Dedicated payroll and HR specialists who are familiar with your account.

Payroll specialists can run payroll for you.

Advanced onboarding, training, recruiting and other HR tools.

Outdated software user interface.

Lack of pricing transparency.
How much does Ahola cost?
Ahola's plans are customized and quote-based. Each plan includes payroll services, tax filing and HR software that serves as a sort of electronic filing cabinet. Fully integrated time and attendance software, hiring and onboarding software, benefits administration and HR consulting can be added a la carte for an additional fee. All clients are matched up with a sales representative and a payroll specialist at the bare minimum.
| | |
| --- | --- |
| | |
| | Yes. Ahola automatically files federal, state and local payroll taxes. |
| Ability to manage employee benefits | Good. Ahola clients can add fully integrated iSolved benefits administration software to any plan. Third-party integration with benefits providers is possible, but costs extra. |
| Employee access to portal | Excellent. Employees can request time off, change their personal and direct deposit information, view past pay stubs and track time on the employee self-service site or mobile app. |
| | Excellent. New clients are set up with a payroll specialist and sales representative who will remain with them throughout the life of the account. If their plan includes HR consulting, they will be matched up with an HR specialist as well. They can be reached via direct-dial phone or email during normal business hours. |
| | OK. Ahola's dashboard includes a crowded side menu that isn't as intuitive as the competition. It does, however, include a search function and access to help documents. |
Though Ahola encourages employers to review their own payroll to make sure it's accurate, payroll specialists can run payroll for you as long as they have access to employee time sheets. You decide whether you'd like to review it before it's submitted. In other words, your payroll specialist can help as little or as much as you'd like with the payroll process itself. Clients automatically receive an email once payroll is processed.
Ahola clients who bundle HR consulting services into their plan get access to a wide array of HR tools and employee training courses that create a stronger work culture and establish workplace policies. An HR specialist will help you build a custom employee handbook, company policies, employee satisfaction surveys and job descriptions. And if you don't have much experience interviewing candidates for job openings, that specialist will guide you through the process.
Business owners who choose to purchase Ahola's time and attendance solution can set attendance rules tailored to their employee handbook. For example, maybe employees who work on holidays automatically get paid time and a half. Additionally, the system can be programmed to alert administrators when an employee takes a long lunch or arrives late for their shift. Ahola's time and attendance solution isn't automatically included in clients' plans and is quoted separately.
In iSolved's human resources information system, business owners can track company assets loaned to employees. This feature is especially useful for companies that have a fleet of vehicles or give employees laptops and cell phones for work.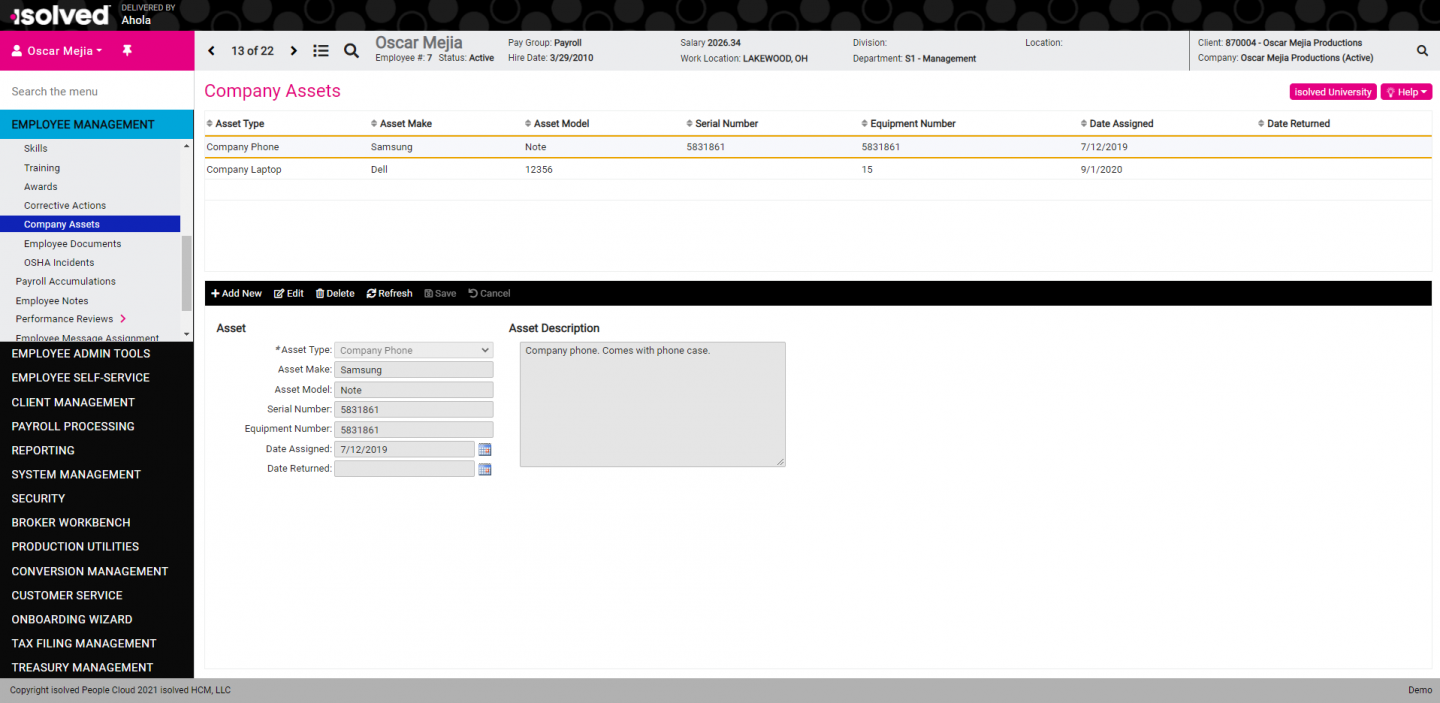 Lacks pricing transparency
Ahola doesn't offer generic plans and customizes every plan based on the client's needs. While this level of customization can be a benefit, the company isn't transparent about average pricing or what the most basic payroll plans could end up costing. This makes it especially difficult to compare it with more traditional payroll software products.
Ahola offers excellent client support, but the iSolved People Cloud software falls short when it comes to user interface. The overall layout looks outdated and isn't as navigable as QuickBooks Payroll or Gusto. The client portal includes a side menu that has tabs for employee management, employee admin tools, client management, payroll processing and more. Each tab expands when you click on it and reveals a long list of functions and capabilities. Without the search bar up top, it could be difficult to immediately find what you're looking for.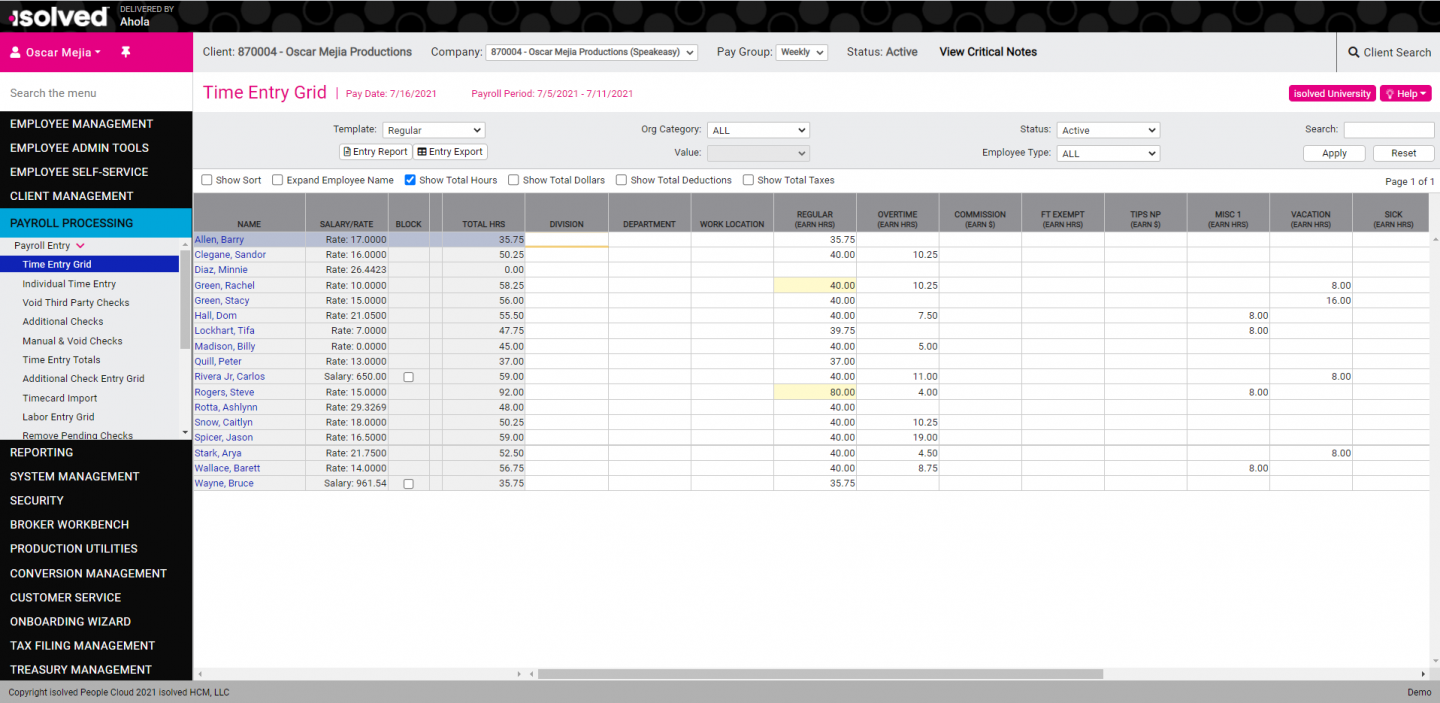 Oasis and Ahola aren't the same type of company, but they have similar customer service models. Oasis is a professional employer organization, or PEO, that combines payroll, HR, compliance services and benefits administration into one package. Like Ahola, the PEO matches clients with dedicated payroll and HR specialists. Working with Oasis can give your employees access to exceptional benefits packages that compete with Fortune 500-level companies too. Plans are customizable and pricing is quote-based.
ADP TotalSource, another PEO, has a team of HR specialists that provide one-on-one support to business owners. It's especially worth considering if you want an all-in-one solution that includes more than just payroll software. Plan pricing is quote-based. The company offers a non-PEO payroll software product for small businesses called RUN Powered by ADP too. With quote-based plans that start at $79 per month plus $4 per employee, it offers varying levels of employee benefit add-ons and HR capabilities.
If you're looking for a payroll solution that emphasizes customer support and HR tools, Gusto is a good choice. All of its plans include unlimited phone, email and chat support as well as online benefits enrollment and an onboarding checklist. The more expensive Concierge plan connects clients with a dedicated support team and lets them create custom employee handbooks. Plans start at $40 per month plus $6 per employee per month.