Amazon Lending 2023 Review: Business Loans for Amazon Sellers
Amazon offers several types of financing products to business owners using its Amazon Seller platform.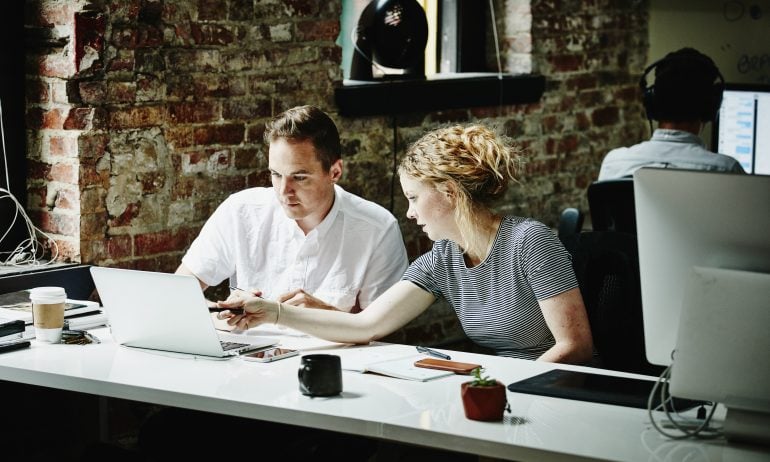 Many or all of the products featured here are from our partners who compensate us. This influences which products we write about and where and how the product appears on a page. However, this does not influence our evaluations. Our opinions are our own. Here is a list of our partners and here's how we make money.
If you're an Amazon merchant, you may have seen an invitation to apply for a small-business loan arrive in your Amazon Seller account. This is Amazon Lending, a program through which Amazon and third-party partners offer business lines of credit, term loans and merchant cash advances that could help you grow your business.
There's not much public information about Amazon Lending, and the company declined to share product details with NerdWallet. Compare your Amazon Lending offer to the same product type from other lenders so you can make sure you're getting loan terms that work for your business at a competitive interest rate. 
Amazon Lending may be a good fit for you if: 
You're already an Amazon seller. Amazon Lending is invite-only and not available to businesses that aren't established on the platform. 

You need the funding. Amazon will proactively invite you to apply for a loan, but you shouldn't accept any financing offer just because it's there. Make sure you have a specific plan for how you'll spend that money, as well as a plan to pay it back.

Amazon Lending has made you a competitive offer. Before accepting, compare your Amazon Lending offer to other lines of credit, term loans or merchant cash advances. You might be able to get better rates and terms elsewhere.
COMPARE SMALL-BUSINESS LOANS
Make smarter decisions by comparing offers from different lenders at Fundera, a subsidiary of NerdWallet.
Amazon Lending pros and cons
Online application process for Amazon Lending as well as third-party lenders.

Amazon Community Lending is offered in partnership with a community development financial institution, which may offer more favorable loan terms to small businesses than other financial institutions.
You can't apply for Amazon Lending products until Amazon has invited you to do so.

Little public information about these products is available, so it may be difficult to know whether you've been offered competitive rates and terms. 

Repayments come directly from your business checking account, which may put you at risk for overdraft. 
Amazon Lending products at a glance
| | | |
| --- | --- | --- |
| | | Amazon offers its own term loans, with applications processed directly in Amazon Seller Central. |
| Amazon Community Lending term loans | Amazon Community Lending, a partnership with Lendistry | Amazon's Community Lending term loans are issued by the community development financial institution Lendistry and can be as small as $10,000. If your offer's APR is competitive, this loan may be a good choice for business owners seeking to expand. |
| | | Amazon business lines of credit may be a good choice for businesses seeking flexible working capital — again, assuming your offer comes with a competitive APR. |
| | Loans provided directly by Amazon Lending | Interest-only loans may keep your payments low initially, but make sure you're ready to make larger payments later. A term loan with amortized, equal payments may be less risky. |
| | | Merchant cash advances are among the most expensive types of small-business financing, and NerdWallet recommends them only as an option of last resort. |
Amazon term loans and Amazon Community Lending
Amazon Community Lending is a program that offers financing to small businesses in "socially and economically distressed communities" in urban and rural areas. Eligible Amazon sellers may be able to borrow between $10,000 and $250,000 with terms as long as five years. These loans are made in partnership with Lendistry, a community development financial institution. 
Amazon also offers its own business term loans, which it makes directly through Seller Central.
If you receive an offer for an Amazon term loan, compare your business loan interest rate to the market overall. Then, use a business loan calculator to understand your payments. If your offer is competitive, this may be a good choice for businesses seeking to add inventory or invest in other expenses, like marketing. 
Amazon merchant cash advances
Parafin, the third-party lender Amazon Lending works with to provide merchant cash advances, offers anywhere from $500 to $10 million in financing. Your offer is based on your Amazon sales history, though you might be able to qualify for more funding with proof of sales on other ecommerce platforms. Parafin does not run a credit check. 
Merchant cash advances are a type of financing that you repay with a percentage of your debit and credit card sales instead of with a fixed monthly or weekly payment. Lenders typically look at your sales history, rather than other factors like your credit score, to determine eligibility. This can make MCAs attractive to business owners who have uneven revenue or spotty credit histories.
However, MCAs often come with confusing fee structures that make them difficult to compare with other kinds of financing. They tend to be more expensive as well, with annual percentage rates, or APRs, that can reach triple digits. In general, NerdWallet recommends MCAs only to business owners who've exhausted all other options.
Amazon interest-only loans 
Interest-only business term loans are uncommon. With these loans, your early payments tend to be small, since you're paying only interest on the amount you've borrowed. But at some point, you'll have to make much larger payments to cover your entire balance. This could put your business in a precarious position.
Amazon does not disclose how long the interest-only repayment period is on these loans. 
Make sure you understand this schedule before agreeing to an interest-only loan. It's also important to have a detailed business plan that lays out a path to increased revenue so that you can keep up with future payments. 
Amazon business lines of credit
Reasons to borrow from Amazon Lending
Easy online invitation process  
Amazon Lending invites you to apply for specific products at specific times. It's easy to accept this offer and complete the application process instead of identifying the right type of business loan and researching lenders on your own. 
To position yourself for the best offer, take the information you get from Amazon and use it to guide your search. Compare the same type of loan product — term loans or business lines of credit, for instance — from other lenders and see whether you qualify for a lower interest rate or longer terms. 
Direct debited repayments
Amazon Lending says repayments for all its loan products are debited directly from sellers' business checking accounts. If you set up automatic repayments, you won't miss one if you lose track of dates and forget to process it manually. This is fairly common among online lenders.
However, it's important to make sure you have sufficient funds in your account when the payment is due. If you're worried about consistently having enough cash on hand, you might want to consider switching to a business checking account with no overdraft fees, or consider other financing options. 
Where Amazon Lending falls short
Little transparency about how your offer might compare with others 
Merchant financing can be very convenient, but it can also be expensive compared to other options. As of this writing, Amazon Lending hasn't published many details about its financing products. Information like minimum and maximum loan amounts, APR ranges and maximum loan terms can help you understand whether you're qualifying for a competitive offer or not — and that information may shape whether you accept an offer or shop around. 
In general, NerdWallet recommends pre-qualifying for loan offers from other lenders before borrowing from Amazon Lending so you can compare loan rates and terms. A lower APR or smaller monthly payments may make a big difference in your cash flow over time. 
You can only apply for the product you're invited to
If Amazon invites you to apply for Amazon Lending, you'll see a card with your option on your Seller Central homepage and you can decide whether to apply for it. However, if your invitation is for a merchant cash advance, for example, you can't apply for a business line of credit. 
It's possible your business wouldn't qualify for a business line of credit. But until you're invited, you don't have a chance to find out — which may tempt sellers to accept a riskier, more expensive form of financing instead of waiting for a better fit. 
If you need funds ASAP, other lenders may be faster 
Amazon Lending takes an average of five days to review applications and provide a financing decision; decision times with third-party lenders can vary. For comparison, some online lenders can provide financing in as little as 24 or 48 hours. 
Amazon Lending alternatives
If you get a financing offer from Amazon Lending, compare it to other products of the same type:
Business term loans: Many of the lenders on NerdWallet's list of best online business loans will make a preliminary loan offer after a relatively simple online application. Comparing the terms of these offers with Amazon Lending's offers can help you choose the best option for your business. 

Business lines of credit: As with online term loans, you may be able to get a preliminary offer for a business line of credit quickly online, then compare that offer with Amazon's. 
And consider these other financing options, as well: 
Microloans: If your Amazon Lending offer is for less than $50,000, consider applying for an SBA microloan or microloan from a nonprofit lender to compare your loan options. Microloans are typically issued by community development financial institutions — like Lendistry, Amazon Lending's partner on term loans — and designed for businesses that are relatively new, small or still developing consistent revenue. 

Business credit cards: If your business is too new to qualify for other business loan options, consider applying for a business credit card. You can use a business credit card to cover your business expenses while you're still developing consistent revenue, then pay it back as you're able — although credit card debt may come with higher APRs than loans. Qualification typically depends on your personal credit score, not your business history.