Best Accounting Software for SaaS Businesses
How do you handle daily accounting while growing your business? With the best SaaS accounting software available.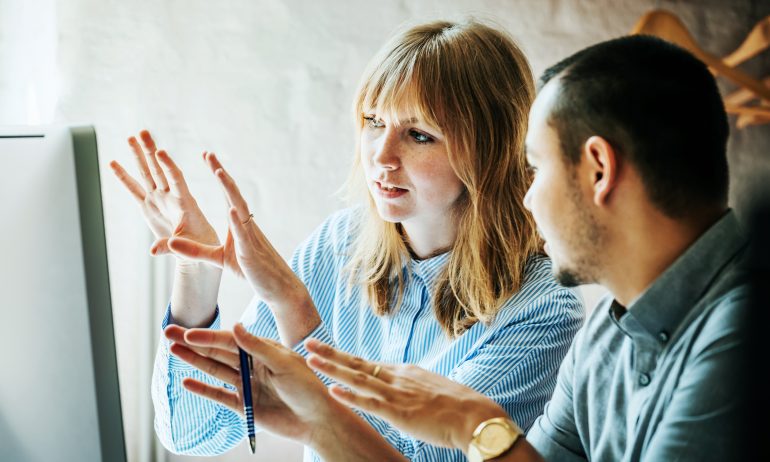 Many or all of the products featured here are from our partners who compensate us. This influences which products we write about and where and how the product appears on a page. However, this does not influence our evaluations. Our opinions are our own. Here is a list of our partners and here's how we make money.
Scalability: Most SaaS companies are growth-minded, meaning you need accounting software that can keep up with your business as it expands.

Automation: SaaS is a fast-paced industry. Nobody wants to spend all their time doing accounting, so you need a solution that is as high-tech as the service you provide. Automation allows you to focus less on your books and more on your business.

Multi-business Support: SaaS encompasses a wide range of business types. Your software needs to provide a solution that can account for that.
One of the top options for the best accounting software for SaaS companies is QuickBooks Online.
You'll have a hard time finding a platform that's as scalable as QuickBooks Online: The software offers different levels of support that accommodate your company's evolving needs as it expands. Plus, the setup is easy and the bookkeeping is intuitive.
Getting more specific, there are several reasons QuickBooks Online is such a good option for SaaS companies:
1. QuickBooks Online requires no manual data entry
We had a chance to chat with Scott Snyder, founder and CEO of Sellution, about how he chose the accounting software for his SaaS company. Snyder says the biggest deciding factor was manual data entry.
"Ultimately, I want to build a data highway between my company and the accounting platform," Snyder says. "When I start thinking about what that looks like, I immediately get concerned about whether or not I'm going to outgrow the solution."
Snyder says that another deciding factor in finding Sellution's SaaS accounting software was how well the software could integrate with other platforms. "I also had to identify limitations of the program's API framework, and whether or not we can build a seamless integration between them," he says.
Luckily, QuickBooks Online offers an open API, which means you can connect your software directly with the platform to push and pull data with zero effort.
2. QuickBooks Online grows with your business
Finding an accounting software platform that will scale as your company grows is another major consideration you need to make as a SaaS company (and, quite frankly, as a business owner in any industry).
If your accounting program can't grow as your company expands, sooner or later you'll be forced to migrate to another platform. This is a huge undertaking, but you can avoid that headache by finding the right accounting platform from the get-go.
QuickBooks Online offers a seamless experience to support your needs as your business expands. When you're just starting out, you can use the basic level, Simple Start, to record your start-up expenses. As you get ready to launch, you can upgrade to Essentials or Plus, depending on your needs.
3. QuickBooks Online makes it easy to track your financial health
Another major consideration when picking the best accounting software for your SaaS company is generating custom financial reports easily.
You'll want to (if not need to) keep tabs on your weekly, monthly and quarterly financial health, and that means digging deep into your books to make sure everything's running smoothly. QuickBooks Online shines in this regard, as it supports fully customizable reports. Their intuitive interface shows you the information you need to know with minimal fuss.
4. QuickBooks Online has a helpful virtual community
Although the software itself is top of the line, what also stands out about QuickBooks Online as a SaaS accounting software is the robust community of QuickBooks Online users.
Most of those users are active on online forums, and they're more than willing to help answer questions about reporting, integrations and general help with navigating the platform.
In fact, there's a QuickBooks Online forum for just about any question — all you need to do is know where to ask. There's even a ProAdvisor community for particularly tricky questions. Plus, QuickBooks ProAdvisors are bookkeepers, consultants, CPAs and other tax preparers with certification on the platform, meaning they can go the extra mile to help you get set up and run your business' bookkeeping.
So, if you run into sticky spots with your SaaS accounting software, know that help is just a click away.
Best accounting software for SaaS companies: Alternatives
Although SaaS companies can do very well with QuickBooks, if you'd prefer to explore your options, there are two additional products we recommend.
FreshBooks is designed specifically for small businesses, so if your SaaS company is still in its early stages, this could be a good option. FreshBooks offers four different small-business accounting solutions — Lite, Plus, Premium and Select Each option is designed for businesses in different stages of growth, with the Lite plan being the least expensive and the Premium plan being the most expensive. The Select plan may very well cost more than the Premium plan, though, as its monthly price is calculated based on the business's specific needs.
The features you get with FreshBooks depend on the plan you sign up for, but all plans come with the following features, which are essential for SaaS accounting:
Invoicing (including recurring invoices and late payment reminders).

Automated expense tracking.

Collaborative tools (file sharing, centralized product conversations).

Reporting (P&L statements, accounts aging).
FreshBooks is available at a price that is comparable to QuickBooks, and it features very similar accounting functionality. This makes it a great alternative to consider for those looking for SaaS accounting. For a limited time, FreshBooks is offering 60% off for six months on Lite, Plus and Premium plans when new users skip the 30-day free trial period and opt to buy now.
Xero is another popular option. Like FreshBooks, there are three different Xero plans you can choose from — Xero Early, Xero Growing and Xero Established — each suited for businesses of different sizes. Features you can expect with all plans include the ability to:
Invite collaborators to work on your Xero account.

Create a variety of business financial statements.

Sync all business bank accounts.

Extend the functionality of your service via the Xero app store.

Contact 24/7 customer support.
Xero also offers a 30-day free trial. We recommend giving it a test run. If it's not to your liking, switch over to QuickBooks or FreshBooks for your SaaS accounting needs.
Picking the best SaaS accounting platform for your business
Whether you're just forming your SaaS company, or have begun to hit your stride and need a seamless way to manage your finances, QuickBooks Online provides a robust way to manage your company's money from top to bottom.
In particular, we recommend QuickBooks Online as the best accounting software for SaaS companies because:
Its cloud-based API lets you effortlessly enter and update your data.

The platform seamlessly scales along with your business.

Its intuitive interface makes it easy to see, analyze and generate reports on your company's financial health.

An active community of QuickBooks Online users is available to answer your questions 24/7.
Bookkeeping and accounting software

Sage 50cloud $48.17 per month (when paid annually) and up.

Wave Financial Free (add-ons available).

Xero $13 per month and up.

Zoho Books $0 per month and up.
A version of this article was first published on Fundera, a subsidiary of NerdWallet.