The 10 Best Cities for Remote Workers in the United States
The top 10 U.S. cities for remote workers met five criteria such as Wi-Fi speed, median rent and cost of living.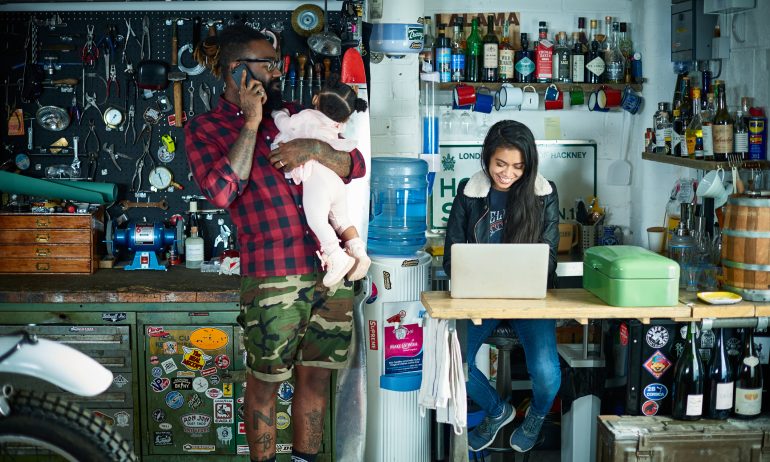 Many or all of the products featured here are from our partners who compensate us. This influences which products we write about and where and how the product appears on a page. However, this does not influence our evaluations. Our opinions are our own. Here is a list of our partners and here's how we make money.
What is the recipe for a great remote city?
From stylish coworking spaces to speedy Wi-Fi and affordable rent options, cities across the U.S. are embracing remote work culture. As remote work opportunities for workers continues to expand, we can expect to see more workers ditch the usual big city metropoles in favor of cities with their own unique offerings.
To discover which U.S. cities offer workers the best remote perks, we analyzed data from the top 100 U.S. cities to see which destinations offer the best Wi-Fi speeds, lowest average monthly rent, most coworking spaces per capita and public Wi-Fi spaces per capita (including number of coffee shops and public libraries).
Suburbs of big metropolises make great remote cities, with Glendale, Arizona, coming in at number one.

Minneapolis, Minnesota, has the fastest Wi-Fi download speeds in the U.S.

Ohio has the most affordable monthly rent in the U.S.

The top 100 U.S. cities offer an average of 16 shared coworking spaces per capita.

Arizona is the best U.S. state for remote workers.
Read on to discover our list of top 11 U.S. cities for remote workers.
Phoenix is the best city overall for remote workers, with three Phoenix suburbs making the top 20 list. If you can stand the desert heat, you'll enjoy a ton of coworking space options and access to free Wi-Fi at over 1,364 nearby coffee shops and six local public libraries in Glendale.
Located just nine miles north of Phoenix, Glendale features affordable rent options outside of downtown. Glendale also calls itself "Arizona's Antique Capital" so you can spend your weekends hunting for antique treasures or taking in desert views.
Cincinnati is the fastest growing economic power in the midwest based on output, and is also the second best city for remote workers in the country. You can enjoy city living at an affordable price in this metropolis as Cincinnati came in third place for affordability. This city also offers lightning-fast Wi-Fi speeds so you can get your job done efficiently.
Frequent travelers and road trip enthusiasts will love the access a midwestern metropolis offers: Cincinnati is within a day's drive to 49.70% of the U.S. population. This means you can take your remote work on the road often, and easily explore everything both the city of Cincinnati and the entire continental U.S. has to offer.
3. Pittsburgh, Pennsylvania
This buzzing cultural hub boasts fast Wi-Fi and access to tons of public libraries, making it the third best city in the U.S. for remote workers. There are 68 colleges and universities in the metro area, which contribute fresh, burgeoning talent to the city and have played a role in transforming the city into a technology and science hub.
Sometimes referred to as "Steel City" as a homage to its manufacturing roots, Pittsburgh has frequently made the Economist's Global Liveability Ranking as the first or second most livable U.S. city. The area attracts families and graduates with its opportunity, green spaces and affordability.
The Jewel of the South came in as No. 4 on our list of best cities for remote workers. Fast Wi-Fi download speeds and plentiful coworking spaces make this an ideal spot for any remote worker looking for a cosmopolitan destination to call home.
Atlanta is known for its arts and theatre districts, offering endless entertainment options, restaurants and more. The Atlanta Beltline is helping connect Atlanta's neighborhoods through walkable green spaces, which encourage residents to get outside. Atlanta is also a famous host city and has hosted world stage events such as the Summer Olympics and the Super Bowl, so you'll never have a shortage of things to do in this city.
5. Minneapolis, Minnesota
If you're looking for a reliable connection, this twin city has you covered: Minneapolis has the fastest Wi-Fi speeds in the entire country. Music fans will love the city's alternative vibe and the mark hometown heroes Prince and Bob Dylan have left on the city.
Also known for its lakes, rivers, creeks and waterfalls, you can spend time exploring outside during the summertime. You'll want to bundle up in the winter months, as the lows have reached -41 Fahrenheit here. To make conditions still liveable during the chill, Minneapolis is home to the largest continuous skyway system in the world, boasting 9.5 miles of pedestrian pathways that connect 80 city blocks.
Sixth on our list is St. Louis, otherwise known as "the gateway to the west." This U.S. city scored moderate-high in every category of our study, making it a really balanced choice for remote workers who want a little bit of everything. St. Louis ranks especially high in public library locations, with 17 branches across the city offering free Wi-Fi and other perks to city residents.
The city's Gateway Arch is the tallest arch in the world and the largest monument in the western hemisphere. The St. Louis Art Museum offers free admission to residents and visitors. St. Louis is also well known for its baseball and beer culture. Barbecue lovers, rejoice: St. Louisans consume more barbecue sauce per capita here than in any other U.S. city.
Coming in at No. 6, Cleveland is the second Ohio city to make the list for best remote work destinations. Affordability makes Cleveland a great U.S. city to live in, as Cleveland is the second cheapest city in the top 100.
Environmental enthusiasts will love Cleveland's environmental protection policies and the numerous parks and nature reserves that call Cleveland home. Time magazine named Cleveland the 7th 'Best Food City' in the nation in 2015, so foodies will feel right at home in this culinary hotspot.
This Dallas suburb is an economic powerhouse and home field of the Dallas Cowboys. Its close proximity to Dallas lets remote workers enjoy a multitude of shared coworking spaces, coffee shops and public libraries all while living in an affordable and lively destination.
Life in Irving is full of Tex-Mex, summer festivals, trails and sports enthusiasts. The surrounding lakes and rivers make paddle boarding a favorite activity among residents and the nearby international Dallas-Fort Worth airport, covering almost 27 square miles, makes traveling to new destinations a breeze.
9. Jersey City, New Jersey
Like Irving and Glendale, Jersey City lets you enjoy big city life with a better price tag. In fact, you'll be close to more coworking spaces per capita than any other city in the country. Jersey City is part of the New York metropolitan area and traveling into the city is a breeze on mass transit — Jersey City is less than 10 minutes from the World Trade Center on the PATH. Jersey City's Liberty State Park also enjoys easy access to the Statue of Liberty and Ellis Island.
Remote workers can enjoy neighborhoods of every style in Jersey City, from swanky downtown lofts to affordable houses, and unlike New York City, Jersey City is far more car-friendly.
Of the top 10 cities for remote workers, Washington, D.C., boasts the biggest price tag, but it makes up for the costs with fast Wi-Fi speeds and access to tons of coffee shops and coworking spaces. It's also a great city to make connections in, as it calls tons of corporate headquarters and 177 national embassies home.
The capital of the United States is notably rich in history, monuments and museums. There is also a bustling nightlife scene, with tons of great restaurant options and cocktail lounges to choose from. If you are politically engaged and able to foot the price tag, Washington D.C. is a great destination for remote work.
In order to determine the best cities for remote workers, we compared a sample of the top 100 most populated U.S. cities. Our sample for overall best city excluded cities in the surrounding metro area.
We rated each city on a weighted scale of these five factors:
Coworking spaces: 30 points

Public library access: 10 points
Our calculations revealed that while some larger cities made the list, three of the top remote work destinations were in suburbs of larger metropolis destinations. The proximity to larger cities lets remote workers get the best of both worlds: access to workspaces and Wi-Fi combined with affordable rent access.
Sources: Data used in this study were found from Ookla, City-Data, World Population Review, Yelp, Public Libraries, Wikipedia, Buffer, Igloo and Evernote.
This article originally appeared on Fundera, a subsidiary of NerdWallet.