14 Best Coffee Shop Franchise Opportunities
Compare the best coffee shop franchise opportunities, including initial investments and franchise fees.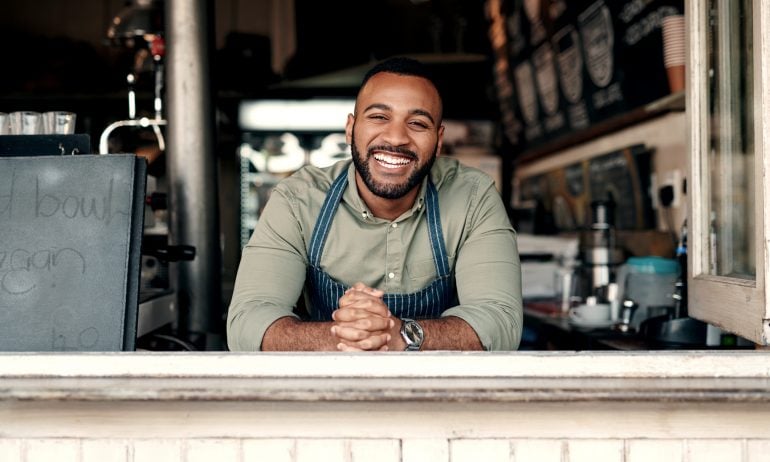 Many or all of the products featured here are from our partners who compensate us. This influences which products we write about and where and how the product appears on a page. However, this does not influence our evaluations. Our opinions are our own. Here is a list of our partners and here's how we make money.
If you're looking to start a franchise, a coffee shop franchise can seem attractive. In 2021, the coffee industry generated over $81 million in revenue. Americans are obsessed with coffee, and many can't start their day without a strong jolt of caffeine.
But there are many coffee shop franchises out there. Which one do you pick? What coffee shop is best for your business and your location? Below, we've rounded up the best coffee shop franchises, along with the brand culture and various franchise fees.
Total initial investment: $256,500 to $702,000.

Royalty fees: Ongoing royalty fee of 8%, ad royalty fee of 4.5%.
Aroma Joe's Coffee was founded by two sets of brothers in 2000. If you're based in Maine, New Hampshire, Florida, Massachusetts, Pennsylvania or Vermont, then Aroma Joe's Coffee might be worth considering for your next coffee shop franchise venture.
Aroma Joe's strives to keep a smaller ecological footprint. It offers services at drive-through units and walk-in stores that range from 50 to 1,200 square feet. This smaller-scale storefront is also a perk that helps keep real estate costs down. For first-time Aroma Joe's franchisees, you'll pay a $15,000 initial franchise fee. The company offers discounts for veterans. You'll also need to have $50,000 to $70,000 in liquid capital to start.
2. Maui Wowi Hawaiian Coffees and Smoothies
Total initial investment: $63,900 to $554,000.

Agreement length: 10 years.
Maui Wowi was founded by Jeff and Jill Summerhays in 1982 and has departed from the cozy coffee shop atmosphere. Rather, Maui Wowi offers a laid-back, Ohana-oriented environment with its tropical branding.
This family-minded culture extends to the franchise network, with one testimonial saying how Maui Wowi "is a collaborative system with a genuine feeling of helping one another grow, thrive, and be successful."
To join the franchise network, Maui Wowi charges a $30,000 franchise fee and recommends that you have at least $40,000 to $50,000 in liquid assets.
3. Dunkin' (Previously Dunkin' Donuts)
Total initial investment: $395,500 to $1,597,200.

Royalty fees: Ongoing royalty fee of 5.9%, ad royalty fee 5%.

Agreement length: 20 years.

Franchise fee: $40,000 to $90,000.
Dunkin' was founded in 1948 by William Rosenberg and the number of franchises since has exploded. As of 2021, there are over 9,000 locations in the U.S.
To join the Dunkin' franchise network, you must have at least $250,000 in liquid assets. The franchise fee varies by state, and you need to contact the team directly to confirm.
4. The Coffee Bean and Tea Leaf
Total initial investment: $183,250 to $615,500.

Agreement length: 10 years.
Founded in 1963 by Herb Hyman, The Coffee Bean and Tea Leaf prides itself on selling only top-quality coffee. On the website, it describes how the coffee beans are sourced from "mountaintop to countertop" using the top 1% of Arabica beans found in East Africa, Latin America, and the Pacific.
From California, the company has expanded to over 1,200 stores worldwide. You'll find stores in airports, university campuses and military bases. The company's website doesn't state a minimum liquid asset requirement, but it's recommended that you submit a form to inquire.
Total initial investment: $331,000 to $638,000.

Royalty fees: Ongoing royalty fee of 6%, ad royalty fee of 2%.

Agreement length: 10 years.
Drive-through coffee kiosks are making it easier for Americans to grab coffee on the road and still make it to work on time. Scooter's Coffee is making this a reality with its many coffee kiosks popping up nationwide.
Scooter's Coffee says it serves responsibly sourced coffee to its customers, all from 550-square-foot drive-through stores. Founded in 1998 and with locations in over 25 states, Scooter's Coffee seeks entrepreneurs to open and run their own coffee kiosks.
To open a Scooter's Coffee location, you'll need to pay a $40,000 franchise fee and have at least $100,000 in liquid capital.
Total initial investment: $109,146 to $154,621.

Royalty fees: $175 a week.

Agreement length: 10 years.
If you're seeking an innovative coffee shop franchise, then Cafe2U might be worth considering. Cafe2U reigns as one of the world's largest mobile coffee franchises. That's right, Cafe2U is coffee on wheels.
Targeting mostly businesses and special events, Cafe2U serves customers from a van, which is staffed with baristas.
The initial franchise fee is $25,000, which covers the Ford Transit Connect van that brings coffee directly to your customers.
Total initial investment: $186,850 to $369,100.

Royalty fees: Ongoing royalty fee of 6%, ad royalty fee of 3%.

Agreement length: 10 years.
Biggby Coffee was founded in 1995 and has expanded to over 200 locations nationwide as of 2019. This coffee franchise is looking for people to open and run stores in Michigan, Florida, Illinois, Kentucky, Ohio, South Carolina, Texas and Wisconsin.
Biggby Coffee has also lowered its franchise fee by 50% to $15,000 to reduce startup costs and encourage entrepreneurs to start their own coffee franchise under the Biggby Coffee brand.
Total initial investment: $385,200 to $609,600.

Royalty fees: Ongoing royalty fee of 5%, ad royalty fee of 3%.
Dunn Brothers Coffee roasts coffee directly in front of customers. Like many coffee shops, Dunn Brothers Coffee also offers pastries and baked goods.
The entry barrier to open your own Dunn Brothers Coffee is quite high. In addition to a $37,500 franchise fee, all franchise applicants must have $100,000 in liquid assets and a $500,000 net worth.
Dunn Brothers Coffee offers extensive support to its franchisees. The company will help you write a business plan and obtain franchise financing.
Total initial investment: $185,000 to $472,500.

Royalty fees: Ongoing royalty fee of 4%, ad royalty fee of 2%.

Agreement length: 10 years.
Coffee Beanery was founded by a husband and wife in 1976. This coffee shop franchise, originating in Dearborn, Michigan, was one of the first to offer specialty coffee in the area. Today, it offers coffee, tea, and now bags of its own specialty coffee blends for customers to take home.
Coffee Beanery has nearly 100 locations, most of which are located toward the East Coast. The initial franchise fee to open a Coffee Beanery location is $15,000.
Total initial investment: $187,000 to $305,000.

Royalty fees: 6% of gross revenues received from the previous week's operations weekly, marketing and technology fund fee of $350 per month, $500 each month or 1% of your gross revenues each month, whichever is the lesser amount, on local advertising expenditures.

Agreement length: 10 years.
If you want to work under a family-owned brand with an extensive history, consider Cafe Barbera. This coffee franchise has been operating since 1870. That's right, this brand is over a century old. Cafe Barbera serves authentic Italian-roasted coffee.
Cafe Barbera opened its doors for franchising as recently as 2004 and has since expanded to Canada and Mexico. The initial franchising fee is $35,000 with a total investment ranging from $187,000 to $305,000.
Total initial investment: $211,625 to $738,375.
What sets The Human Bean apart from other coffee shop franchises is that it doesn't charge royalty or marketing fees based on a percentage of your sales. Rather, its revenue is generated largely from sales of coffee and supplies.
Store locations are concentrated on the West Coast, with many in California and Oregon. With its double-sided drive-through locations, The Human Bean allows drivers grab their coffee and go. If you intend to open a Human Bean franchise, you can expect fees to start at $30,000.
Total initial investment: $168,900 to $566,000.

Royalty fees: Unspecified weekly fee.

Agreement length: 10 years.
PJ's Coffee boasts 100% Arabica coffee sourced from Finca Terrerito or Agua Fresca. Originating in New Orleans, this coffee chain has branched out to other states and even internationally, to Vietnam and Kuwait.
PJ's Coffee's franchise support system will help you with site evaluation, design and construction, and even training and education. This support can be especially useful for first-time franchisees who need more assistance. The franchise fee is $35,000 for a single unit but discounts are available for multi-unit opportunities.
Total initial investment: $250,000 and up.
If Parisian-style branding interests you, then Brioche Doree is a coffee franchise to consider. Brioche Doree leans more toward a cafe bakery than a coffee house, serving French-inspired coffee and pastries. Brioche Doree was founded in 1976, but started franchising in 2013.
If you're interested in becoming a Brioche Doree franchise partner, visit its website to obtain information on the total initial investment and franchise fee.
Total initial investment: $84,500 to $107,000.

Royalty fees: Ongoing royalty fee of $0.11-$0.15/cup, ad royalty fee of 1 to 3%.
Why sell coffee when you can sell the coffee system? That's what Xpresso Delight is doing by using a "coffee-as-a-service" model as a unique selling point. Xpresso Delight delivers coffee to businesses through an automated espresso coffee system.
As a member of this franchise, you will arrange the delivery and installation of the coffee systems. For regular maintenance, you will also arrange cleaning of your coffee machines at least once per week. The initial fee to join this franchise is $37,500.
You're probably looking at this list of coffee shop franchises and thinking that we missed a big one.
It might surprise you that Starbucks isn't a coffee shop franchise. Starbucks wanted to retain its company culture, which can potentially get muddled through the franchise network. For this reason, you're unable to buy a Starbucks franchise. The company owns all of the Starbucks locations within the U.S.