How to Use GoFundMe for Business Startup Funding
Learn how to use GoFundMe for business startup funding and review the pros and cons of crowdfunding with GoFundMe.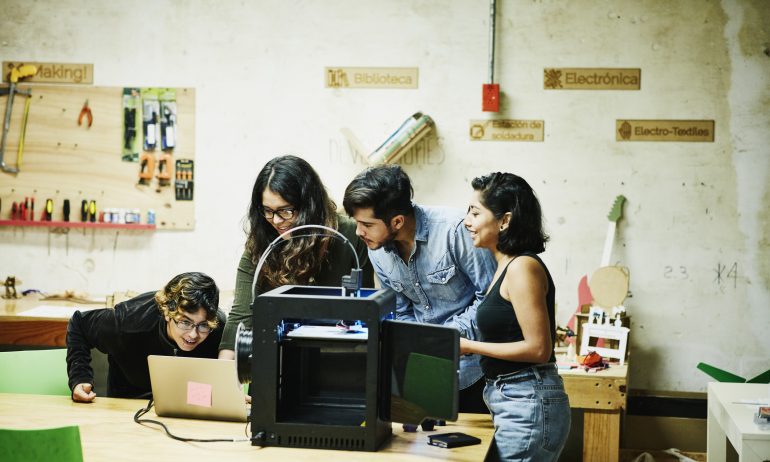 Many or all of the products featured here are from our partners who compensate us. This influences which products we write about and where and how the product appears on a page. However, this does not influence our evaluations. Our opinions are our own. Here is a list of our partners and here's how we make money.
GoFundMe business campaigns allow businesses to reap the benefits of crowdfunding—essentially accessing funding that doesn't involve taking on business loan debt or diluting equity. That said, creating a successful GoFundMe business campaign will take a fair amount of investment, marketing and time.
Whether you're just starting up, raising money in a dry spell or seeking funds for an exciting opportunity, crowdfunding might seem like the logical choice. With all of the success stories swirling around the internet of entrepreneurs who raised money for their businesses through crowdfunding, it's easy to get caught up in the hype. And that's especially the case when it comes to GoFundMe, which is one of the top crowdfunding sites on the internet.
However, before you choose to create a GoFundMe business campaign, it's crucial you take some time to understand the benefits and the downsides of relying on GoFundMe for business capital needs.
GoFundMe is a crowdfunding website that allows individuals, businesses, charities and organizations to raise money for specific causes, to lend support and for individual use cases.
You probably know of crowdfunding in a personal context—people fundraising for a cause or particular person in need—but let's look at how it works in the context of raising capital for a business.
Overall, crowdfunding is a method of fundraising typically used to raise money for business ventures, personal projects, nonprofits and more through the collection of small amounts of funds from a large number of contributors.
When it comes to your business, instead of securing a large lump sum from one or two sources, you secure many small donations from various sources to reach your business capital needs.
How to create a GoFundMe campaign for your business
One of the biggest perks of financing your business with GoFundMe is simplicity. Especially when compared to your other business funding options that often come tied with bureaucracy and paperwork, GoFundMe business fundraising is remarkably user-friendly and democratized.
You can reap the benefits of a GoFundMe campaign for your business in seven straightforward steps.
Step 1: Check eligibility requirements
Not all businesses are eligible to raise funds on GoFundMe. Before you dive in and begin planning your business campaign, it's important to check out the GoFundme starting requirements to ensure your business meets all of the requirements. Some general requirements include:
Social security number or ITIN

U.S. bank account in your name

Must be at least 18 years of age
Step 2: Create an account
Next, you'll need to create an account for your business on the GoFundMe platform. You can easily set up your account using your computer or mobile phone.
Once you have an account, you can customize your settings to create an individualized URL that includes your business or campaign name.
Step 3: Create your campaign
Start by conceptualizing the fundraising campaign you want to create. Think about past campaigns you've seen and what appealed to you as a potential donor, then see if you can incorporate similar tactics.
You should ideally create your campaign around a story. Even if the motivation for the campaign is something as simple as buying a new piece of equipment, explain why that equipment is key to your business success and why you need it. Explain to potential donors where their money would go and how it would help your business succeed.
Once you have the storyline picked out and the idea for your campaign decided, it's time to make your GoFundMe page creative and appealing. Use images and videos to illustrate your business, a good fundraising title and a thorough description of your campaign can also go a long way in making your business funding more successful.
Step 4: Set a funding goal
You probably already have an idea of the amount of money your campaign needs to raise to be considered successful. At this stage, you'll want to set a monetary goal, keeping in mind the fees and expenses GoFundMe will charge you. While they don't charge a platform fee, you can expect a 2.9% + $0.30 fee per donation.
Of course, you also want to ensure you set a realistic goal that's achievable based on how much money you think your average target can contribute.
Step 5: Share your campaign
Next up, you'll need to raise awareness around your business's GoFundMe campaign.
Like most other businesses that crowdfund, your business's finances will likely end up coming mostly from your first-, second- and third-degree connections. So don't be shy. Use your social media channels and other means of communication to let people know about your campaign and where they can go to contribute.
Take to your business's Facebook, Twitter, Instagram, Pinterest and Tumblr. Any account that you and your business have, share your campaign's link with an attention-grabbing caption.
If you and your business don't have social media, sign up for channels to help spread the word. You should also consider sharing your campaign in person at social events or enlisting supporters who have a strong social media presence to share your campaign on a regular basis.
Step 6: Start receiving donations
With your campaign built and the word spread, it's time to start receiving donations.
As they roll in, you'll be able to withdraw the proceeds even before you meet your goal, and doing so won't affect your campaign's progress tracker, either.
If you're offering incentives to donors, like a social media "thank you" shoutout, or another small gift, be sure to keep up with those.
Lastly, after your campaign is over, you can enjoy the results.
Use your proceeds toward your campaign objective, send out thank you notes or gifts quickly and send updates to those who donated to your campaign.
Make sure to highlight the money being put to use for your business so your donors know that you used their funds properly. This will help if, in the future, you need to fundraise again.
The pros and cons of using GoFundMe
Now that we've gone over how to use a GoFundMe business fundraising campaign, let's take a look at the precise reasons why you might do so.
Some of these reasons will apply to crowdfunding at large, while others will apply to GoFundMe specifically.
Secure payments: With GoFundMe, you can rest assured that your donors' payments are processed securely. In the unlikely chance of a mishap, GoFundMe guarantees any payment made on their site and they'll refund any discrepancies.

Flexible withdrawal: GoFundMe allows you to withdraw your campaign's proceeds while your campaign is still running. Let's say you're attempting to raise $100,000 to buy a new storefront for your business, but you need to make a $10,000 down payment earlier than you expected. Your campaign has only raised $20,000, but that's okay. You'll be able to withdraw the $10,000 your business needs. With GoFundMe, you can withdraw your proceeds as you need, even if your campaign is still running or your total goal hasn't been met yet.

Won't charge your donors: Additionally, GoFundMe won't charge your donors any sneaky fees that might deter them from contributing to your campaign. Indeed, GoFundMe is remarkably transparent about the fees that they impose and the onus will never fall on your donors to pay any of the fees that keep GoFundMe running.

No penalties if you don't reach your goal: Some crowdfunding sources come with an ultimatum built into any campaign you run with them—if you don't reach your goal, then you don't get your campaign's proceeds. While this might be an impetus for donors to help you reach your goal, it's more often than not a bigger source of stress than it's worth. This isn't a feature of GoFundMe, though; so you can rest easy knowing that, even if your campaign underperforms slightly, you'll still have access to your well-deserved proceeds.

Mostly non-taxed personal gifts: Though this is in no way an all-encompassing rule for GoFundMe donations, most donations made through GoFundMe for businesses are considered "personal gifts" and, as such, aren't taxed.

Fast email support: While GoFundMe business campaigns are relatively straightforward, questions could still come up in the process. In this case, you'll be able to get in touch with GoFundMe's customer support in as little as five minutes if you reach out to them during typical business hours.
With all that said, it's time to take a look at the downsides of raising money for your business through GoFundMe and crowdfunding more broadly.
Platform and processing fees: One main downside of raising money for your business through GoFundMe—and crowdfunding platforms generally—is that you won't receive the full amount of each donation. The platform will take a cut as well. While most crowdfunding platforms charge both platform and payment processing fees, GoFundMe only charges a payment processing fee of 2.9% + $0.30.Of course, these fees can certainly add up, so be sure to keep them in mind.

More work for you: Put simply, running a successful GoFundMe business fundraising campaign will require a lot of creative framing and marketing on your part. Even though the steps of setting up a GoFundMe campaign for your business are straightforward and user-friendly, actually taking those steps is a bit more complicated. If you want to raise a lot of money for your business, get ready to do a lot of creative marketing and outreach. Put simply, you're probably going to have to reach out to a lot of friends, family and customers to get your business's GoFundMe some real momentum.

Smaller amounts: Finally, you're probably not going to be able to secure as much funding with crowdfunding as you would with more traditional business funding sources. Unless your campaign goes absolutely viral, it's pretty likely that your fundraising proceeds won't be able to match the cash or credit that you can get through business loans or business credit cards.
Alternatives to crowdfunding
It's easy to get hyped up about the idea of crowdfunding. No debt, credit check, or onlooking investors—no problem. Right?
Though the upsides to crowdfunding are undeniable, it's important to recognize when crowdfunding isn't the right move for your business.
Crowdfunding may not be right for you if:
You don't have the time or resources to do it right. If you're not able to share and frame your campaign properly, then crowdfunding probably isn't the best option for your business's financial needs.

You need a guaranteed, specific amount of financing. Unfortunately, this way of fundraising is far too unpredictable to bank on. If you need a guaranteed, specific amount of money for your business, then look to a more traditional source of funding—like a business loan or a business credit card—to secure it.
If crowdfunding isn't the perfect fit for you, here are your best alternatives for securing funding that isn't crowdsourced.
0% intro APR business credit cards
If you're considering running a crowdsourcing campaign in order to make a big-ticket purchase for your business, this type of credit card is a worthy alternative to buy what you need now and pay it off gradually over the year. Just make sure you have a plan to pay off your balance before the introductory period ends, or a variable APR will set in and you will owe interest.
If you were considering GoFundMe for business because you need quick, easy-to-access business funding, then a short-term loan might serve you well.
Short-term loans are quicker, more accessible versions of traditional business term loans. Generally speaking, business owners with personal credit scores of 550 or above, at least one year in business and $50,000+ in annual revenue can qualify for short-term loans. Not to mention, short-term loans can range in size anywhere from $2,500 to $250,000.
Plus, if you qualify for a short-term loan, you can get funded in as little as one business day.
Though securing a short-term loan might require a bit of paperwork, it would be nothing compared to the effort you'd have to sink into a successful GoFundMe business campaign.
with Fundera by NerdWallet
Frequently asked questions
Can I use GoFundMe to start a business?
Is GoFundMe or Kickstarter better for businesses?
Can my small business donate to a GoFundMe?
Put simply, GoFundMe—and crowdsourcing at large—isn't a reliable source of funding. Even the best-laid plans for fundraising often go awry. We suggest you look for another main source of business funding and consider any crowdfunding you do to be supplementary, like cherry-on-top funding for your business.
This article originally appeared on Fundera, a subsidiary of NerdWallet.