GoodHire Background Check Review 2022: Cost, User Reviews, Top Alternatives
This GoodHire review explains which services GoodHire can offer employers and how much their services cost.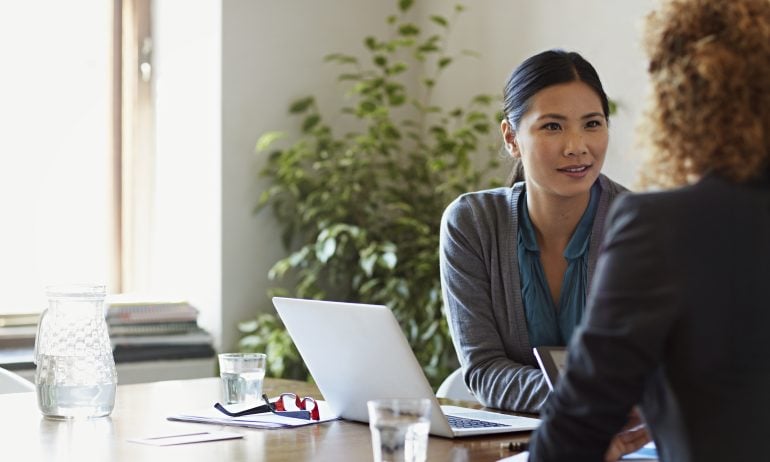 Many or all of the products featured here are from our partners who compensate us. This influences which products we write about and where and how the product appears on a page. However, this does not influence our evaluations. Our opinions are our own. Here is a list of our partners and here's how we make money.
The process of reviewing and hiring new employees can be nerve-wracking. How can you be as certain as possible that potential new hires are reputable, trustworthy — and at the very least, are who they say they are? Easing those concerns is exactly what background check services and software, like GoodHire, are designed to do.
First and foremost, GoodHire provides small-business owners and HR managers with fast, tech-forward, legally compliant and comprehensive background checks for both prospective and current employees — which GoodHire makes as easy as possible for you.
When you order a GoodHire service package, you'll enter your employee's name and email and GoodHire will do all the heavy lifting for you, providing both you and your candidate with a transparent background check process that remains compliant with FCRA (Fair Credit Reporting Act), EEOC (Equal Employment Opportunity Commission) and other legal requirements. You'll also receive a mobile-optimized employer dashboard on which you can track and manage the results of your background checks and any other services you've ordered from GoodHire, plus order new checks whenever you need them.
Then, GoodHire shares the results of your employees' background checks on an easily navigable interface that clearly breaks down all relevant information (It also provides employees with copies of their test results, in accordance with FCRA). GoodHire is equipped with some unique tools designed to automate, streamline and optimize the process for both HR managers and candidates, too — for example, candidates have the option to comment on the results of their background checks to provide context if need be. GoodHire integrates with major HR software and platforms, too, like Lever, TriNet and Jobvite.
As an employer, you'll also have the option of running a background check on yourself so you understand how the process will work for your employees. GoodHire is capable of running background checks on U.S. hires who have lived, worked or studied internationally, too.
In addition to background checks, GoodHire can provide employers with employment credit checks and reports, pre-employment five- and 10-panel drug testing, health care sanctions searches and license verifications for health care professionals and identity verification checks to ensure that prospective employees aren't using stolen identities. You can also opt to receive alerts about changes in your employees' background check information and ongoing reviews after you've hired them (don't worry — this ongoing alerts option is compliant with consent laws). And if you run into any questions or concerns, you can contact GoodHire's Omaha, Nebraska-based customer support team via chat, email or phone.
GoodHire segments its pricing into two categories: lower volume, for businesses that require up to 50 background checks per year; and higher volume, for businesses that need more than 50 checks annually. Higher volume businesses can receive a custom quote by providing GoodHire with some basic information about their business, plus their expected number of background checks per year.
Lower volume businesses can choose among three GoodHire service plans. Here's what each plan costs, plus its available features:
Basic: $29.99 per background check, plus a one-time setup fee. You'll receive a Social Security number trace, an associated counties search, a national criminal databases search and a sex offender list search. These background checks will take one business day to complete.

Standard: $59.99 per background check, plus a one-time setup fee and potential third-party fees for a county court search. This plan comes with everything included in the Basic plan, plus a domestic watch lList search and a seven-year county criminal court search. Standard background checks are processed in one to three business days.

Premium: $79.99 per background check, plus a setup fee and possible county court, employer verification and education verification fees. This plan offers education verification and employer verification checks, in addition to all the services offered on the Standard plan. Premium background checks are processed in two to four business days.
Also note that you can select add-on services within any of the GoodHire background check categories mentioned above. For example, you can choose to add on an alias names search, a global watch list search, a federal criminal database search and/or a statewide criminal records search as a part of your national criminal databases search service. Some of those add-on services require an extra fee, so take a look at GoodHire's pricing page for a complete list of costs.
GoodHire receives largely positive reviews across major review platforms — the software receives 4.5 out of 5 stars on Capterra, 4.5 out of 5 stars on G2 Crowd, 4.6 out of 5 stars on Consumer Affairs and an A+ Better Business Bureau rating (it's accredited by BBB, too).
Among other accolades, positive reviews cite GoodHire's speedy results, user-friendly interface and easily navigable tools, thorough tests and that the software can be integrated with third-party applicant tracking systems and other HR software. Most users also appreciate GoodHire's excellent customer service team and claim that their accounts' dedicated representatives respond to questions and concerns quickly and courteously.
Negative reviews of GoodHire are rare, but we have seen a handful of complaints. One reviewer found the service too expensive, another found it difficult to access archived background check results, another claimed that the software's estimated turnaround time is often inaccurate and others wanted the option to expedite background check results. However, many of these reviewers note that their complaints are minor and most would still recommend this software to other small-business owners.
Although GoodHire comes highly recommended by other small-business owners, it's always a good idea to compare your options.
Checkr is the background check service of choice for some of the world's biggest companies, including Uber, Lyft, Grubhub and Zillow. Like GoodHire, Checkr leverages technology to deliver quick, accurate and comprehensive background checks on a user-friendly, mobile-optimized interface. Checkr's background screenings cover similar ground to GoodHire's, including a Social Security number trace; a thorough criminal records check; a driving records check; employment, education and personal and professional reference checks; a credit check; and several drug screening options. Plus, Checkr offers all of these screening services a la carte, so you'll only pay for what you truly need.
Checkr is NAPBS accredited, FCRA- and EEOC-compliant and it has an in-house compliance and legal team; and as a tech-forward company, Checkr offers full API integration. Checkr's pricing is quote-based, so you'll need to contact Checkr's sales team through its online form to request your pricing information.
Since 1982, Justifacts has provided both small businesses and enterprises with thorough, legally compliant pre-employment background checks for candidates, as well as post-hire and ongoing screening services for current employees. Along with a dedicated account manager, Justifacts clients receive access to Justiweb, the company's proprietary background screening software on which you can track and manage your reports in real-time. Typically, reports are delivered within 48 to 72 hours after ordering.
Among other certifications and accreditations, Justifacts is NAPBS accredited and completed the NAPBS FCRA Advanced Certification Program and Testing. Justifacts offers quote-based pricing, so you can get in touch with the company either through an online form or by phone for more information.
AccurateNow may be the best choice on this list for very small businesses with limited hiring needs, as this background check service offers pay-as-you-go packages and an ultra-simple process: All you need to do is register for an account by providing some basic information about your business, electronically sign a user agreement and sign up for whichever service package best suits your needs and budget. When you order background checks through AccurateNow, your candidate will receive an invitation to provide their name and email and AccurateNow will run a report according to the package you've purchased.
AccurateNow offers three service plans that range from $29.95 to $74.95 per report, plus a one-time $25 setup fee. Each reporting plan increases in thoroughness, but the most basic plan includes a Social Security number trace and address history check, a current county criminal search, a national criminal check with county verification and a national sex offender registry check. You can also select add-on services (like employment, education or professional verification) for an extra flat fee.
A version of this article was first published on Fundera, a subsidiary of NerdWallet.