Gym Equipment Finance: Your Top 5 Options
There are different gym equipment finance options to fit your situation, whether you want to own your equipment or lease it for a set period of time.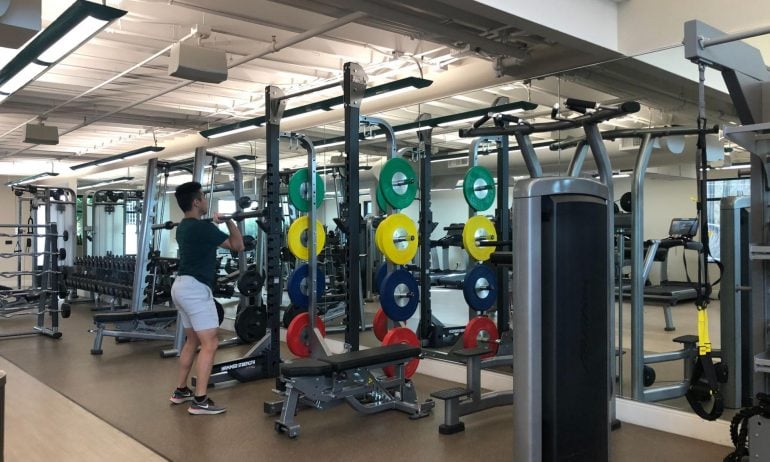 Many or all of the products featured here are from our partners who compensate us. This influences which products we write about and where and how the product appears on a page. However, this does not influence our evaluations. Our opinions are our own. Here is a list of our partners and here's how we make money.
Financing the equipment you need for your gym can be a good alternative to buying it outright. SBA loans as well as equipment loans and leases offered by online lenders can provide you with the money you need to purchase fitness equipment for a commercial gym. Plus, the gym equipment purchased with the proceeds of a small-business loan acts as collateral for the loan.
Equipment financing can offer lower eligibility requirements than unsecured loans and allow small-business owners to get the equipment they need without a large outlay of cash. The type of financing you choose can depend on whether you want to own the equipment at the end of the agreement or replace it with something newer.
Top 5 loans for gym equipment
with Fundera by NerdWallet
If you're looking for the most affordable equipment finance option, then start your search with SBA 7(a) loans. The Small Business Administration provides partial guarantees for these small-business loans that can go toward a variety of expenses — including equipment purchases.
SBA 7(a) loans offer interest rates of 11.5% to 15%, loan amounts up to $5 million and come with repayment term lengths of up to 10 years.
To be eligible for an SBA 7(a) loan, you'll need to meet the following requirements:
Operate as a for-profit business in the U.S. or territories.

Have a credit score of at least 650.

Unable to access credit on reasonable terms from other sources.
SBA CDC/504 loans — although typically used to purchase commercial real estate — are another SBA loan program that can be used to finance the purchase of gym equipment. Generally, the equipment purchased with the proceeds of an SBA CDC/504 loan will need to have an estimated life of at least 10 years, although financing may be permitted if the equipment is a minor portion of the loan and is essential to the operation of the business.
SBA 504 loans have the same requirements as 7(a) loans, with additional requirements:
Have a net worth of less than $15 million.

Average net income of less than $5 million after federal income taxes for the two years prior to application.

Create or retain jobs or promote other public policy goals.
Balboa Capital offers financing options that may be more accessible for startup gyms and borrowers who need more flexible credit requirements. Financing up to $500,000 and repayment term lengths of two to five years are available through this online lender.
Balboa Capital offers equipment leasing instead of equipment financing. Similar to a loan, you'll make regular payments for a set period of time with a lease. However, depending on your agreement with Balboa Capital, you're not guaranteed to own the equipment at the end of the term, but may have the option to buy it. Leasing can be a good option if the equipment you need becomes outdated quickly and you want to update within a few years.
Although not specifically for gym equipment, Balboa Capital also offers small-business loans from $20,000 to $250,000 with term lengths of three to 24 months. If you qualify for financing with Balboa Capital, you can access funds as quickly as the same day that you apply.
To qualify for gym equipment financing from Balboa Capital, you'll need:
Annual revenue of at least $100,000.

FICO credit score of 620 or more.

At least one year in business.
Another top equipment financing company to consider for your gym needs is Crest Capital, which offers equipment financing from $5,000 to $1 million and repayment terms of two to seven years.
Aside from traditional loans for gym equipment, Crest Capital also offers a variety of leases including those with options to buy the equipment at the end of the term, defer payments for up to six months and skip payments during slow months for seasonal businesses.
To be eligible for gym equipment financing from Crest Capital, you will need:
A good credit score, generally 670 or higher.

At least two years in business, typically.
Although Crest Capital doesn't name a minimum annual revenue for its equipment financing, your gym's annual revenue along with other factors will be used to determine your eligibility for financing.
National Funding offers gym equipment financing — both loans and leases — up to $150,000. Lease terms are from two to five years with monthly payments, and working capital loans require daily or weekly payments with terms of four to 24 months.
An equipment quote from a gym equipment vendor is needed before you complete an online application and talk to a funding specialist. If approved for a lease, you can receive funding in as little as 24 hours.
To qualify for gym equipment financing with National Funding, you'll need:
Minimum credit score above 575.

Annual revenue of at least $250,000.

A minimum of six months in operation.
How to finance gym equipment
With this type of financing, your lender will provide all or most of the cash you need to purchase gym equipment through a lease or loan. You'll repay that amount, plus interest, over time. Once you've paid down your loan, you'll fully own the equipment. Or once you come to the end of your lease term, you may have the option to buy the equipment or renew the lease.
The exact amount of money you'll qualify for depends largely on the gym equipment's projected resale value, as the equipment itself secures the loan. Your credit score, time in operation and annual revenue are other factors that are often considered by lenders.
Pros and cons of gym equipment financing
There are pros and cons to financing your purchase instead of buying the equipment:
Access the funding you need quickly.

Repayment terms allow you to pay for a large expense over time.

Loans and leases are self-collateralized — additional collateral, like your business or personal assets, won't necessarily be required.

No or low down payment options, in some cases.

Typically offer lower eligibility requirements than unsecured loans because the equipment serves as collateral.
Paying interest over time adds up.

Interest rate will be higher if your equipment is less valuable, you have a lower credit score, or if your gym is new.

The overall cost is often higher than purchasing the equipment.
Gym equipment leasing vs. loans
When looking for gym equipment financing, you may find lenders that offer leases and loans. Both can be good options when you don't want to make a cash purchase.
With a loan, you make regular payments and at the end of the term, you own the equipment free and clear. You also make regular payments for a set period with equipment leasing, but you don't own the equipment outright at the end of the term.
At the end of your lease, depending on your agreement, you may have a few options:
Buy the equipment at its fair market value, at a discount or another agreed upon price.

Return the equipment to the lender.

Upgrade to a new piece of equipment.
How quickly your gym equipment becomes outdated can help you decide whether a lease is a good option. For example, it may make sense to lease machines like treadmills, elliptical machines, stationary bikes and similar equipment whose technology and models advance rapidly. On the other hand, a loan may be a good option for equipment such as free weight sets, benches and barbells which typically don't become outdated quickly.
Alternative funding options for gym equipment financing
Perhaps neither gym equipment finance loans nor leasing are right for your needs. Maybe you can't qualify for a loan, or leasing doesn't work well for your gym's finances. There are other options for financing gym equipment.
Short-term loans: Offered by online lenders, short-term loans generally have loan terms of three to 18 months and are easier to qualify for than a conventional bank loan.

Business lines of credit: Lenders can also offer business lines of credit, where they extend you a predetermined amount of cash that you can use when you need it.

Invoice financing: Through invoice financing, business owners can access cash advances for their outstanding invoices.
Find the right business loan
The best business loan is generally the one with the lowest rates and most ideal terms. But other factors — like time to fund and your business's qualifications — can help determine which option you should choose. NerdWallet recommends comparing small-business loans to find the right fit for your business.
Frequently asked questions
Should you buy or lease gym equipment?
How much money do you need to open a gym?
A version of this article originally appeared on Fundera, a subsidiary of NerdWallet.