Gym Equipment Finance: Your Top 5 Options
Should you own your equipment or lease it? Consider different gym equipment finance options to fit your situation.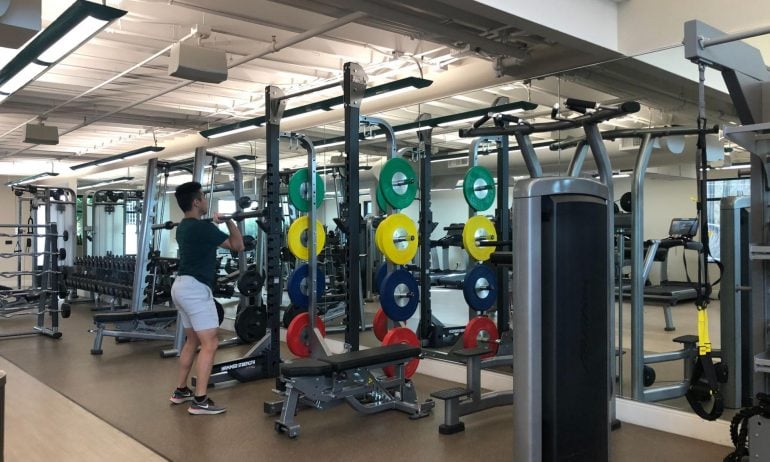 Many or all of the products featured here are from our partners who compensate us. This influences which products we write about and where and how the product appears on a page. However, this does not influence our evaluations. Our opinions are our own. Here is a list of our partners and here's how we make money.
To stock your gym with smaller necessities—think dumbbells, mats, fitness bands, Bosu balls and other accessories—you're best off buying that gear outright. In that case, you have a couple of business financing options, depending on the kind of inventory you're buying.
However, for larger equipment purchases—such as treadmills, ellipticals, squat racks and more—you'll want to look into equipment financing. Gym equipment financing provides gym owners with the capital they need to purchase fitness equipment for their commercial gym. The gym equipment purchased with the proceeds of this type of small business loan also acts as collateral.
Here's a closer look at your gym equipment finance options and how to understand which option will work best for your gym.
with Fundera by NerdWallet
Gym equipment financing: What you need to know
With this type of financing, your lender will front you all or most of the cash you need to purchase your gym equipment. You'll repay that amount, plus interest, over time. And once you've paid down your loan, you'll fully own your gym equipment.
The exact amount of money you'll qualify for depends largely on the gym equipment's projected resale value, as the equipment itself secures the loan. All in all, equipment loans are a top option for gym equipment finance, so let's see the details on the top equipment loan options:
Top 5 loans for gym equipment
Your best options for gym equipment financing include:
If you're looking for the most affordable equipment finance option, then start your search with SBA 7(a) loans. The Small Business Administration provides partial guarantees for these small business loans that can go toward a variety of expenses—including, of course, equipment purchases.
Gym equipment finance loans through the SBA 7(a) loan program are ideal for their repayment terms and rates. SBA 7(a) loans come with repayment term lengths of up to 10 years. You can also qualify for amounts up to $5 million with interest rates as low as 7%.
SBA 7(a) loans aren't easy to qualify for—you'll usually need a credit score of at least 650, at least $100,000 in annual revenue and at least two years in business for SBA lenders to consider working with you.
Another gym equipment finance option to consider also comes from an SBA loan program: SBA CDC/504 loans are typically synonymous with commercial real estate loans. Most borrowers seek SBA CDC/504 loans for capital to purchase commercial real estate. That said, a little-known eligible use for CDC/504 loans is purchasing equipment and machinery.
Be sure to note, though, equipment and machinery purchased with the proceeds of an SBA CDC/504 loan will need to have an estimated life of at least 10 years. Gym equipment with a shorter lifespan might not qualify for SBA CDC/504 loan financing.
With that in mind, this gym equipment finance option requires a down payment of 10% to 15% and repayment term lengths only go up to 10 years. If you're seeking full gym equipment financing, SBA 7(a) loans might be a better option.
Similar to 7(a) loans, SBA 504 loans aren't easy to qualify for. You'll need a minimum credit score of 650 and no red flags, such as bankruptcies, in your recent financial history. It also helps to have a debt service coverage ratio of no more than 1.2. On top of that, the SBA requires that you meet the following criteria to qualify:
Have a tangible net worth of no more than $15 million and an average net income of $5 million or less after federal income taxes for the two years prior to application.

Meet owner-occupancy requirements.

Create or retain jobs or promote other public policy goals.

Operate for profit and not be in a passive industry, such as real estate investing.
A gym equipment finance option more accessible for younger, less-qualified gyms is the online equipment financing company Balboa Capital. Balboa Capital offers equipment financing from $3,000 up to $500,000. Repayment term lengths are two to five years long with rates as low as 3.99%.
Gym equipment finance from Balboa Capital will follow a lease and buy-back structure. This means that the lender will technically own the equipment while you pay down your debt, and you'll buy the equipment for a small amount at the end of your remittance schedule.
Though Balboa technically offers equipment leasing instead of equipment financing, it will work much like your other gym equipment finance options, because you'll own the equipment after paying it down.
If that sounds like a good gym equipment finance structure for you, be sure to check that you're eligible before applying for Balboa Capital. And if you qualify for Balboa Capital, you could access a loan for gym equipment as quickly as the same day that you apply.
To qualify for gym equipment financing from Balboa Capital, you'll need:
At least $100,000 in annual revenue.

"Decent" FICO credit score.

At least one year in business.
Another top equipment financing company to consider for your gym needs is Crest Capital. Crest Capital offers equipment financing from $5,000 to $1 million. Crest Capital borrowers repay their equipment loans with two- to seven-year terms with rates as low as 5%.
Gym equipment finance comes in many forms, and Crest Capital offers nearly all of them. Aside from traditional loans from gym equipment, Crest Capital also offers:
Guaranteed purchase agreement.
To be eligible for gym equipment financing from Crest Capital, you will need a personal credit score of at least 650 and your gym will need to have at least two years in business.
Though Crest Capital doesn't name a minimum annual revenue for their equipment financing, the higher your gym's annual revenue, the better.
Last, but not least, is eLease Capital. This lender is a good option for borrowers with low annual revenues or little-to-no business history.
Through eLease, you can secure gym equipment financing ranging from $3,000 to $500,000 on two- to five-year repayment terms. Depending on your creditworthiness, interest rates can range from 6% to 35%.
The main determining factor when applying for gym equipment financing through eLease Capital is your personal credit score.
A personal credit score above 600 will increase your likelihood of getting approved. However, a lower credit score doesn't necessarily disqualify you. Other strong financial indicators, such as high annual revenue, may also help your case.
The pros and cons of gym equipment financing
Now that you know some of the best loan options for gym equipment financing, let's look at the pros and cons of this type of funding.
Access funding you need quickly.

Repayment terms let you pay for a large expense gradually over time.

Loans are self-collateralized—you won't necessarily be required to put additional collateral, like your business or personal assets, on the line.

Typically lower eligibility requirements than unsecured loans—even with lower credit or fewer years in business—you may still be able to access financing due to the loan's self-collateralized nature.
Paying interest over time adds up.

Interest rate will be higher if your equipment is less valuable, you have a lower credit score, or if your gym is new.

If the lender doesn't offer financing equal to 100% of the equipment's cost, you must personally cover the difference.
Gym equipment leasing vs. loans
If the prospect of being tied down to your gym equipment scares you—probably because the technology advances so rapidly and exercise fads change just as quickly—then you can look into gym equipment leasing, in which case you're simply paying the owner for the use of that equipment.
Essentially, equipment leasing means that you're paying a monthly fee to rent that equipment from the titleholder—which, in this case, is your lender—for as long as your leasing agreement lasts. For gym equipment, that agreement may last anywhere from six months to several years.
At the end of your lease, you'll have a few options:
Buy the equipment at its fair market value.

Buy the equipment at a discount (if the lender offers this, which some do).

Return the equipment to the lender.

Upgrade to a new piece of equipment.
For that reason, it might be smart to lease machines like treadmills, elliptical machines, stationary bikes and similar equipment whose technology and models advance rapidly.
Pros and cons of gym equipment leasing
Just like gym equipment financing, there are pros and cons to gym equipment leasing. Let's take a look at both.
Taxes: Depending on the specifics of your deal, it's possible to include your monthly lease payments as a deduction on your tax returns. Also, double-check with your equipment leasing company and your business accountant to ensure those expenses are legitimately tax-deductible.

Simplicity: A simple Google search will yield many funding options. Many gym equipment finance companies take a holistic approach to underwriting, meaning you likely won't need to provide years' worth of financial documents in your application. They might also consider businesses with challenged credit scores.

Maintenance services: You don't need to worry about covering maintenance costs. Since you're not purchasing your equipment with a lease (unless you choose to down the line), you won't need to provide a down payment to secure your deal.
Costly over time: Since you're not paying interest on your monthly rental bills, your lender may hike up those monthly payments to make up for the revenue they'd gain if there were interest attached. In some instances, you might actually end up paying more by renting that rowing machine than you would if you'd bought it outright.
Alternative funding options for gym equipment financing
Perhaps neither gym equipment finance loans nor leasing are right for your needs. Maybe you can't qualify for a loan, or leasing doesn't work well for your gym's finances. Either way, there are other options for financing your gym beyond the gym equipment finance options we've discussed.
If you're able to shift your finances, you can access more general business capital to cover your gym's operational costs that will then open up your gym's cash flow for an equipment purchase. Working capital loans are generally more accessible and shorter-term than gym equipment finance loans.
Take a look at these three general financing alternatives to gym equipment loans.
Short-term loans from online business lenders generally have shorter terms (as their name implies) than equipment loans—usually between three and 18 months—and lower capital amounts.
Thanks to their less rigorous qualification standards than conventional bank loans, short-term loans can be an accessible option for more business owners. And because the application is online, the process is relatively quick and painless. That makes these loans a great option for gym owners who are in a rush to purchase less expensive pieces of equipment.
Short-term loans from alternative lenders are relatively easy to qualify for. Most borrowers who are approved have annual revenue of over $100,000, a minimum credit score of 600 and at least one year of business history.
Another kind of working capital loan to consider as an alternative to gym equipment finance loans is invoice financing. Through invoice financing, business owners can access advances for their outstanding invoices.
This advance is, in turn, secured by the invoice itself. Also known as accounts receivable financing, invoice financing can allow gyms to free up cash flow while they wait for customers to pay up.
You don't have to be wildly qualified to be eligible for invoice financing: Your gym will just need to be in business for six months to be eligible for funding from the invoice financing company Fundbox.
Online lenders can offer business lines of credit, in addition to banks and traditional lenders. In this case, your lender will extend you a predetermined amount of cash that you can dip into whenever you need to and in whatever amount you need.
You're only responsible for repaying what you've used, plus interest. So, lines of credit are an ideal financing solution for business owners to cover smaller, unexpected expenses—like, for instance, your foam rollers and wrist wraps that have mysteriously gone missing.
Also, know that a line of credit isn't mutually exclusive with any of the loan or leasing options mentioned here. In fact, it's a useful solution for many business owners to have in their back pocket, just in case the need arises for extra funds.
Qualifying for a business line of credit is a little harder than invoice financing, which is self-securing. Lenders will want to see an annual business revenue of over $100,000, a minimum credit score of 630 and at least one year of business history.
Frequently asked questions
Should you buy or lease gym equipment?
How much money do you need to open a gym?
Do I need a license to open a gym?
With small business financing, the right kind of gym equipment finance solution for you depends largely upon your business's unique needs.
If you have a single, clear purchase in mind—say, 10 treadmills—then your best financing method is probably an equipment loan. Keep in mind, though, that at the end of your loan you'll own that equipment. Make sure it's not a piece of equipment that you'll discard or upgrade in a few years.
If you do anticipate upgrading your equipment, consider an equipment lease instead. In this financing arrangement, the lender actually owns the title to that equipment. When your rental is up, you can trade it in for a newer model.
To discover your loan options more efficiently (and with less stress), work with a loan specialist. Let them handle the loan-related heavy lifting, so you have more time and energy to lift actual weights.
This article originally appeared on Fundera, a subsidiary of NerdWallet.