How to Open a Cafe: The Ultimate Guide
Learn about writing a business plan, funding your cafe, hiring and more.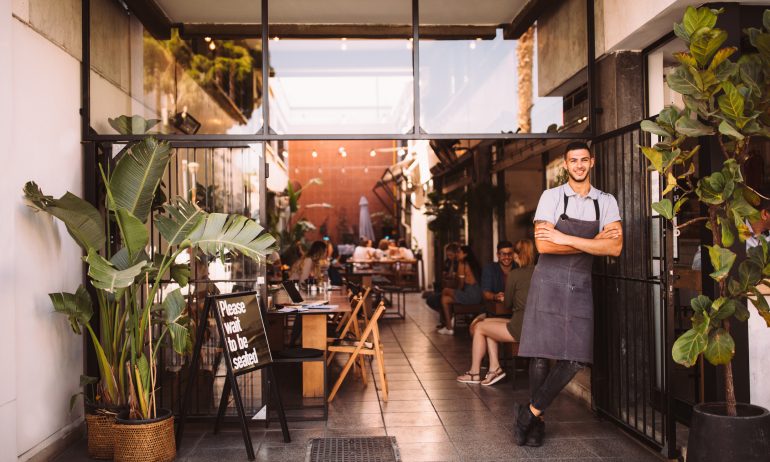 Many or all of the products featured here are from our partners who compensate us. This influences which products we write about and where and how the product appears on a page. However, this does not influence our evaluations. Our opinions are our own. Here is a list of our partners and here's how we make money.
Starting a cafe is no small endeavor, but anyone who appreciates the Parisian way of life can tell you how integral a local, welcoming cafe is to any community. But when you're starting a business, there are several things to consider and processes to complete to make it official.
Wondering how to open a cafe in your neighborhood? We've got you covered. In this guide, we'll provide the tools to help you learn how to open a cafe and build a successful business.
There are over one million restaurants and over 30,000 coffee shops in the United States. New cafe owners can expect some steep competition. Of course, these dining options are more concentrated in some areas than others. Your neighborhood may be in desperate need of a great new cafe. That's why your first step in starting a cafe should be to get to know your competition.
Maybe there is an obvious need you can fill, or perhaps you can take a look at what isn't working for other local cafes and create a superior option for consumers. Look back at your town's business records. Which cafes have closed in recent years? Do you know why they closed? Scour review sites like Yelp to see why your competition is being praised and criticized. But most importantly, make sure your business can contribute to local life before you invest too much time or money toward starting a cafe.
No matter what type of business you want to start, creating a business plan is key to launching any successful endeavor. Your business plan is made up of eight sections, but you can alter your business plan to suit the specific needs of your cafe. The goal is to create a plan that will keep you on track, organize your research and prepare to prove your value to potential investors. Here are some of the topics you'll want to hit.
The executive summary gives you a chance to summarize your company's value proposition. While this section leads your business plan, you will likely write it last as a summary of the subsequent sections of your business plan. You'll use this section to explain what your business does, as well as what your current state of affairs looks like. You will also give a financial breakdown for where you see the business in three to five years. And of course, you can't forget to include what factors will drive your business's success.
This section builds on our first step and offers a more in-depth and higher-level analysis of your industry, market and any potential competitors. Utilize this section as an opportunity to prove your knowledge of the market and what unique void your cafe will fill.
The number one reason businesses fail is a lack of market need for their products or services, so make sure there's demand for your cafe before you continue with the next steps.
If you want your business to succeed, you're going to need a little more than word of mouth to reach new customers — at least when you're first starting out. Once you're more established, word-of-mouth marketing can be an effective way to gain new customers.
Your marketing strategy and sales plan should have a two-part approach. Positioning and promotion. How are you going to position your products to customers? What makes your goods or services special or valuable? Now that you know what your sell is, come up with a promotional plan that will get your brand in front of the eyes and ears of customers.
Financial plan and projections
When you share your financial plan and projections, you'll give a glimpse at the current state of your business finances. You'll also project where you see your finances going in the future based on your expected sales, expenses and more. Existing businesses that are creating, or updating, a business plan can use data from their past financial performance. They may want to include information such as income history, cash flow and balance sheets. If you're just starting your cafe, you'll likely have to use research and estimations to complete this section.
Like any food services business, operating a cafe comes with an added degree of responsibility to your consumers, which is why the government will hold you accountable for cleanliness and safety. Before you open a cafe, learn more about the food services regulations in your state. Each state has different rules in place, so make sure you're familiar with your state's and devise a plan to comply. If possible, talk to other small business owners in the food services industry to be sure you have all the information you need.
Get the proper licenses, permits and insurance
You're well on your way to starting a cafe, but before you can continue you'll need to make sure you're legally allowed to operate your business. The legal requirements of registering and licensing your business will vary based on your industry and location. However, you will likely need multiple business licenses at the state, federal, and local levels when starting a cafe.
Again, because you'll be handling and serving food, you'll be required to obtain more licenses and permits than a non-food services business, including food and health code licenses, health department permits, and more. If you plan on serving alcohol in your cafe, you'll also need a liquor license. Additional licenses or permits may apply, including building, zoning or land-use permits; signage permits; and more.
If you plan on hiring employees to work in your cafe, you'll also need to obtain an employer identification number, or EIN. This will be required for tax purposes, among other things, but even if you don't plan on hiring employees, there are several benefits of getting an EIN.
Additionally, you will need to obtain some type of business insurance for your cafe. If you have employees, you'll be required to carry workers' compensation, unemployment, and potentially disability insurance. General liability and commercial property insurance are also common types of coverage. However, for the food services industry specifically, you'll want to look into even more insurance policies, such as liquor and auto liability, fire, and food contamination insurance.
If you haven't consulted with a business lawyer yet, now is a good time to do so to ensure you're starting a cafe that is compliant with the law and protected from any potential issues down the road.
A good cafe can make you feel right at home. And no one wants to feel uncomfortable in their own home. Thus, it's important to hire cooks, servers, cashiers and management that will commit to maintaining your brand's level of quality so that both you and your customers feel comfortable.
Not only do you want to hire the best employees, but you also want to create a productive and safe work environment so you can retain your talent. And if you're new to hiring, avoiding these mistakes can help the process go more smoothly.
Find small business funding
At some point along this journey, you likely wondered, "How much does it cost to open a cafe?" The costs will depend on your cafe's location, renovation, marketing, employment and supply needs. There's a very good chance you'll need to find a business loan for your cafe to help with startup costs. There is no one-size-fits-all approach to business funding, so take your time when you consider what path you want to take. You may find the following funding options are a good fit for your business.
Whether you're all about the farm-to-table movement or will be offering a very specific item, you need to get your suppliers settled before opening your cafe. How you source your ingredients, as well as less thrilling supplies like to-go containers and utensils, is an integral part of running a cafe. You'll want to sit down and calculate how much inventory to carry, as well as how much it will cost and where you'll source it from.
Don't forget to look up reviews of your suppliers or ask for customer testimonials. You need to work with suppliers you can rely on. Feel free to make the rounds in your local entrepreneur network, as well. Recommendations from business owners you trust are a great place to start.
Next, you'll have to create an inventory system that is easy to follow and reliable. Any cafe worth its salt knows you can't risk accidentally running out of coffee filters on a busy Sunday morning. A good place to start may be with an inventory management app so you can keep track of what's going in and out of your cafe, and when.
You're likely dreaming of the day you'll make your first dollar. While you may want to hang that dollar up on the wall, you're also going to want to have systems in place that ensure you receive payment properly for every sale you make. A point-of-sale system will be essential to process these payments. While there are various POS systems to choose from, you'll likely want to opt for one geared specifically toward business in the food services industry. Finding a good POS system for your cafe is a business necessity and will help all of your transactions run smoothly.
When you first started thinking about how to open a cafe, this is likely what you imagined. Now that the paperwork and less creative work has been established, it's time to do the work you love: Find your perfect location, hunt down the decor that gives you all the good vibes, build the perfect menu, play around with ideas for how to make your cafe stand out.
Visit other cafes and take notes on what you like and dislike. Is free Wi-Fi a must? How about comfy chairs or pretty plants? Do you like a menu with a lot of versatile choices or a more specialized one? Stay true to your vision and beliefs and you'll create a cafe that customers will flock to.
There will be countless long days spent making your cafe dreams a reality. Hopefully, this guide on how to start a cafe business will give you the jumping-off point you need. With these steps accomplished, you'll be in a great position to start welcoming customers into your new cafe. Where you take it from there is up to you!
This article originally appeared on JustBusiness, a subsidiary of NerdWallet.