How to Post a Job on Facebook: A Step-by-Step Guide
Facebook is challenging LinkedIn's niche by letting businesses post jobs directly on Facebook. Here's how to do it.
Many or all of the products featured here are from our partners who compensate us. This influences which products we write about and where and how the product appears on a page. However, this does not influence our evaluations. Our opinions are our own. Here is a list of our partners and here's how we make money.
As a small-business owner, human resources tasks like reviewing job candidates and hiring may fall squarely on your shoulders. Facebook has recently made that process easier with the introduction of Facebook Jobs.
This new feature is similar to LinkedIn, in that it also allows businesses and organizations to post open positions and accept applications right on the platform — but Facebook lets businesses do this for free.
Making hiring more accessible
When Facebook added its job posting feature in 2017, the company said small businesses were the inspiration for the new addition:
"40% of U.S. small businesses report that filling jobs was more difficult than they expected, which is surprising when you consider that these small businesses also employ nearly half of the country's workforce," Facebook wrote on its business blog.
With the "Jobs" feature, Facebook took a step to make hiring easier for that 40% of small-business owners who reportedly find hiring to be a bigger challenge than they originally expected.
Before the Jobs feature was even added to Facebook more than 1 billion users were looking at Facebook's "Pages" on the platform. Facebook said that users and business owners alike were using the platform to find and to fill jobs anyway, so the new addition was just an added tool to make that even easier.
By making it official, Facebook gave administrators of Pages the power and tools to post job openings and Facebook users the means to apply to those jobs directly on Facebook.
Want to get in on the potentially game-changing way to recruit top talent for your business? It's easy to do so.
Through the Jobs feature, businesses can post job listings with title, role description, "part-time" vs. "full time," and so on to their official page just as easily as they would post a normal update. That job listing will go live on both the business's official page and in the "Jobs" section on Facebook. That section is specifically for people looking for jobs and businesses looking to hire.
Users looking for a job can find the latest listings a number of ways on the platform. People with Facebook profiles can scroll through that Jobs bookmark and see jobs listed on a specific business's page, or they could come across the job posting on their feed. They can also filter their search based on location and filter by industry. Once they've stumbled across your job posting, all they have to do is click "Apply Now."
Users who click apply will see a pre-populated page appear that pulls information directly from their profile. Information like their name, education history, current city and employment history will all be made available. Essentially anything relevant that the user has made public on their Facebook profile will populate in the application form.
Instead of a traditional resume or cover letter, users can send your business a letter-style note of about 250 characters through Facebook Messenger. This is Facebook Jobs' pseudo-cover letter — and the candidate's chance to convince you, the business owner, that they're the best person for the job.
Once you've posted your job listing on Facebook and have received some of these submissions, you can track these applications all in one place.
You'll be able to review your job applications and respond to candidates over Messenger and boost your job listing to other audiences on Facebook if you're not getting the visibility you're looking for.
All in, it's an intuitive and simple way to approach hiring for your small business.
First, you should log in as the administrator of your business's Facebook page. Remember, this is different from a user profile on the site and only users with a profile and permission can manage or edit pages.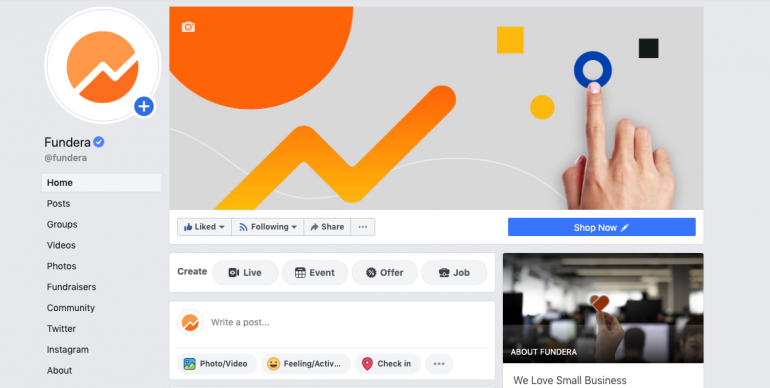 Step 2: Click "job" above the spot to write a new posting
Once you've navigated to your business page you should select the "Job" option listed above "Write a post."
Step 3: Enter job details
Next, you should be able to start inputting details and information about the job. When it comes to job listings, generally the rule is the more details the better.
Job searchers probably want to know as much as possible about the open position, so information beyond the general job description, like salary, location and company culture, can help make the listing more appealing.
You can change details about the job listing on your end as well, like how you receive the applications. The default setting sends the applications straight to Facebook's Messenger inbox for the Page where the job is posted. But posters can opt to have the applications sent to their email if that's where they'd prefer to review them. To do this, scroll to the bottom of the page when you're creating the job posting and add your email address under the prompt, "Receive applications by email."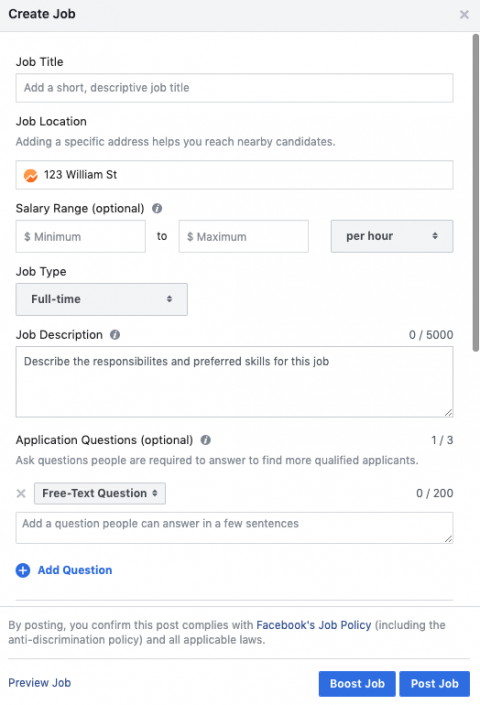 Step 4: Preview the job posting
You can see a preview of the job posting before it goes live online. To see a preview of the job post, look to the column on the right and then choose either "Desktop News Feed" or "Mobile News Feed."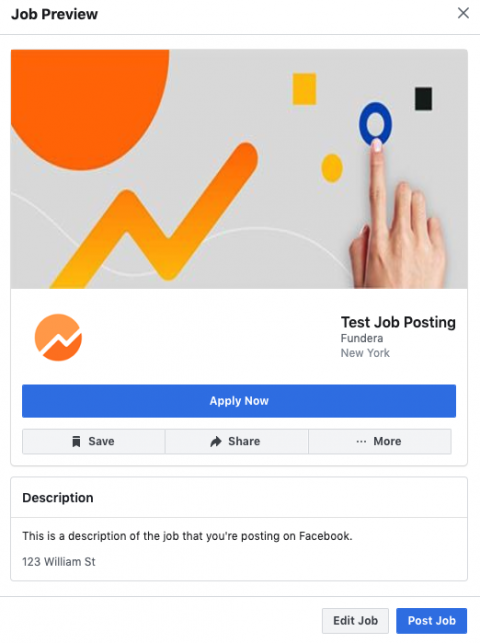 Step 5: Publish the job posting
Once you're happy with how it looks, photo, description and all, select, "Publish Job Post." After the post goes online, job searchers can see it and begin applying.
Job posts on Facebook expire after 30 days. It might be helpful to set a reminder to renew the post after that time period is up if you still haven't found a new employee to fill the job. The post can be renewed after the 30 days are up but after it's expired and before it's renewed, visitors to the business page won't be able to see the job posting.
Edit, change or close a job posting
Job postings that already exist on a business page can be changed if necessary. If you decide you want to tweak the job description or want to change some of the specific details to try and appeal to more applicants you can do so with just a few clicks.
Page managers should navigate to the page and select "Jobs" and then select the "…" symbol in the upper right corner of the posting. From the list of options that appears, you should click "Edit job post" to do so. When the desired edits to the post have been made, the post can be updated by clicking "Edit job post," again.
If you find your dream employee using Facebook Jobs and no longer need the job posting to be live on the business page you can close it. Closing it will make it no longer visible to job-searchers on the platform. Again, you can access and manage the job postings by looking at the left column on your business page and then select "Jobs." On the job post that you want to close, click it and then scroll to the bottom of it and choose to close it.
"If you close a job post, Page visitors will no longer be able to see the job post on your Page, but Page admins, editors and jobs managers will still be able to see the job post and renew it," according to Facebook.
What comes after the applications roll in?
With a job posting on Facebook hopefully comes lots of applications as well. You can manage those applications by navigating to your page and then selecting "Manage Jobs" at the top. From there you have a number of options for continuing the interview process with candidates.
Facebook made it possible for you to favorite candidates, reach out, schedule a time for interviews and filter applicants right in the jobs platform. While looking through the applications if there's a candidate that catches your eye, you can either contact them by email, phone or right in Messenger.
After contacting the candidate you can then set a time for the interview right in the Jobs platform. On the platform, you can select "Schedule Interview" and then select a day and time before notifying the candidate. Either party can cancel the interview should something come up.
You can also filter the applicants based on where you are in the interview process with them. The platform allows you to "Set Status," or change the applicant's status to contacted, interviewed and so on throughout the process.
For those listings that aren't getting as many applicants as you had hoped, you can spend a little to get a boost. The "Boost Post" option appears at the bottom of the job listing and you can get a boost just by spending a little extra. Having a social media presence for your business, ideally on Facebook, can also help increase the number of applicants the post gets as well.
You can choose the people you want to target with the boost as well as your budget and duration of the desired boost on the job listing.
Introducing the jobs market was a huge deal for Facebook.
With more users engaging with higher intent on Facebook — and an added use of Facebook Messenger for businesses — Facebook certainly can benefit from the Jobs feature. Originally the jobs feature was only available in the United States and Canada but the feature was later expanded to be available in more than 40 countries.
Plus, Facebook was able to start earning additional revenue because some Page administrators are willing to pay to push job listings, just like they would a traditional Facebook ad.
But as a small-business owner, you don't have to pay for a Facebook Jobs posting. This puts Facebook at a huge advantage, considering that other services like LinkedIn and SimplyHired do charge businesses for job postings.
And as a business owner, you might benefit in more ways than just finding your next "Employee of the Month" on Facebook. Businesses might roundup more followers to their Facebook pages by posting their job openings. You'll get more eyes — and potential followers — on your page regardless of whether people apply to your job posts.
Plus, when it comes down to it, almost everyone has a Facebook account — but not everyone has a LinkedIn profile. TechCrunch notes that while 467 million people use LinkedIn, 1.79 billion people are on Facebook. And those 1.79 billion people are much more active users than those LinkedIn users are. On average, Facebook users spend about 40 minutes a day on the platform.
By posting your job listings on Facebook, you'll get more traffic on your job openings — and certainly more bang for your buck if you don't pay too much to push your listing.
So far, Facebook's new Jobs feature is catching on with local, family-owned small businesses.
Facebook highlighted three small businesses that all found multiple employees using the Jobs feature. All of the businesses received applicants and were able to fill their positions in just weeks.
A version of this article was first published on Fundera, a subsidiary of NerdWallet