The Ultimate Guide to Starting a Bakery
Tips to start a bakery include securing equipment financing, building your brand and obtaining licenses.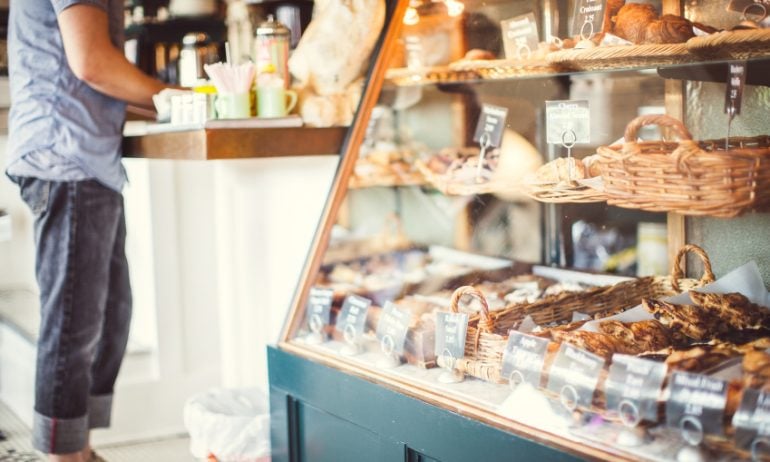 Many or all of the products featured here are from our partners who compensate us. This influences which products we write about and where and how the product appears on a page. However, this does not influence our evaluations. Our opinions are our own. Here is a list of our partners and here's how we make money.
Bakeries bring joy and convenience to their communities, but the customers aren't the only ones who will benefit from this small business. The owner has a lot to gain too. Imagine calling a kitchen filled with tasty treats your office. Starting a bakery will be hard work, but fun at the same time. With equal parts passion and elbow grease, you can start a business that has customers lined up around the block waiting for a chance to try your delicious treats. This guide on how to start a bakery will help you figure out how to get your business off the ground.
How to start a bakery in 12 steps
Once you have the recipes chosen and perfected, you'll need to focus on some of the other elements associated with starting a bakery: picking the right location, create an inviting atmosphere and learning to manage your finances. Let's learn more about these aspects.
1. Choose a bakery format
There are multiple bakery formats that you can choose from. There are even some options without the overhead startup costs of a pricey store location. These are a few bakery formats worth considering, but feel free to get creative.
Counter style. This format is the most typical and recognizable format of a bakery, and it has its benefits. Very little space is required in the front of the bakery if you simply offer a counter that customers can order from. (Of course, you'll still need space in the back for your kitchen.) Usually, there is no dining space, which keeps this type of bakery a lean and efficient operation. But this format does limit your options for serving food and keeping customers on-site where they might order more food and drinks over time.

Bakery and cafe hybrid. This option has plenty of seating for customers, which can allow you the space you need to serve meals if you want to expand past baked goods. Even if you don't, you can still add seating if you want to encourage customers to stick around for a while. You may want to add coffee or tea to the menu, as well. Plus, if you offer comfy seats and free Wi-Fi, you'll likely find success amongst the working crowd.

Food truck. Starting a food truck is a cost-effective venue for opening a bakery and can help you reach a variety of customers. Take your baked goods along for the ride and park your food trucks at street fairs, by offices and at special events. Generally, you won't have the space to bake in the truck. But you can easily pack up your truck with baked goods you made in your home or commercial kitchen space.

Home bakery: Not ready to make the leap into renting spaces or buying industrial-sized equipment? Keep things simple and opt to start a bakery from home instead. You'll require less startup capital and can easily sell your goods online, at local farmers markets, or offer catering services. You may even be able to make deals with local coffee shops or cafes to sell your goods in their locations by offering them a cut of the profits.
Writing a bakery business plan is hard work, but it's a step that will help guide you and provide focus. A business plan can also show stakeholders, such as investors, lenders and potential partners, where your business is heading.
A strong business plan will provide you with a structure to organize your ideas, plans, goals, services or products, financial plans and operational structure. Although you'll want to customize your business plan to suit your needs, it should generally contain the following information:
Executive summary. The executive summary should outline your business's purpose, where it currently stands, where you see your business in three to five years and why your business will succeed.

Market analysis. Here, you'll share an in-depth analysis of your industry, market and competitors.

Products and services. Provide a detailed look at exactly what your business will be selling. When you're starting a bakery, this section can look at your menu and how the bakery format you chose in the first step will serve your customers.

Marketing and sales plan. Explain how you'll market and sell your bakery to customers.

Financial plan and projections. You should provide at least three years of financial projections as well as any financial data from your business's past performance. You'll want to prove that you have a plan to take your bakery from an idea to a profitable enterprise.
All in all, your bakery business plan will be a lot of information to pull together, but completing this document will ensure that you have a strategy to develop and grow your business.
As you're writing your bakery business plan, particularly the business organization section, the question of how you plan to structure your business will likely come up. Choosing a business entity is an important step to starting a bakery (or any business). You may want to consult a business attorney, accountant or another resource to help you decide what type of business entity to form, as this decision will affect your taxes, legal responsibilities and more.
To start, you might consider one of the following most common types of business entities:
Sole proprietorship. Unincorporated business that either has one owner or is jointly owned by a married couple.

General partnership. Unincorporated business with multiple owners.

Limited liability company. Also known as an LLC; registered business with limited liability for all of its members.

Corporation. Incorporated business; most common types being an S corporation or C corporation.
You may have already decided on a business name, but if you haven't yet, now is the time. Once you have an idea of what you'd like your business name to be, you'll need to make sure it hasn't already been taken by another business.
A quick Google search should be your first step. You can also search for trademark filings with the U.S. Patent and Trademark Office. Finally, a secretary of state business search will uncover if another business in your state is operating under your dream name.
If your budget permits, you can also hire an attorney to do this research on your behalf. You'll save a lot of time and have some added peace of mind that you are legally safe to move forward with the name of your choice.
3. Find the right location
The next step in learning how to start a bakery is narrowing down your search for the right business location. If you're opening a brick-and-mortar location, finding a commercial real estate agent who specializes in finding business spaces for purchase or rent can make your search much easier. Try to find someone who primarily assists the tenants, not the landlords, with the rental process.
You'll want to make sure your agent has years of experience in your chosen community — that way, they'll know what fair prices are and the best locations. They may even be able to help you find a restaurant lease that comes with some of the required bakery equipment like large refrigerators or ovens. Make sure the space you rent comes with plenty of room to store equipment and extra baking supplies.
If you're more interested in the food truck route, you won't need a real estate agent to help you with that. There are specialty car dealers online and in person that sell food trucks and trucks that can be adapted into food trucks.
To get a better deal, you may want to search for a used food truck on websites like Craigslist. Or, you might ask your local food truck owners, they may be looking to sell their own truck or know of other owners who are.
4. Get the appropriate licenses and permits
Each state will have different regulations, so you must check with your local government to see what business licenses and permits you'll need to start a bakery in your area.
Even your city or county may require specific business licenses and permits. You should review the government websites for your state, county and city to make sure you have all the documentation you need. Your needs will vary depending on what type of bakery you start, but you may encounter the following licenses and permits when starting your bakery:
Sales privilege license. If you're opening a retail location, you'll probably need a sales privilege license. This type of license will be necessary to sell your goods in a retail format. This allows your company to collect your state's sales tax alongside what your goods cost.

Food handler's license. Any business that handles food will need a food handler's license or a food and safety certificate. You will need to prove that you have the proper knowledge regarding food handling and storage. The owner will need this license as will any employees who assist in the cooking of your baked goods.

Catering license. If you choose to pursue a catering-style bakery business, then you may need a catering or food vendor license. This generally applies if you make the food yourself and deliver it, not if you prepare the food in the client's kitchen.

Kitchen health and safety inspection. Any kitchen space will need to pass a health and safety inspection in order to be properly certified. Researching these rules is especially important if you want to learn how to start a bakery from home.

Zoning laws and permits. If you're running a bakery out of residential space, you'll want to review your local zoning laws to see if you can operate a business out of your home. In this case, other permits may be necessary. For example, a permit may be required if anyone is coming to your home to pick up food.

Homeowner association rules. If you want to start a bakery from home, you'll need to check the homeowner association rules and regulations first to make sure that operating a business out of your home is allowed. This is more commonly an issue that affects those who live in townhomes or condos.
4. Register for taxes and obtain an EIN
All businesses have varying tax, licensing and employer requirements. Learning about these requirements before you start a bakery will help you avoid costly and time-consuming mistakes. Your chosen business entity, as well as some other factors, will affect the business taxes you'll be responsible for paying. If you haven't already, it's a good idea to consult a tax professional to make sure you're aware of your tax responsibility and on track to file the appropriate paperwork on time.
If you plan on hiring employees to help you run your bakery, you'll also need to apply for an employer identification number, also known as an EIN or business tax ID number. You can do this through the IRS and this number will be used when filing your business's income tax return or payroll tax return, as well as when you're opening a business bank account, credit card or filing for a business loan.
Even if you don't need to obtain an EIN — sole proprietorships and single-member LLCs without employees are the only businesses that don't — there are still benefits of getting an EIN you should consider.
Finish this sentence: Break me off a piece of that…. You know exactly which crunchy candy bar goes with that song, right? Well, that's because of branding. Good branding is key. The colors, logos, music, taglines and packaging can all tell your bakery's story to the world.
There is no reason your bakery can't make a splash thanks to some solid business branding. These are the following areas where you can start planning your bakery's branding:
Ask yourself, what story do you want your brand to tell? Then use that story to guide each of your branding decisions. Your story should be unique.
You want a name and logo that is immediately recognizable. The same goes for your decor and packaging.
Establishing social media pages for your bakery is also crucial to getting the word out about your new business while building your brand at the same time.
7. Separate your business finances
Starting a bakery can feel like a very personal affair, but you should do your best to separate your business and personal finances. One of the best ways to do this is by opening a business bank account. For some businesses, this step may be legally required.
When you open your business bank account, you'll have to decide if you want a business checking or a business savings account. Usually, new businesses will be best served by a business checking account. Businesses that are more established, and have plenty of cash on hand, will probably prefer a business savings account so their money can grow with interest.
Either way, it's best to have some form of a business bank account to keep your business finances organized and running smoothly. The last thing you need to worry about is confusing your personal expenses with your business ones come tax season.
Another way to help keep your business and personal expenses separate is to obtain a business credit card. While you have several options available to you, you may also consider a business credit card with a 0% introductory annual percentage rate offer, which can be particularly helpful to cover any initial startup costs of your bakery. Keep in mind, though, you will need to make sure you have a plan to pay off your balance by the time the introductory offer ends for this to be a beneficial tool.
8. Secure business funding
Starting a bakery can be an expensive endeavor, so you should first find an answer to the following question: How much does it cost to start a bakery?
The answer will vary based on your location, type of bakery and required equipment, but you need to find a rough answer so you can plan your funding options accordingly. If you need help financing your new bakery, consider the following options:
Startup business loans. Finding funding as a new business can be difficult, which is where startup business loans come in. These can be anything from an SBA microloan to a small business grant. It's worth noting that SBA loans are the most coveted funding option for their low interest rates and long repayment terms. While traditional SBA loans aren't easy to qualify for — especially as a new business — the SBA microloan program can be a good alternative.

Business line of credit. With a business line of credit, you'll have access to a maximum credit limit that you can borrow against for any business expenses. You'll only pay interest on the amount of capital that you borrow from your credit line, and you don't need great credit to qualify, which makes them appealing for new businesses.

Equipment financing. Bakeries require a lot of equipment, so you may want to consider equipment financing to help with the upfront costs. And since the equipment will serve as collateral on the loan, they are also easier to qualify for than some other funding options.
with Fundera by NerdWallet
Remember the cronut? The combination of a donut and a croissant created by the famed Dominique Ansel, owner of Dominique Ansel Bakery in New York City, was so popular that people would line up around the block to try to get one. A few years later, however, the cronut isn't exactly making headlines anymore — which is why it was smart for Ansel to also sell other baked goods, including classic favorites.
When figuring out how to start a bakery and make your menu, keep Ansel in mind. It's OK to set and follow trends, as long as you're known for having some reliable staples available too.
That way, when everyone is over the latest trend, they know they can still come to you for their favorite classics. Ansel now has multiple bakery locations in New York, Los Angeles and London and sells new inventions (like frozen s'mores) and timeless baked goods.
10. Obtain bakery equipment
To turn your bakery into a legitimate, profitable business, you'll need commercial-grade bakery equipment to help you churn out all those baked items out without your tools breaking down in the process.
What equipment is needed to start a bakery? You may need to obtain:
When you're trying to price your food products, it's important to remember that pricing is determined by your expenses, operating costs, taxes and the market. To calculate the pricing of your baked goods, therefore, you'll first need to figure out your monthly business operating costs. This will help you calculate how much you'll need to make to cover the total cost to run your business.
Then, you'll have to divide your production costs and overhead costs into your operating costs. Production costs take everything into account that's needed to produce your baked items, such as ingredients and equipment. Overhead costs are expenses that are not direct costs — think advertising, accounting, labor, etc.
Once you've figured out your breakeven point and the production costs per baked good, you'll be able to come up with pricing. For example, let's say you own a cupcake business and it costs you $2,000 a month to operate your bakery. You project to sell 250 cupcakes per month.
To figure out how much you should charge per cupcake, you can divide the number of projected cupcakes into your monthly operating costs. If you divide 2,000 by 250 you should get eight. This means you should be charging $8 per cupcake just to cover overhead expenses.
Now, let's factor in production costs. Let's say each cupcake costs you $5 to produce. Add this cost to the minimum cost to cover your operating expenses (eight plus five) and you should get $13, which represents the minimum amount you should charge to cover your total operating expenses.
You can then decide how much profit you want to make and add that to the price of each baked good.
The last step in learning how to start a bakery is customizing your space. If you choose to go with a storefront or cafe-style bakery, it's time to amp up the atmosphere.
When it comes to the atmosphere, there are a few tricks of the trade that will help you create a successful bakery. For example, put your most eye-catching baked goods (like those fancy frosted cakes) at eye level in your display shelf. Less exciting staples like bread can take up some of the space on the lower levels of your display or behind the counter.
When you're setting the atmosphere, creating a good first impression is key. Just like a well-designed restaurant has a stellar entrance area, find a way to make that tempting freshly baked cookie smell waft into the entryway of your bakery.
Similarly, you can invest in plush couches, cozy decor and oversized coffee mugs. Make sure your customers feel at home. As the owner, get to know your customers. It's important to train all of your staff members to be equally friendly. And of course, a free sample or two never hurts.
This article originally appeared on JustBusiness, a subsidiary of NerdWallet.
Learn about small-business loans
NerdWallet has curated financing options to help meet business owners' needs. If you're not sure what types of funding and terms make sense for your business, you can use our small-business loans tool to see lenders and their loan products. We gauged lender trustworthiness, market scope and user experience, among other factors, and classified lenders into categories to help you find your best options based on criteria that include your time in business and yearly revenue.