How to Start a Carpet Cleaning Business
Wondering how to start a carpet cleaning business? Our guide covers the steps to get started on the right foot.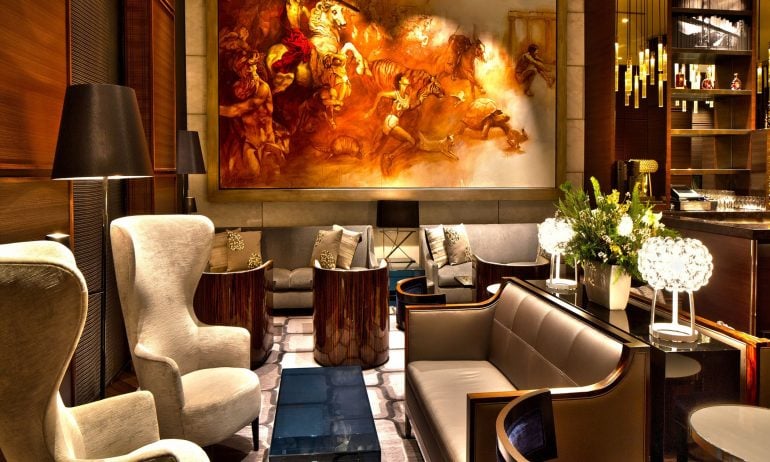 Many or all of the products featured here are from our partners who compensate us. This may influence which products we write about and where and how the product appears on a page. However, this does not influence our evaluations. Our opinions are our own. Here is a list of our partners and here's how we make money.
Both homeowners and commercial real estate owners rely on carpet cleaners for their services, as having spotless rugs and carpets is crucial in creating a welcoming environment both at home and in stores and offices. If you'd like to provide customers with this specialized service—and you've been caught by the entrepreneur bug—you'll need to understand how to start a carpet cleaning business before launching right into this $5 billion industry.
For the most part, how to start a carpet cleaning business is similar to starting a business in almost any other industry: You'll need to create a business strategy, register your business, and secure business financing, among other foundational steps. But as a carpet cleaning business, of course, you'll also need to take certain steps that are specific to your niche: think obtaining training and certification in your field, purchasing the right carpet cleaning equipment, and insuring your business properly to safeguard against industry-specific claims. Take a look at eight of the steps you'll need to take to start your carpet cleaning business on the right foot.
How to start a carpet cleaning business in 8 steps
The first step involved in starting any type of business is writing a business plan. Business plans are crucial for entrepreneurs, as they provide a navigable roadmap detailing your business's goals and how you aim to get there over the course of the next few months (or years, if you're taking the long view) with your current resources. Your first business plan can really be as formal or informal, detailed or broad, as you feel comfortable creating. It's a living document, too, so you can always revisit your plan as your business gains traction and your goals and resources shift.
But at the very least, your first business plan should address the following questions:
Who are your target customers and what services will you provide for them?

What tools and equipment do you need to get started?

How will you market your services?

What are your financial goals?

How much will you charge for your services?
We'll stress again that your first business plan is not set in stone. Rather, think of your initial plan as an opportunity for you to organize your thoughts and take stock of your resources. That way, you'll feel confident launching your business from a solid foundation.
Along with your business plan, you'll need to make preliminary plans for your expenses. Take stock of how much cash you have on hand, and how much additional funding you might need to get yourself off the ground. Also calculate your equipment costs; relevant startup costs like business licenses, training and certification costs, and wages, if you plan on hiring staff; as well as your expected daily expenses, like gas for your truck. Use a small business budget template (lots of them are free!) if financial planning isn't your forte.
2. Get yourself trained and certified
Before you can market your services and entrust your clients' property to your care, you'll need to have sufficient carpet cleaning experience under your belt. Better yet, get yourself properly trained and licensed. Look into a course from IICRC (Institute of Inspection Cleaning and Restoration Certification), which can get you certified as a Carpet Cleaning Technician, Commercial Carpet Maintenance Technician, Rug Cleaning Technician, and a number of related specializations. You can either find an in-person IICRC course in your area or complete an online certification.
Alternatively, you can look into online-only training courses from TMF Academy. Also, some equipment suppliers, like Jon-Don and Rotovac, offer educational materials and training programs geared toward aspiring carpet cleaning business owners. Whatever training you opt for, make sure any employees you hire are similarly certified.
Still, there's no replacement for on-the-job experience, so reach out to other carpet cleaning business owners in your area and ask if you can shadow their crew for a day or two. If that's a no-go, ask if they're willing to let you pick their brain. Prepare a list of questions about all aspects of owning and operating a carpet cleaning business—think startup costs, recommended tools and equipment, tips about hiring and managing a staff, nurturing customer relationships, and managing a budget—and learn from the experts.
3. License and register your business
Now that you've laid the foundation for your carpet cleaning business, you're ready to make it official by acquiring the necessary licenses and permits and registering your business with your state.
First, contact your city, town, or county clerk's office to find out about local licensing and permit requirements for cleaning businesses. For state-level requirements, check our state-by-state guide to licenses and permits.
Then, you'll need to decide on a business entity and register accordingly. If you own and operate your carpet cleaning business on your own or with your spouse, then you can opt for a sole proprietorship, which doesn't actually necessitate registration with your state. However, sole proprietorships don't recognize the owner as a separate entity from the business, so you'll be personally responsible for your business's debts and liabilities.
You may instead want to consider registering as an LLC. Registering an LLC with your state is simple, and this structure provides you with certain legal protections that sole props don't—most importantly, your personal assets won't be up for grabs if your business runs into debt-related or other legal issues.
4. Open a business bank account
At this stage, we recommend opening a business checking account to separate your business and personal finances. Separating your finances is crucial for protecting your personal assets from business-related legal issues (granted that you're registered accordingly). Separating your financial information will make bookkeeping a whole lot easier, too, which may in turn make applying for business lending much simpler.
5. Obtain the right insurance
The last bit of paperwork here is to take out necessary insurance for your cleaning business. Start with general liability insurance, which will protect your business against a host of potential claims like bodily injury, property damage, and personal injury. Also consider taking out workers' compensation, unemployment, and state disability insurance if you're hiring a staff, as well as commercial auto insurance, which can pay for damages done to your company's truck if you're involved in an accident, as well as cover medical and legal fees.
You can't operate a carpet cleaning business unless you have the right equipment. When you're just starting out and only have a handful (or less) of customers and you're on a tight budget, you can rent your equipment from a nearby hardware store. But if you're serious about scaling your operation, it's worth investing in some solid, basic equipment from the get-go.
Start out with an industrial vacuum, steam carpet cleaner, and solvents and detergents. Once you get a feel for the gig you can expand your toolset from there: You may end up needing upholstery wands; stair tools; spotters and stain removers; carpet rakes; deodorizers; rinsers; pet odor and stain removers; or any number of other carpet cleaning tools. Here again, it's worth asking other carpet cleaning business owners in your area about their preferred equipment.
Clearly, it takes money to purchase equipment, license your business, get yourself certified, and to cover other costs involved in starting a carpet cleaning business. For that reason, it's crucial that you set aside sufficient funds to cover these startup costs, plus your daily expenses once you've launched—hopefully, you've calculated the exact amount you need when you planned your initial business budget.
Most often, startup funding comes from your own pockets. As taking out a business loan is difficult for new businesses without the financial track record lenders need to make a credit decision, brand-new business owners often take out personal loans for business, draw from their personal savings, or borrow from family and friends.
But if you're intent on accessing business financing right away, start with a business credit card to pay for your smaller, daily expenses. Applying for a business credit card online takes a matter of minutes, and even brand-new businesses with limited or no financial history have a shot at qualifying: The credit card company just needs to know that the cardholder or its guarantor is capable of paying off their credit card debt, so if the business itself doesn't have any financial information to offer, the card company will evaluate the applicant's personal finances, instead. Once you have it in hand, using your business credit card responsibly is a simple and effective way of building business credit, which will come in handy when you're ready to apply for more substantial business financing down the line.
You can also try your luck with equipment financing, which will help you access the crucial (and expensive) tools of your trade. Equipment financing can be a relatively accessible form of business financing for new businesses. The equipment itself acts as collateral in case you default on your loan payments, so that built-in safety net helps lenders feel more confident extending equipment loans to businesses that don't have the strong financials they'd need to qualify for traditional loans.
Starting a carpet cleaning business is null if you don't have any customers to serve—which means you need to market your business ASAP.
Most service-based startups gain traction via word of mouth, so start out by serving your friends, family, neighbors, and local businesses, and if they're happy with your service, ask them to spread the word to their network. Starting with your immediate network is also useful for garnering important feedback about your work and your processes, so you can then alter your services accordingly. You can also ask realtors, home cleaning services, interior designers, and home goods and hardware stores in your area whether they'd like to partner up with your business, or if they would display your business cards at their tills.
Right off the bat, you should also create a business website. Having a digital presence not only legitimizes your business, but it's critical for potential customers to be able to easily find and contact you online. Your business website can be as bare-bones as an information page detailing your services and contact information, plus links to your social media platforms, Yelp page, and business Facebook page. Or, if you're up for it, your website can be so complex as to include a blog and an online store to sell merchandise like pet odor removers and stain removers.
Whatever you include on your website, make sure the interface is fresh, modern, and streamlined. Use a platform like Squarespace and Wix, which make it easy even for the most tech-averse among us to create attractive, professionally designed websites.
How to start a carpet cleaning business: The bottom line
It's normal to feel overwhelmed by the prospect of starting a business, but following these eight steps can help get you off to a strong start. You can't go wrong by writing out your game plan, taking stock of your finances, obtaining the proper licenses and certification, registering and insuring your business, investing in quality equipment, gathering sufficient funding, and marketing your services to start drawing in your clientele.
Once you've taken these necessary foundational steps, you can really hone your focus on generating a profit, applying for substantial business financing to expand your operations even more, and, most importantly, how you can continue to provide your customers with the best possible service.
This article originally appeared on JustBusiness, a subsidiary of NerdWallet.