How to Start a Food Truck Business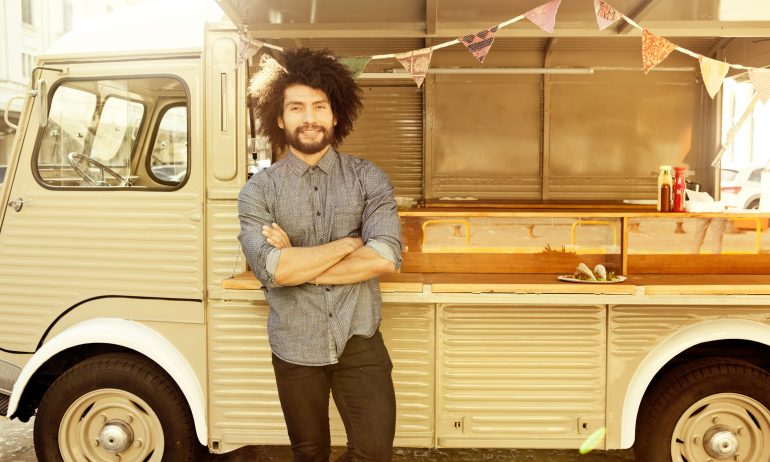 Many or all of the products featured here are from our partners who compensate us. This may influence which products we write about and where and how the product appears on a page. However, this does not influence our evaluations. Our opinions are our own. Here is a list of our partners and here's how we make money.
A food truck business seems like the perfect idea for aspiring entrepreneurs who like to go their own way — and not just in their trucks.
That's how it was for Shane Coffey. After cooking in (stationary) kitchens in New York, Aspen, Colorado, and on a private island in the Caribbean, the Cincinnati-area native returned home in 2015. His next kitchen would be in the back of a onetime FedEx delivery truck bought on eBay for $2,600.
Despite his experience in the restaurant business, there was a lot Coffey didn't know — and much that he didn't know he didn't know. But he had a vision for his truck and a tinkerer's willingness to experiment, plus grit in the face of setbacks.
A couple of years in, he's selling food virtually every day somewhere in the greater Cincinnati area, including Kentucky. His business, dubbed Street Chef Brigade LLC, is profitable, and he plans to start another truck.
"I might not go through the whole alphabet in order," he says, "but I do get to Z."
Few people outside the TV and film industries will tell you that starting a food truck is easy. Before you sell your first taco, rib or burger, here's some guidance to get you started.
Pick your food truck concept
Your concept is the sum total of your truck's identity, the broad-stroke outline of your food truck's cuisine, service style and atmosphere. It's important because it's like your truck's constitution, in a way — it sets the tone and direction for all the decisions that follow.
Start with food. Savory or sweet? Traditional American staples like burgers and hot dogs? Modern twists on old favorites? Thai? Tacos? Thai Tacos?
Coffey describes the concept for Street Chef Brigade as "edgy comfort food" — classic American sandwiches, bowls and salads of restaurant-level quality and sophistication, yet unpretentious and satisfying. Though he does events and private parties, Coffey often sets up shop outside bars and breweries, where well-lubricated patrons may be hankering for a well-crafted burger.
"I almost wanted to showcase what could be done on a truck," he says.
Crucial as your concept is, though, it shouldn't be written in stone, nor should it be formulated in isolation. For a concept to have room to grow, it has to dial into an unmet demand in the market — something other trucks aren't doing — then offer something that can satisfy it at a profit. It has to be different from what your competition puts out, yet it can't stray too far from what consumers are familiar with, or no one will try it.
For example, in San Antonio, there are four essential truck concepts that do well, says Keith Hill, a co-owner of two food trucks, a restaurateur and executive director of the San Antonio Food Truck Association. Stray outside of that comfort zone — burgers, barbecue, pizza and tacos — and you take your business life in your hands.
Yet a friend and fellow food-trucker made a killing in recent years selling Pakistani kebabs, not exactly a common food option in South Texas, Hill notes. His friend's secret? Wrapping the meat in a paratha, a South Asian flatbread. Instant Pakistani taco. While the truck closed in 2016 in pursuit of another opportunity, the owner's willingness to stand out is what made it successful.
You've thought about the food. Now turn your focus to the truck. There's the own-or-lease decision, which is similar to the dilemma facing most businesses that rely on potentially pricey equipment.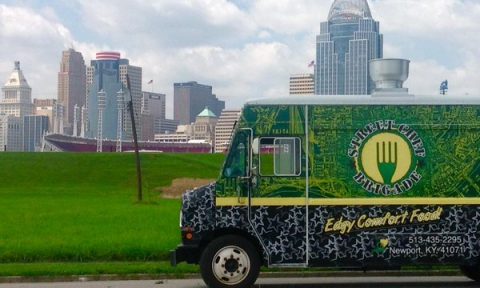 Leasing requires less of an initial outlay of cash, and your lease payments show up as a tax-deductible expense on your income statement. But if you plan to use the truck for more than a few years, a lease could end up costing more than if you'd bought it.
If you plan to buy, you have to decide whether to purchase a new or used truck. With a new vehicle you have some assurances that both the truck and the kitchen equipment inside — lowboys, range, reach-in, sinks — are in good working condition, and they have a warranty. You can also customize the truck you buy.
Used trucks can cost as little as a few thousand dollars, but the tradeoff is the greater risk for problems, which can prove costly.
"It's almost like you either pay now or you pay later," says Hill, who co-owns two trucks, KHILL BBQ Co. and Wheelie Gourmet. "If you buy [a used truck] and you're spending $600 a month to maintain it, you almost should've bought a new one."
Your truck is your biggest startup cost, but it's certainly not the only one. You'll have to make sure you have all the requisite permits and licenses (more on that below), purchase ingredients and kitchen supplies, and create a website, among other things. There are options for startup financing, including:
Personal finances: As with many startups, you may well have to bootstrap your food truck, at least initially, meaning your funding will come from your own savings or retirement nest egg. If you have good personal credit, you may consider taking out a personal loan or charging initial costs on your credit cards. The downside, of course, is that if your truck fails, your finances could take a hit.
Investment from friends and family: If you have bad credit or your business isn't off the ground yet, friends and family can be a source of funds without all the requirements of a bank. Beware of the risk of damage to your relationships, however.
Equity investment: If those friends and family want a piece of the action, they become equity investors. Before you take this step, however, you should think hard about whether you want to share the success of your truck. Also, do you want to make business decisions, big and small, with a partner?
Business loans: Traditional bank financing is difficult for pre-revenue businesses, and even most alternative lenders like to see that a business has a record of growth before they'll turn on the tap. The U.S. Small Business Administration has a microloan program that works with designated lenders to provide business loans up to $50,000. There are also Community Development Financial Institutions, which lend to borrowers in underserved communities. Note that you'll likely need a business plan to convince lenders you're worthy of credit.
Once you have a year in business and revenue coming in, you can turn to a growing number of online business lenders to qualify for additional financing.
File the necessary paperwork
Food trucks need to check all these boxes and more before opening for business. And the states, counties and municipalities in which you operate might have different requirements, according to "Running a Food Truck for Dummies." They might include a:
Local health department permit

Food handler license or permit
One of the primary attractions of a food truck as a business is the freedom you have to move your money-making asset — your truck — to where you think the customers are. The trade-off is that there could be different laws, regulations and requirements depending on where you end up.
For example, in San Antonio, food trucks can't just park anywhere in the central downtown district, Hill says. To ply their business in that area, they must be a member of the food truck association. And some nearby cities require trucks to have sprinkler systems for fire suppression, whereas San Antonio does not.
Because he does business in Kentucky and in Ohio, Coffey has to "double up" on permitting. To complicate things, the two states have differing requirements, right down to the sizes of his water tanks, he says. In addition to annual inspections, local health department officials in both states can request spot inspections.
Final tips: Research, network, take the leap
Aspiring food truck owners should "read, read, read," Coffey says. There are books and websites, many of them free, devoted to sharing knowledge about how to run a food truck business.

Get out and network with other owners, find mentors and scope out the competition to find out what works for others and where they have stumbled, he advises. Your goal in the end shouldn't be to imitate someone else, but to determine the way of doing business that works for you.

It doesn't hurt to discuss, plan and project, but at some point you'll learn more by doing. "If you think it's going to work, go and do it," Coffey says. "Sometimes you have to take the leap."
Want to start a business?
NerdWallet has rounded up some of our best information on starting a business, including structuring and naming your company, creating a solid plan and much more. We'll help you do your homework and get started on the right foot.