How to Start a Tutoring Business
Identify your client, build your subject matter knowledge, choose a business model and more.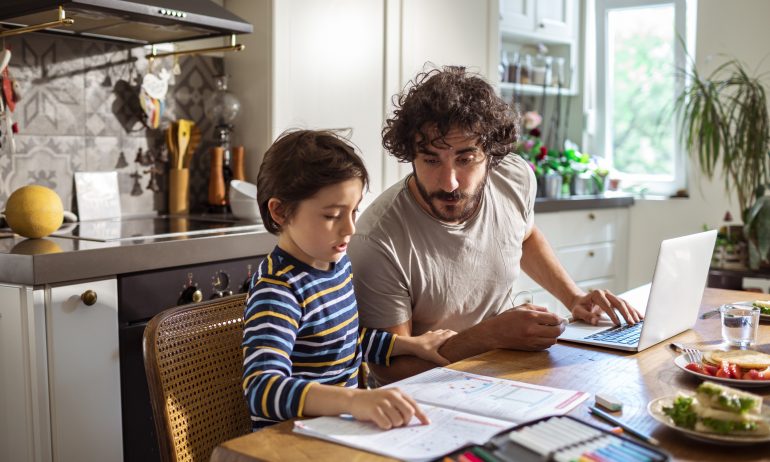 Many or all of the products featured here are from our partners who compensate us. This influences which products we write about and where and how the product appears on a page. However, this does not influence our evaluations. Our opinions are our own. Here is a list of our partners and here's how we make money.
Tutoring can be a lucrative side business that you can grow into full-time income. There are several advantages to starting your own tutoring business, like a flexible work schedule and low upfront costs.
If you want to apply your knowledge to help students achieve their academic goals, consider channeling that passion into learning how to build a business. Here are nine steps you can use if you're wondering how to start a tutoring business.
You should start out by deciding who and what you want to tutor, since deciding who you want to sell your services to influences your entire business plan. Here are some questions you should ask about your ideal target client:
Which grades do you want to tutor? The subject matter and teaching style for a high school sophomore will be different from a college freshman or a middle schooler, for example.

Do you want to tutor for a specific test? Many tutors specialize in a lucrative niche (more on this below).

Do you prefer group tutoring or one-on-one? Depending on your preference, you might want to tutor in mini-classes or work with more one-on-one sessions.

Do you want to tutor locally or online? Decide whether you prefer working only with local clients or if you're comfortable tutoring online, often via video chat.
2. Build your subject matter knowledge
Your expertise will be your money-maker when starting your tutoring business. After deciding who your ideal client is, your next step is to build your knowledge in a given subject. Here's how to do it:
Find a niche to teach: Starting a tutoring business focused on STEM subjects (science, technology, engineering and math) is great because they are in-demand skills. Within those subjects, you can narrow your niche even further by focusing on trigonometry or how to write a college-level research paper. You could also find a niche in a standardized test, like the SAT (for college admission) or LSAT (for law school). This can be a highly profitable route — an SAT prep course from The Princeton Review can cost up to $899.
Assess your strengths and weaknesses: When you're starting a tutoring business, you'll want to know what you have to work on within the subject matter you're teaching. A great way to do this is to take a practice test in your chosen field. If you decide that tutoring for the LSAT is what you want your niche to be, you'll want to take several practice tests. Evaluate your performance and identify the gaps in your knowledge.
Put yourself on a study schedule: After learning your weaknesses, it's time to sharpen your skills. Take note of how you can compensate for your weaknesses. What study tactics are you using? How do you stay productive? This information will come in handy when you're coaching students through their own practice sessions.
Stay current with the syllabus: You'll need to be familiar with the required texts and materials in current education standards. During the off-season, like summers or winters, dedicate time to learning what teachers are assigning during the school year to ensure that you're prepared when student vacations are over.
Learn how to teach effectively: When it comes to how to start a tutoring business, it isn't enough to just have knowledge. Teaching is another skill you need to build if you want a successful tutoring business. Learning how to communicate complex concepts while you adapt to student learning styles is how you can build a profitable tutoring business with satisfied clients. Brush up on your communication skills by reading books and watching videos on the subject.
Consider getting certified: While the United States does not require any certifications to become a private tutor, it still may be something you want to consider. Getting certified, especially with the National Tutoring Association, can boost the reputability of your services. There are also additional tutoring certifications that may be useful for you to obtain.
3. Choose a tutoring business model
There are a few different business models you can choose from when starting your tutoring business. These include:
Buy a tutoring franchise: If you prefer to operate within an existing business model, you can consider joining a tutoring franchise, like Kumon or Sylvan Learning. However, buying a franchise does have its disadvantages — including startup fees and a lack of freedom — so it's important to do your research.
Run a home-based tutoring business: This option is great if you are looking to keep startup costs down. You can designate space inside your home to use as your tutoring space — and if that's all the space is used for, some things related to that space could be tax-deductible. Be sure to read the specifics so you don't end up paying more in taxes, or fines, later down the road. As a home-based tutoring business, you can decide whether you'll meet clients in person at your home or whether you'll run an online operation.
Be a traveling tutor: If you don't feel comfortable putting your home address out there, you could decide to travel to your client's home for tutoring sessions. This could also increase your attraction with parents since they won't have to take time out of their busy schedule to drive their children to lessons. Your mileage or other travel expenses could also be another tax deduction.
4. Register your business
If you're wondering how to start a tutoring business, you're probably operating as a sole proprietor, especially if tutoring is your side hustle. However, there may come a time when you want to look into selecting another business structure, like an LLC.
With an LLC, you'll have reduced liability and the choice to be taxed as either a sole proprietor or corporation. Also, attaching "LLC" to your business name can boost your professional appearance. Once you've decided on the right business entity for your tutoring business, you're almost ready to register your business. But first, you'll need a business name.
Make sure you choose a business name that is both unique and available in your state. A good way to check availability is by doing a quick secretary of state business search.
If you're operating your tutoring business as a sole proprietorship and choose a business name other than your legal name, you'll need to file a DBA, or "doing business as," name when registering your business. Make sure you research your state's DBA requirements to ensure you're completing the process properly.
When registering for an LLC, you will usually be required to include the term "limited liability company," "LLC," or "L.L.C." in your business name.
5. Separate your business and personal finances
It's always a practical idea to separate your business and personal finances, especially if you've formed an LLC. When you mix your personal and business finances, you "pierce the corporate veil" which can risk your legal protections. But even if you're simply operating a sole proprietorship, keeping this divide makes bookkeeping easier, which ultimately makes your job during tax season that much smoother.
Open a business checking account. You can collect cash or invoice payments and deposit them in this account. Try to only use funds from your business account to pay for business expenses, so all your transactions will be limited to one account and one set of statements.

Apply for a dedicated business credit card. Many people don't realize that you have a business credit score separate from your personal credit score. Building your business credit history boosts your financial health and can grow your business down the line while helping you gain access to reliable funding from banks and other lenders.
6. Create a business budget
After you decide what tutoring services you will offer, it's time to calculate your startup and operating costs.
Learning how to create a business budget can be intimidating, especially if you've never done it before. However, it's necessary for any small business and will prepare you for success. To avoid costly errors and maximize your profit, create a budget to help you responsibly manage your finances. Business expenses you want to factor into your budget include, but aren't limited to, writing materials, printer and ink, marketing materials and invoice and bookkeeping software.
Seek funding if you need it
If you intend to find a location to rent and employ additional tutors, your startup costs can significantly increase. You may want to consider applying for a business loan or opening a business line of credit to cover your increased expenses. If this is your first business venture and you haven't built up much business credit, a traditional bank may be hesitant to offer you funding. However, there are alternative lenders who might look at other factors, such as the financial health of your business and your personal score, to make determinations about lending money.
Alternatively, you could try bootstrapping your business and securing loans from friends, families and supporters, or you could try crowdfunding sites to raise any capital you might need to get your tutoring business to the next level.
7. Determine your pricing
If you're starting a tutoring business, you'll want to make sure you set competitive rates that cover your costs while appealing to clients. According to Glassdoor, a private tutor with one to two years of experience can expect to earn $14,000 to $42,000 per year, or a national average of $22 per hour, depending on your rates and how much you work. Here are a few ways you can determine a fair pricing point for your tutoring business:
Research the competition: Are there other tutoring services in your area? Even if they're not specializing in the same niche as you, what hourly rates are they charging their clients? This can provide you a baseline for how to price your service. You can even consider charging more if you offer more value than your competitor.

Consider location: When pricing services for your tutoring business, consider which communities you're targeting. Can your prospective clients afford to pay premium rates for your tutoring services? For example, when it comes to a standardized test like the SAT, students in certain school districts may not seek out private tutoring at a high enough rate for your business to prosper at the price you desire, but in other school districts, private tutoring may be more of the norm.

Factor in your experience: While a teaching license is not required to become a private tutor, it can boost your credentials. Also, you can use any relevant college degrees or past teaching experience to increase your prices. However, if you don't have any of these, you may want to consider lowering your price points until you have more experience under your belt.
You'll need to get the word out about your new tutoring business, so coming up with a marketing plan that not only is effective but is within your budget is key. Below are a few ways to get started.
Perfect your elevator pitch: Create a brief, catchy elevator speech to help communicate your tutoring services concisely, especially when you're pitching your services by word-of-mouth. For a tutoring business, some points you want to address in your elevator pitch include who your target client is, their pain points and how your tutoring services solve them.

Offer a discounted rate starting out: Getting your first client can be tough, especially when they ask for past client results and you don't have any. Offering a discounted rate can help you get clients even with little-to-no experience. Since you're offering a discounted rate, request a positive testimonial from those first clients. These testimonials will boost your marketing potential when seeking new clients.

Build your online portfolio: Creating a small-business website adds another degree of professionalism when starting a tutoring business. Use your online portfolio to list any experiences you have with tutoring or related fields. You also want to list any degrees and tutoring certifications you have. The right portfolio will attract the right client and will land you the job.

Make business cards: While more businesses are going digital, business cards can still advance your branding and marketing strategy. Since many tutoring businesses work with local clients, having a business card to pass around within your community can help spread the word about your services.

Set up a referral system: Never discount the power of word-of-mouth marketing. It's often the bread-and-butter strategy for many tutoring businesses' marketing success. A satisfied client who owes their passing grade to your tutoring services can skyrocket your value. Start networking with your clients to increase your business.
9. Prepare yourself for tutoring challenges
Starting a tutoring business can be a great way to earn a side income or even replace your day job. However, there are some not-so-great aspects of tutoring that you should be aware of and prepared for.
Your schedule needs to be accommodating: Many of your clients will be school students that are unavailable during the day. If you're tutoring college students, their availability can be even more limited. Your schedule can often be erratic as you do your best to accommodate each client's availability. You should be prepared to sacrifice your evenings and weekends for your clients.

Tutoring will test your patience: Some clients will struggle more than others with the subject matter. Coaching your students and being mindful of their learning speeds requires practice and patience. Do your best to learn different teaching styles to better gel with your clients learning styles. It's your responsibility as the tutor to meet students halfway and figure out what works for them.

You need to appease the parents: As a tutor, you'll not only be working with students but you'll also be working with their parents. You'll likely be selling your services to parents rather than students and it's important to keep them happy while creating a comfortable learning environment for your students. You might need to build some customer service skills to keep your clients happy.

Zoning issues: If you plan on tutoring in your home, you need to ensure you're complying with any zoning regulations. Zoning requirements would vary depending on where you live — both your state and county. New York City, for example, allows businesses to be run out of homes but limits the percentage of space in your home you can dedicate to your business. Check with your county clerk's office or consult a business attorney in order to stay compliant.
This article originally appeared on JustBusiness, a subsidiary of NerdWallet.