Justworks Review 2022: Features, Pricing, Alternatives
This Justworks review covers features, plans, reviews and alternatives to help with your HRIS software decision.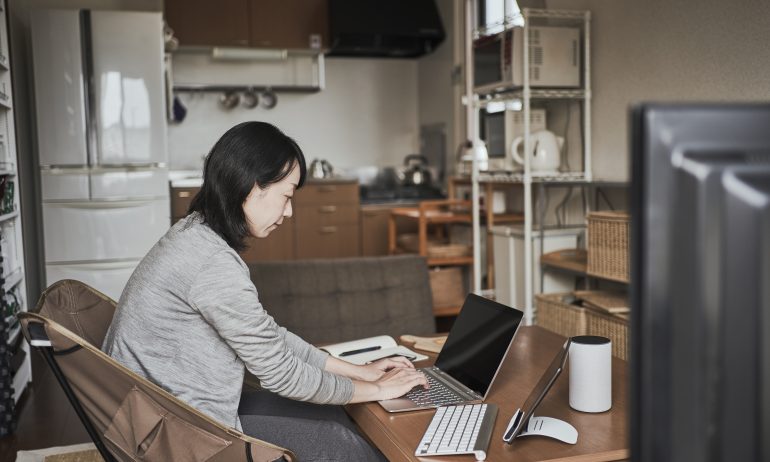 Many or all of the products featured here are from our partners who compensate us. This influences which products we write about and where and how the product appears on a page. However, this does not influence our evaluations. Our opinions are our own. Here is a list of our partners and here's how we make money.
If you've been looking for a human resource information system (HRIS) for your business, Justworks is likely one of the solutions you're considering.
Justworks is one of several HR software platforms that help you take care of vital human resources tasks, all by keeping your information securely controlled in the cloud. This means that you can keep a handle on your staffing, employee directory, benefits programs, healthcare enrollment and even payroll from anywhere and on any device. Instead of having to rifle through cabinets filled with miscellaneous printouts or dredge through your work computer to find files, HRIS software helps you keep everything you need at the click of a button.
One of the most interesting parts of Justworks is its concept of a PEO — otherwise known as a professional employer organization. PEOs can help band together small- and medium-sized businesses in order to help them get a better price on a broader array of perks. By being part of the Justworks community, you get the strength and support of a larger company with the headcount to support a dedicated HR team — all at a lower price than hiring a team of HR professionals would cost you. And, for the most part, this goes beyond serving as a sales pitch — Justworks offers insurance plans for customers to choose from, workers compensation and liability insurance and even real-life consultants to help walk you through complex questions and unique situations.
Justworks and its competitors are about as close to having a software platform serve as your small business's human resources department as you can get. Whether you need help managing your onboarding processes, job listings, employee time off tracking, or making sure you're compliant with Affordable Care Act-related employment rules, Justworks and HRIS platforms have you covered. Justworks also helps you manage commuter benefits, disability leave, fitness and gym memberships and other benefits, as well. And if that wasn't enough, Justworks also offers integrations with other popular professional platforms to help keep every part of your company's software ecosystem in sync.
Justworks is a platform that delivers HR assistance bundled into one helpful program. There's a right-sized solution for just about every small business. If you only need the basics — such as payroll management, compliance assistance and straightforward HR tools — Justworks has you covered. Or, if you need a robust plan for your company that includes tax filings, company calendars, software integrations, COBRA administration and a slew of additional features (that will be covered later), there's an option for you as well.
The Justworks website breaks out company sizes into four categories: two-four employees, five-24 employees, 25-99 employees, or 100 employees or more. You can, of course, sign up for a smaller or larger Justworks package, depending on what your business needs are.
Better yet, you can even create a custom plan designed exclusively for your business. All you need to do is provide the Justworks plan builder tool with the number of employees you have, the state in which you operate and a few industry-related details. From there, Justworks will give you a custom quote specifically created to fit your anticipated budget and needs.
Justworks sets itself apart with how flexible, robust and straightforward the company's products are. There's a ton of transparency with regard to pricing, support and even the insurance plans Justworks can help customers get for their small businesses. When you're looking at a Justworks plan, there are few details you won't be able to find in black and white on its site. That's a nice change of pace compared to other HRIS providers who typically require you to speak to a sales representative before you can get a quote.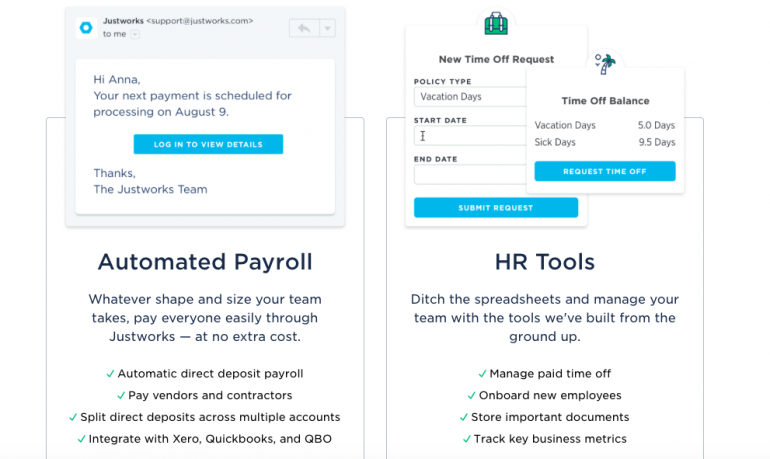 All of the amazing features Justworks provides don't necessarily come cheap. There are plenty of HRIS providers across the price spectrum, and Justworks is toward the higher end of the price range. That's probably not surprising, given how much the platform provides and the level of white-glove support that comes with its Plus plan memberships. But to Justworks' credit, it does provide a price comparison tool right on its website. This tool lets you see how Justworks stacks up against its competitors in terms of benefits, pricing and fees, HR tool functionality, payments and payroll management, compliance support and even user experience. This tool doesn't hit you over the head with a sales pitch, either — it does a great job of laying out the differences in competitors' offers in a straightforward manner.
Justworks has two main pricing tiers.
The Justworks Basic plan ranges from $49 per month, per employee to $39 per month, per employee, depending on how many employees you have. This plan gets you, well, the basics — meaning payroll management, compliance support and HR management tools. In terms of price versus features, it's tough to tell whether this is going to provide you with the best bang for your buck. Most HRIS providers include these features in their less expensive, lower-tier plans (save for compliance, which is often included in higher-priced packages only).

The second package, Justworks Plus, goes way beyond the scope of the Basic plan.This level of service doesn't come cheap, though: Justworks Plus ranges between $99 per user, per month to $79 per user, per month depending on the size of your organization. This service tier gets you the standard slate of features: automated payroll, HR tools, compliance support and 24/7 customer service. Perhaps more importantly, you'll also get access to Justworks' contractor payment portal, payroll tax filings, W-2 and 1099 filings, unemployment insurance filings, workers comp assistance, employment practices liability insurance, online employee onboarding tools, paid time off management, company directory management assistance, robust reporting and access to accounting software integrations.
Steep as this price may seem to some, the amount of support and automation that comes standard with this plan may be worth it for you if you're strapped for time, growing rapidly, or just want a solution to take the burden of managing these disparate tasks off your shoulders. Paying a little extra for a high-quality product can end up saving you time and frustration in the long run, which translates into real dollars over time.
If the baked-in functionality within a JustWorks Plus account weren't enough for you, there's also a thorough menu of benefits, perks and other offerings that small businesses don't usually qualify for. This is where the idea of a PEO begins to make more sense. By bundling common services usually reserved for big companies together, JustWorks is able to provide top-tier benefits to its clients at reasonable prices. These kinds of benefits include medical insurance, dental and vision insurance, life and disability insurance, health and wellness perks, a health advocate service, health savings and flexible spending accounts, 401(k) programs and commuter benefits.
These optional add-ons make it easy for small businesses to compete for top talent, mostly by offering a competitive slate of fringe benefits that can take away some of the advantages formerly enjoyed by large-scale businesses exclusively. By banding its customers together, Justworks enables each of these participating groups to get a leg up in the race for talent — another expense that can help you generate long-term revenue through excellent hires.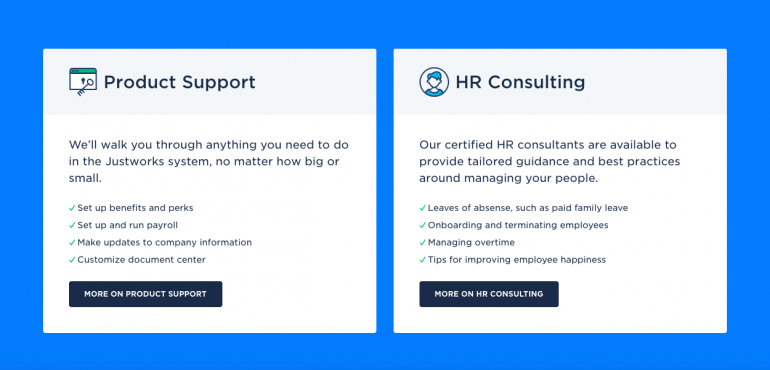 Summary of Justworks reviews
As with just about any HRIS system, Justworks reviews include reasons for and against selecting this option amongst a crowded field of contenders. Most of the reviews center around core features, functionality, user experience and whether or not Justworks provides enough bang for your buck. The good news is that the average Justworks review gives the company exceedingly high marks — customers tend to be more than satisfied with the platform, and a fair number of them even rave about how much they love Justworks after having tried other systems in the past. Here are the major consideration factors you'll find in most Justworks reviews online.
Positive Justworks reviews
Most Justworks reviews don't just express satisfaction with the product — they rave about it. Some of the most common reasons for this much positivity center around the variety of benefits Justworks makes available to its customers. The more benefits Justworks allows for, the more benefits companies are able to give to their employees. That, in turn, leads to greater employee satisfaction, which often translates into better employee retention (and, if you're really onto something, increased revenue). The Justworks environment makes it easy to offer top-tier benefits in a way that's much more affordable for small businesses than it would be for companies to do it on their own.
Justworks also gets high marks for customer service. Its team of experts help new and existing clients walk through the implementation of new features and add-ons, can provide detailed walkthroughs of the platform, and are available every step of the way to make your experience with Justworks as positive as possible. Considering how nerve-wracking and time-consuming it can be to onboard a new tool, particularly when there is no room for error, the fact that Justworks is willing to do what it takes to make customers feel secure and happy is a huge plus for most users.
Negative Justworks reviews
Of course, there are more than a few things that reviewers don't love about Justworks. For example, there's a lack of e-sign functionality that some users said can slow down onboarding processes. Other users complained that the software platform's product set was less robust than some of its more established competitors. Even these reviews with a fair share of negative feedback were still mostly positive. This is an encouraging sign for anyone in the market for a PEO or HRIS system, as there are always areas where companies can improve and expand on what they give to their clients.
One other sticking point for some was Justworks' pricing. Neither option is on the less-expensive end of the spectrum. Some Justworks competitors offer their services for far less, particularly when comparing Justworks Basic to other offerings. In fact, some of these alternative providers even let customers use their platforms for free, albeit with a small number of users and limited functionality.
Justworks competitors and alternatives
The HRIS space is full of competition, which can be a great thing if you're in the market for a provider. There are a slew of Justworks alternatives out there worth considering. Some focus on affordability, others on customizability and reporting features. Each of them provides a unique value proposition that either rivals Justworks or takes a different path, hoping to reach a different subset of small businesses with divergent needs. Here are a few of the best Justworks alternatives, as well as details on what sets it apart.
TriNet is a cloud-based HR platform that helps small- and medium-sized businesses with everything related to hiring, managing and retaining their talent. TriNet helps companies manage payroll, HR tasks, risk mitigation and compliance, and a robust technology platform that can accommodate timesheet generation, reporting and document retention.
Unlike Justworks, TriNet doesn't provide pricing information on its website: instead, you need to reach out to a TriNet representative in order to talk more about your needs and get a custom quote. This provides a suboptimal user experience, and can add time and frustration to your platform onboarding process. That, and the company doesn't have a fantastic track record with handling employee troubleshooting, which can cause frustration over the long run.
Zenefits is another strong competitor in the HRIS arena. Much like Justworks and TriNet, Zenefits helps small-business owners keep track of all of their employee management concerns within one handy, cloud-based platform. A Zenefits membership will avail you to benefits management, payroll maintenance and compliance-related assistance. Setting up your payroll with the Zenefits platform is a snap, and the dashboard helps you take a bird's eye view of your company's full HR initiatives and needs. Plus, like Justworks, Zenefits helps small businesses pick insurance plans for their employees if companies do not already have existing insurance providers, or if they're looking to make a switch.
Zenefits is also competitively priced compared to Justworks. Zenefits Standard costs $40 per month, with every user costing an additional $5 per month. This plan gives you employee onboarding and tracking support, as well as access to the Zenefits app for you and your employees. Zenefits Advanced costs the same $40 per month, with an additional $9 per month per user. This support level gives you access to Zenefits' ACA compliance tools, time off tracker, compliance support and the ability to create an HR library to build company policies.
If payroll administration is your primary concern, Gusto can be a great option for you. Gusto specializes in all things payment, and does it with ease for both you and your staff. Gusto does offer additional HR capabilities, but doesn't come close to offering the same suite of options you'd get with Justworks. Granted, Gusto isn't designed to provide the all-in-one solution that other competitors can boast about, but there's a ton to love about Gusto if you need straightforward assistance (and don't mind onboarding a few different complementary tools along the way).
Gusto offers three packages. Gusto also has a new option for contractor-only employers, who simply pay the $6/employee rate and no base price. Gusto Simple provides payroll processing support at $40 a month, and an additional $6 per employee per month. Gusto Plus includes HR tools and additional functionality, costing a monthly base price of $80, with a $12 per employee monthly charge. Gusto Premium gives you access to all of the tools in the lower-tier plans, as well as access to HR professionals and customer support, and is available as quote-based pricing.
Get 25% off the Plus plan for a limited time
A version of this article was first published on Fundera, a subsidiary of NerdWallet