Kashoo Review 2022: Pricing, Features, Reviews
Kashoo is a cloud-based accounting software designed to meet the needs of small-business owners.
Many or all of the products featured here are from our partners who compensate us. This may influence which products we write about and where and how the product appears on a page. However, this does not influence our evaluations. Our opinions are our own. Here is a list of our partners and here's how we make money.
Kashoo is a cloud-based accounting software product designed for small-business owners, particularly those without prior bookkeeping or accounting experience who want to be able to manage these processes without needing professional assistance.
The Kashoo cloud accounting software is best suited for business owners just starting out — especially freelancers, contractors and other solopreneurs. If you plan to grow your business substantially or would prefer a more detailed (or even free) accounting solution, you may want to explore your options.
Simple, easy-to-use, web-based platform.

Unique inbox-based login screen.

Generally affordable, with a discount available for annual subscription.

Unlimited users included.

Customer service available in three ways (highly regarded by users).
Included features are limited in scope.

Lacking advanced features like inventory, estimates and time tracking.

Limited integration options.
Keeping this overview in mind, let's explore all of the capabilities that are included within the Kashoo cloud accounting software.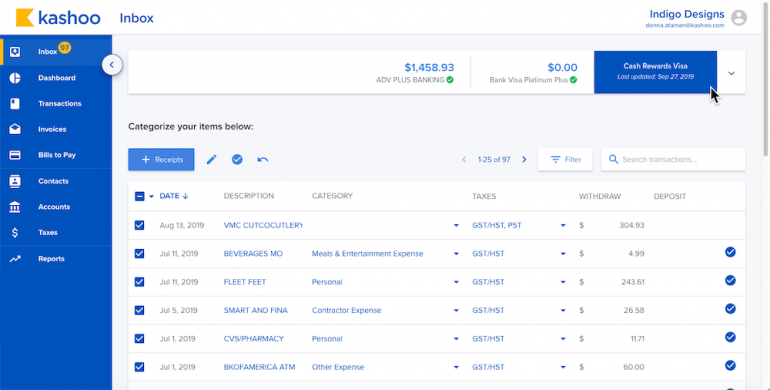 Kashoo's initial login screen is set up a little differently than other accounting platforms. Whereas most accounting solutions — QuickBooks Online, Wave, Xero, etc. — open your account to a dashboard overview with summaries and graphs based on your financial data, Kashoo takes a unique approach.
Kashoo opens your account to an "inbox." Designed like an email inbox, this screen shows all of your imported records, as well as your connected accounts. From this main screen, you'll be able to review the records and post them to your general ledger, as well as navigate to other parts of your account.
Almost any business accounting software includes income and expense management capabilities. With Kashoo, this functionality is front and center every time you log into your account.
Kashoo allows you to sync your bank accounts, working with over 5,000 banks around the world. You can also sync your credit card and financial accounts, as well as import data from other accounting software systems. The accounts you connect will be shown on your home screen and will populate the items listed in your inbox.
Kashoo's account connections are fully encrypted and secure — plus, as you begin to sort and categorize the items in your inbox, Kashoo's machine learning and user-defined rules will begin to automatically categorize and post incoming records. Additionally, although it's advised to separate your business and personal finances, if you do run a very small business or side hustle and choose to use Kashoo for both purposes, you can sort both business and personal transactions.
Income and expense tracking
With Kashoo, you can track the income and expenses that flow into your inbox, categorizing them as necessary and sorting them to keep organized for tax time. You can see where you spend the most and manually create any transactions you need to add. You'll also be able to digitally capture receipts and attach them directly to expenses.
All of your reviewed transactions will be listed in the "Transactions" section of your account, which will also show your total income, expenses, net cash and net income for the current fiscal year.
Moreover, Kashoo can accommodate multiple currencies, although you'll have to turn on this capability to start recording transactions in foreign currencies.
Kashoo allows you to create, customize and email invoices from your account. You can add sales taxes to your invoices, set up recurring invoices and stay up to date with client statements.
In addition, you can accept online payments for your invoices by enabling the Kashoo Payments feature. With this feature, you'll need to sign up for an account through Kashoo's credit card processor, WePay. Once you've set up your account, you'll be able to accept credit card payments for Visa, MasterCard and American Express.
When a customer pays their invoice, the payment will automatically be logged in Kashoo, and when the funds are transferred from WePay to your bank account, a record of this transfer will also be created in Kashoo, along with any associated fees.
Based on your stored data, Kashoo can generate traditional financial reports such as profit and loss statements, balance sheets and tax reports. You can also create and save customized reports, as well as export reports to send to accountants, team members or other business consultants.
Although Kashoo's dashboard is not the first thing you see when you log into your account, this platform does have a traditional dashboard section where you can view graphs and charts of your financial data, as well as see key financial figures — such as sales income and expenses to date.
Through your dashboard, you can also track your sales and account balances.
Kashoo offers very basic bill management and tracking tools. You can enter a bill and record a payment manually, but you can't pay bills through Kashoo. However, you can print checks to pay bills.
Although Kashoo doesn't include traditional inventory management tools, you can use this accounting software to add items that are both sold and purchased. In doing so, you'll be able to enter basic information about the item (most notably, the SKU), but you will have to associate your items with an income or an expense account.
Kashoo doesn't actually track your inventory or stock levels, but simply how individual items affect your income and expense accounts.
Client and supplier contacts
With Kashoo, you can maintain a directory of both clients and suppliers, adding basic information to their profiles or even importing this information from a spreadsheet. Once you've created your contacts, you can associate them with certain transactions and then view all transactions related to that account.
Kashoo allows you to enable its Projects feature to add projects and associate income and expenses with them. Once you've tracked your income and expenses as they relate to a particular project, you can view costs reporting on that project using a filter within the income statement or through an individual project report.
Users and account management
Perhaps one of the most notable features of Kashoo is that you can add an unlimited number of users to your account at no additional cost. Plus, you have the ability to add users to four different access levels.
Kashoo also allows you to add multiple businesses to your account; however, you'll have to pay a (discounted) monthly fee for each business you add.
Your Kashoo account will include a free mobile app available for both iPhone and iPad devices. Kashoo does not currently offer an Android-compatible app. With this Kashoo app, you can create invoices, capture receipts, track sales and enter payments.
The iPad app also has the unique ability to allow you to access and enter business transactions while offline — once your iPad is back online, your data syncs automatically.
Note that if you do enable the multi-currency feature, this functionality is not compatible with the mobile accounting app.
You can connect your Kashoo account to a handful of third-party tools, including Square, BluePay, Stripe and FreshBooks. Kashoo also works with two U.S payroll providers — SurePayroll and Paychex — to give you the ability to integrate your payroll data with its accounting platform.
In addition to its online resource center, Kashoo offers customer support via phone, email and live chat. Customer service is available from 6 a.m. to 5 p.m. PT, but Kashoo guarantees a response within 24 hours.
Kashoo's pricing is very simple. Kashoo only offers one software plan, and it prices its software on a subscription basis — either month-by-month or annually.
If you opt for the month-by-month subscription plan, Kashoo will cost $19.95 per month, totaling $239.40 for a single year. On the other hand, if you choose the annual subscription plan, the cost of Kashoo will be $16.65 per month, paid annually.
The difference, therefore, (in addition to how frequently you pay) is that by opting for the annual plan, you'll only pay $199.80 for a single year — meaning you're essentially receiving two months for free.
There are a few areas that will require additional fees.
First, if you want to accept online payments for your Kashoo invoices, you'll either need to set up an account with WePay, Kashoo's payment processor, or integrate with Stripe or BluePay. As you might imagine, the payment processing costs will be unique to the provider you choose. If you use WePay, however, you'll only pay credit card processing fees: 2.9% plus 30 cents per transaction. In addition, chargebacks will cost $15 per occurrence if you use WePay.
Next, if you want to manage your payroll data through Kashoo, (provided you're a U.S.-based business) you'll need to work with either of Kashoo's payroll partners. Kashoo works with both SurePayroll and Paychex — and each of these providers prices its service on a quote basis. You'll have to work with their representatives to see what pricing will be like for your business. According to the Kashoo Help Center, if you sign up for either service from your Kashoo account, you'll be able to qualify for special pricing.
Finally, if you want to add multiple businesses to your account, you'll have to pay an additional (but discounted) monthly fee to do so. To add another business, you'll need to pay $13.95 per month, or $139.95 billed annually. Currently, if you want to add more than five businesses, you have to work with the Kashoo team to receive a package quote.
As far as automated accounting software platforms go, perhaps none is as straightforward and simple as Kashoo. This solution offers you a quick and easy way to connect your accounts, manage and reconcile your transactions and track your income and expenses.
Kashoo may be more akin to most bookkeeping software systems — where the focus is mostly directed toward maintaining your books, as opposed to performing long-term analysis and other tangential tasks. This being said, Kashoo has a handful of additional features — unlimited users, contacts, item and project tracking, online payments — that allow you to do more within one platform, without overwhelming you with complexity and capabilities that you don't actually need.
Another notable benefit of Kashoo is its pricing. Although there are more affordable options (Wave, for instance), Kashoo's pricing is straightforward and certainly lower than other top competitors — Xero, QuickBooks Online, FreshBooks — for the capabilities you receive. Plus, Kashoo offers discounted pricing if you purchase a subscription on an annual basis, which is not something that all similar software providers offer.
Finally, Kashoo also stands out with its customer service. Kashoo offers customer support in three different ways — chat, email and phone — and although its support is not 24/7, it does guarantee a response within 24 hours. Additionally, customer service is one of the points that you'll see most frequently discussed in positive Kashoo user reviews.
Although Kashoo's simple features make the system approachable and easy to use, they also mean you're extremely limited in what you can actually do with the software.
As an example, although you can manually add bills and payments, you can't actually pay bills within Kashoo. Or, even though you can add your sales tax into your invoices, Kashoo doesn't offer automatic creation and management of U.S. sales tax. Similarly, it's notable that Kashoo can accommodate multiple currencies (Xero, for example, only includes this functionality with its highest-level plan); however, this capability does not extend to the mobile app.
Ultimately, depending on what you need, Kashoo's features may be too simple and too limited. Kashoo lacks advanced features that many competitors offer, such as inventory management tools, time tracking, workflow management and more. Plus, whereas some accounting solutions make up for a lack of advanced features with third-party integration options, Kashoo can only connect to a handful of additional tools.
What do users have to say about their experience with Kashoo?
On the whole, online Kashoo user reviews are extremely positive. Many business owners write about how easy it is to use, especially if you're a freelancer or solopreneur. Additionally, many users highlight the modern interface, the approachability for those without prior bookkeeping or accounting experience and the general value you receive compared to other, more complex options out there.
On the other hand, of course, there are reviewers who have issues with the Kashoo cloud accounting software. Generally, users mention certain features that they'd like to see expanded or added within the platform, including everything from more robust invoicing to including purchase orders to offering an Android app.
Wave is a worthwhile alternative to Kashoo if you're looking for a free accounting software that offers the essentials. Like Kashoo, Wave is a web-based platform that allows you to connect your accounts, manage and reconcile transactions, track income and expenses and generally perform your day-to-day bookkeeping and accounting tasks.
Wave stands out in comparison to Kashoo in a few ways. First, Wave's invoicing features are much more detailed and customizable. In fact, Wave offers a free mobile app wholly dedicated to invoicing. Additionally, whereas Kashoo limits your online payment capabilities if you work with its processor, WePay, Wave provides its own, pay-as-you-go payments option, which gives you the ability to accept all types of credit cards, as well as ACH payments.
Finally, and perhaps most importantly, Wave's main accounting software is free (with the options to add Payroll or Payments for associated costs). Although Wave doesn't include certain features, like project tracking, it's hard to compete with a free solution if you're only looking for the basics.
If you're looking for more detailed and a wider variety of features within your accounting platform, you'll want to consider QuickBooks Online.
Ultimately, with four plan options to choose from, QuickBooks Online is one of the most functional, scalable and popular accounting solutions on the market. Although the initial QuickBooks Online plan, Simple Start, doesn't include some of the features that Kashoo has; overall, the software is much more detailed with every capability it offers.
Plus, when you get to the higher-level plans, QuickBooks Online offers everything from time tracking to inventory management to job costing and more — extending much further beyond the capabilities of Kashoo. As one of the biggest names in accounting, QuickBooks Online connects to hundreds of third-party tools and offers its own time tracking, payroll and tax products.
QuickBooks Online is a desirable option for businesses that plan to grow, especially if they have employees and sell products (as opposed to services). Although any QuickBooks Online plan will be more expensive than Kashoo, considering the features, reliability, scalability and resources that are associated with QuickBooks, it may be worth investing in this type of platform.
A version of this article was first published on Fundera, a subsidiary of NerdWallet.